Music is alive and well. Here are some favorites from records I listened to this year.
Be the Cowboy – Mitski
Mitski has beautiful momentum since Puberty 2. Her latest, Be the Cowboy, ups the ante. (more)

The Tree of Forgiveness – John Prine
Septuagenarian John Prine has honed his craft for well over 50 years and never once had to twerk.
Kids See Ghosts – Kanye West & Kid Cudi
Cudi's record is the best of Kanye's multiple releases in 2018, tweets aside.
boygenius – boygenius
Julien Baker, Phoebe Bridgers, and Lucy Dacus join forces as boygenius for an EP that'll play you like a violin.
Suspiria (Music for the Luca Guadagnino Film) – Thom Yorke
Haven't seen the movie yet, but this record paints a vivid picture on its own.
Things Have Changed – Bettye LaVette
The freshest take on Dylan since Dylan.
Look Now – Elvis Costello
Elvis is incapable of making a mediocre album. (more)
I'll Be Your Girl – The Decemberists
A well-oiled music-making machine – it was fun to hear them play with synths this year.
Twentytwo in Blue – Sunflower Bean
Shoulda hit the big time with this decidedly Fleetwood Mac–flavored record.
Rock 2 – The Dean Ween Group
You can expect more of these beer–smelling solo records until Ween make new music.
This is America – Childish Gambino 
One of the best songs of the year, and definitely the best video.
Superoganism – Superoganism
These kids can play on my lawn any day. (more)
Sparkle Hard – Stephen Malkmus & The Jicks
The voice of Pavement makes another solid record with The Jicks.
Ordinary Corrupt Human Love – Deafheaven
Alls I know is… this song helped me out this year.
Burning Daylight – Blake Morgan
Restored and remastered version of Blake's sophomore album shines like a diamond. (more)
Pinkus Abortion Technician – Melvins
A good reminder from the drunk uncle of grunge.
Wide Awake! – Parquet Courts
Some solid tracks, but I wanted to like this collab with Danger Mouse more.
Thank You For Today – Death Cab for Cutie
Latest record has some fans burning their membership cards, and others fainting into their lattes.  (more)
Aquarelle – Jesse Harris
Caught Jesse twice in NYC this year and dug his shit.
Egypt Station – Paul McCartney
Inconsistent record from the most consistent artist of his generation. (more)
Kumi – Blak Emoji
Blew the ceiling of Arlene's Grocery this year.
Down The Road Wherever – Mark Knopfler
Mark's solo records continue to hit the sweet spot.
Lil Peep & XXXTENTACION – Falling Down
Posthumously released earworm.
Self-Serving Interview with Electronic Device Does Little to Advance Musician's Career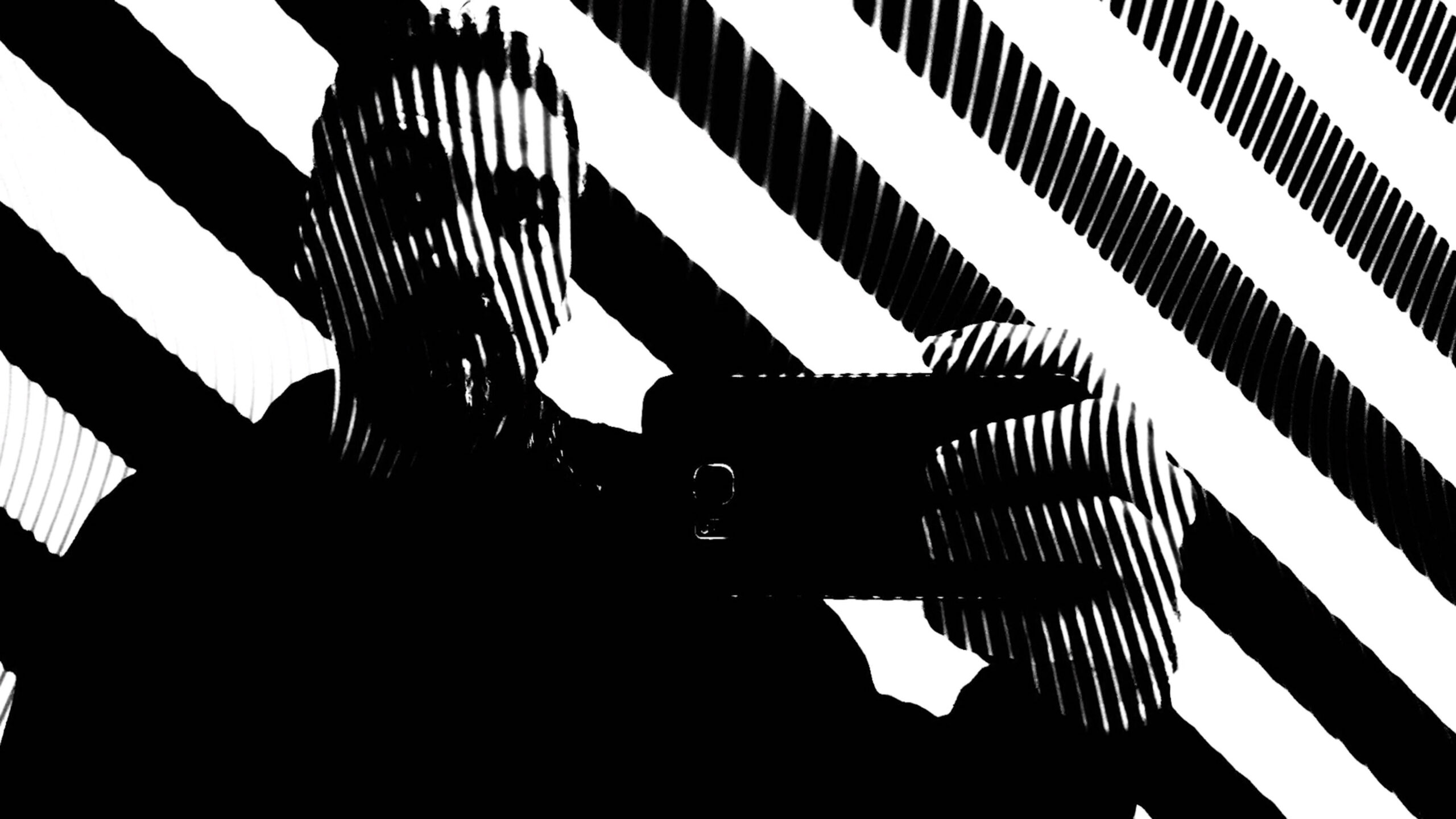 Two men that look suspiciously alike meet outside a fictitious Brooklyn hot-spot – six feet apart.
MC Krispy E: Very nice to meet you. (squints) Have we met before?
Electronic Device: Maybe?
MC Krispy E: Is the rest of the band joining us?
Electronic Device: (pause) I am the rest of the band.
MC Krispy E: You are Electronic Device? What's that about?
Electronic Device: Uhm, yeah, it's like a pen name. You know what that is, right?
MC Krispy E: I have some idea.
Electronic Device: It was actually the name of one of my dad's companies back in the day before…
MC Krispy E: (looking at his watch) Wonderful. So… it says here you have a new single called "All Things Come to an End" inspired by the death of your brother.
Electronic Device: Yeah, after my brother died I recorded songs as a form of therapy in his old bedroom in Staten Island.
MC Krispy E: And now I read that you have cancer. Am I supposed to feel extra sorry for you?
Electronic Device: Uhm…
MC Krispy E: It sounds like this album is going to be super depressing.
Electronic Device: It's not, I swear. I was looking for some happiness while recording these songs, there's not much of an agenda beyond that.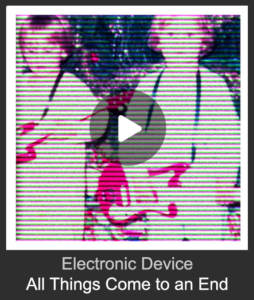 MC Krispy E: What kind of music is it?
Electronic Device: I wasn't really thinking about influences while recording, but listening back I hear some Concrete Blonde, some Cracker.
MC Krispy: So bands no one is interested in?
Electronic Device: What the hell, man?
MC Krispy: Sorry, it's almost like I can't help it.  What's the single about?
Electronic Device: I hate saying what a song is about because everything is up for interpretation.
MC Krispy E: Humor us.
Electronic Device: I can say that "All Things Come to an End" has multiple narrators, some of which are unreliable.
MC Krispy E: (stares)
Electronic Device: And that one day I was at my Dad's house and when I turned the corner into the hallway my Dad thought I was my brother for a moment, which was super sad because of course I couldn't be.
MC Krispy E: And then you wrote a whole song about that.
Electronic Device: I guess so. When you put it that way…
MC Krispy E: (yawning) Tell us when the single come out.
Electronic Device: The single is out now. The album comes out in 2021.
MC Krispy E: Well, good for you. And good luck with that cancer thing.
Electronic Device: Yeah, you too.
MC Krispy E: Thanks. What?
Elvis Costello Hey Clockface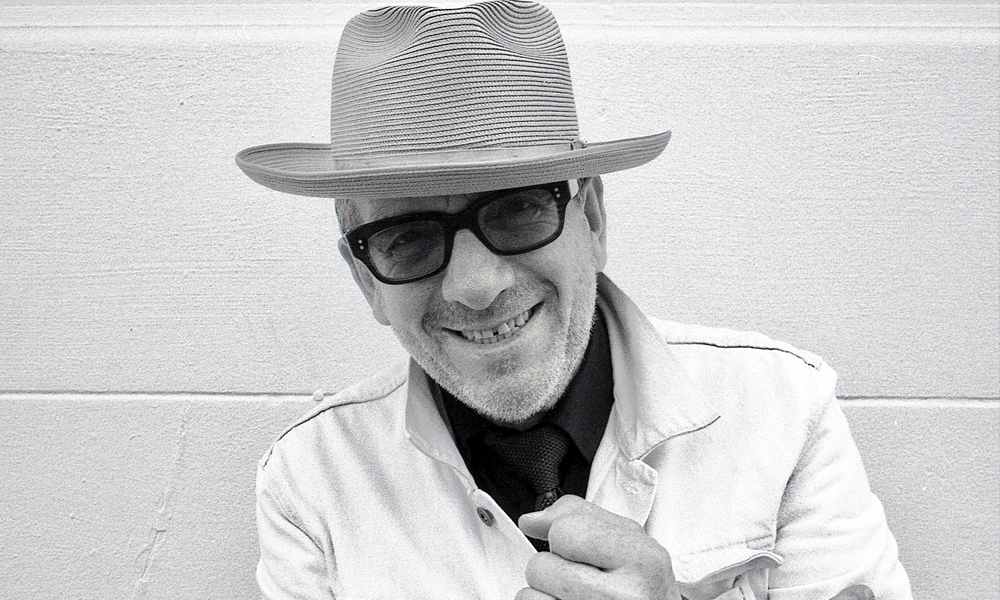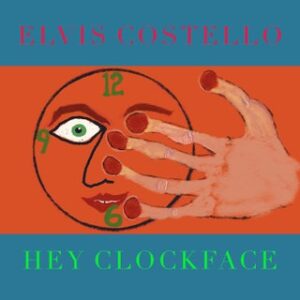 Hey Clockface is the 31st studio album by singer-songwriter Elvis Costello. Costello recorded the record in Helsinki, Paris and New York, often allowing musicians to improvise around his vocal.
A sonic departure from his last album, the Grammy-winning Look Now, Clockface does shuffle in some Tin-Pan Alley style tracks, but also includes more  experimental moments like "No Flag" and the spoken word "Revolution #49."
With no tour on the horizon, Costello is back to work on more material and recently released a special vinyl edition of his classic 1979 album Armed Forces.
"I've got no religion. I've got no philosophy. I've got a head full of ideas and words that don't seem to belong to me. – No Flag"
McCartney III is Coming Up!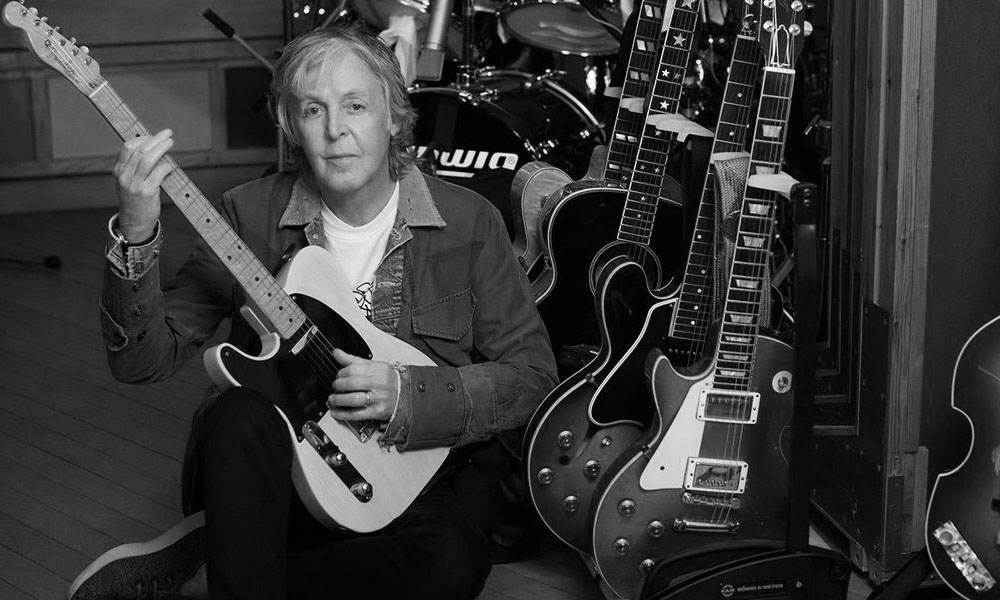 McCartney III is the 18th solo album by ex-Beatle Paul McCartney, scheduled to be released on December 18th 2020 by Capitol Records. Like the first two self-named McCartney solo records in 1970 and 1980, McCartney III features Paul on all instruments.
McCartney III promises to be a return to form for Paul, who wrote, produced, and recorded the record in quarantine.