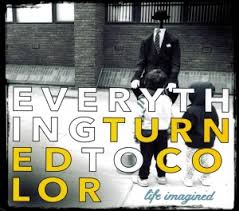 Life Imagined
Everything Turned to Color
Produced by Blake Morgan
2017
Brooklyn based Everything Turned to Color's new record Life Imagined is a perfect example of letting pure ingredients shine. Delicate without ever feeling slight, the record teems with the undiluted musicality of singer Neha Jiwrajka, and guitarists/brothers Bryan and Kyle Weber.
Neha's evocative vocals are front and center, set within production that serves the subject, significant when each track is a jewel held up to the light. From wistful opener When You Wish Me There to the eponymous Everything Turned to Color, there's a purity on display due, in no small measure, to Neha's soulful authenticity (think Rhiannon Giddens) and Kyle's colorful web of gypsy jazz flourishes.
Each track is a jewel held up to the light.
If you're taking a road trip, set the mood with Once Upon a Lifetime. Bryan and Neha trade vocals on this perfect folk-pop nugget, striking a dreamy balance between regret and delight. And there's a real depth to the record, too, evident in the moody Love And Be Loved and the soulful lament of Somebody Loves You, one of the best songs you'll hear this year.
Rounded out by percussive mastermind Jonathan Ellinghaus (aka Miles East) on drums, and producer Blake Morgan on bass, Life Imagined is the burnished sound of lazy afternoon sunlight cast through stained glass. If you're an old soul feeling particularly lost in the zeitgeist of pop music, this is your record.
Life Imagined
Track Listing
When You Wish Me There
Something to Live For
Soft in Lament
Once Upon a Lifetime
Invisibility
Love and Be Loved
Adelynn
Everything Turned to Color
Don't Wake Me
Hung Atop the Heavens
Somebody Loves You