Roger Waters has been putting on spectacular live shows and making consistently great records longer than most of you have been alive.
Age hasn't affected Waters in the same way it has, say, Paul McCartney or Woody Allen, whose best work is far behind them. Waters is sharp as ever, as his last record Is This The Life We Really Want? testifies. That album was a bit under-represented during his two night stint at Barclays in Brooklyn, but you can't make everybody happy. A third of the fans want deep cuts and solo material, while the rest want the hits, baby. In the last decade or so, Waters has steadily obliged those folks, playing full album sets of Dark Side of the Moon and The Wall where he once may have focused on the entirety of his latest solo record.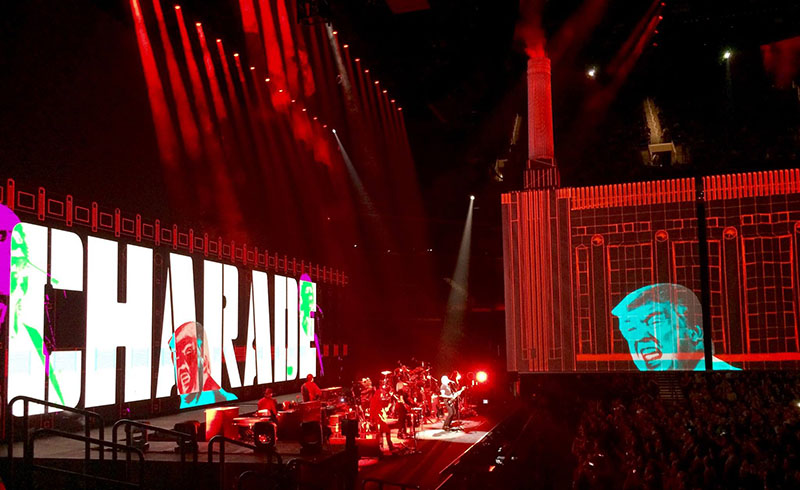 Solid versions of "Breathe," One of These Days," and "Time" opened a show heavy with classics, played with precision by a kick-ass band that features guitarist Dave Kilminster and background singers Lucius. And yes, that was Radio K.A.O.S. producer Ian Ritchie on sax.
Age hasn't affected Waters in the same way it has, say, Paul McCartney.
Like the Floyd, a
Roger Waters
show pushes the technical envelope to its limits. In this case, Waters utilizes not just the space behind the stage for state of the art projections, but the expanse through the center of the arena in a way you've never seen. Floating screens swell and contract, shining perfectly timed images to an eager crowd. When lasers etched the cover of
Dark Side of The Moon
in three dimensions above the audience, they went rightfully bananas. Throw in a drone-ish oversized pig balloon floating over the crowd, and you are getting more eye candy than you thought possible.
Do things get political? Of course! It's a Roger Waters show! If you've been paying attention to Waters over the years, it should come as no surprise to see ill-informed protesters outside the arena, or satirical projections of the President that may or may not include Trump holding a large shrinking dildo. As Waters himself has recently said to the haters, "Go see Katy Perry or watch the Kardashians. I don't care."
This may be Roger's last ginormous tour. With any luck he'll take Bruce Springsteen's lead and do a string of nights in a small venue.  Imagine a Roger Waters residency in New York's Town Hall where he lays the entirety of his career out across several months of weekly shows. Maybe a special guest or two.
He's young enough to pull it off.