The more I write, the more I realize just how powerful the words we use are. But even more so are the words we don't. Now while I know absolutely nothing about Paula (race, ethnicity, beliefs, morals, intentions, etc.), what I do know is that this stance and perspective echoed by so many people on the opposite side of the color line, screams of the institutionalized, structural and programmed aspects of racism that are buried so deep within us, that most of the time we don't even realize when we are actively participating in or perpetuating it. 
As Paula spoke, I initially thought it was me – that maybe I was being sensitive, but there was just something unnerving about how she kept putting American in front of everything.
American anthem.
American sport.
American money.
American fans. 
I couldn't figure out why it made me so uncomfortable until Whoopi Goldberg interrupted. 
"He is an American." 
At that moment, it hit me. Without saying it and probably not even meaning to, Paula's words showed just how problematic this perspective is. It has to do with the unspoken classification of what "American" is and how one who is American but is not really considered to be, is supposed to behave when doing all things American. 
"He is an American."
If Colin Kaepernick is truly an American, then these things: anthem, sport, money and fans, are his. With accepting that Colin is an American we can simply remove the word American and replace it with Colin. It's just like we do in math:
x + 5 = 7
x = 2
2 + 5 = 7. 
See? It's that simple. He is an American so, it's:
His anthem.
His sport.
His money.
His fans.
"… whites in America don't have such a distinction attached to their Americanness."
But it's not said or even viewed that way because there is a separation between Colin's blackness and his Americanness. That separation is created by the unspoken and subconscious classification AND acceptance of a real American being white. Blacks in America (even if they are half white) find themselves in the unfortunate predicament of being at the party of Americanness but not actually a part of it. It's similar to being in a family where you're the foster kid and every now and then you're reminded that you are. In addition, the family isn't always nice to you. Yet, because they took you in, the expectation of your behavior is always supposed to be one of gratitude within whatever capacity they feel comfortable and are willing to accept. Anything less would be disrespectful and, if they are disrespected, they will not tolerate you and will get rid of you. There is no real obligation to put up with or keep you because you are not their own – even if they recognize they might have behaved poorly and feel a little bit bad about the whole ordeal.

The distinction can be found even in the label African-American. It's like you are American but not quite. Heaven forbid you're labeled as just black. You're barely considered an American at all. However, whites in America don't have such a labeling or distinction attached to their Americanness. Is that just a coincidence? Or is there no need to because in America, white = American.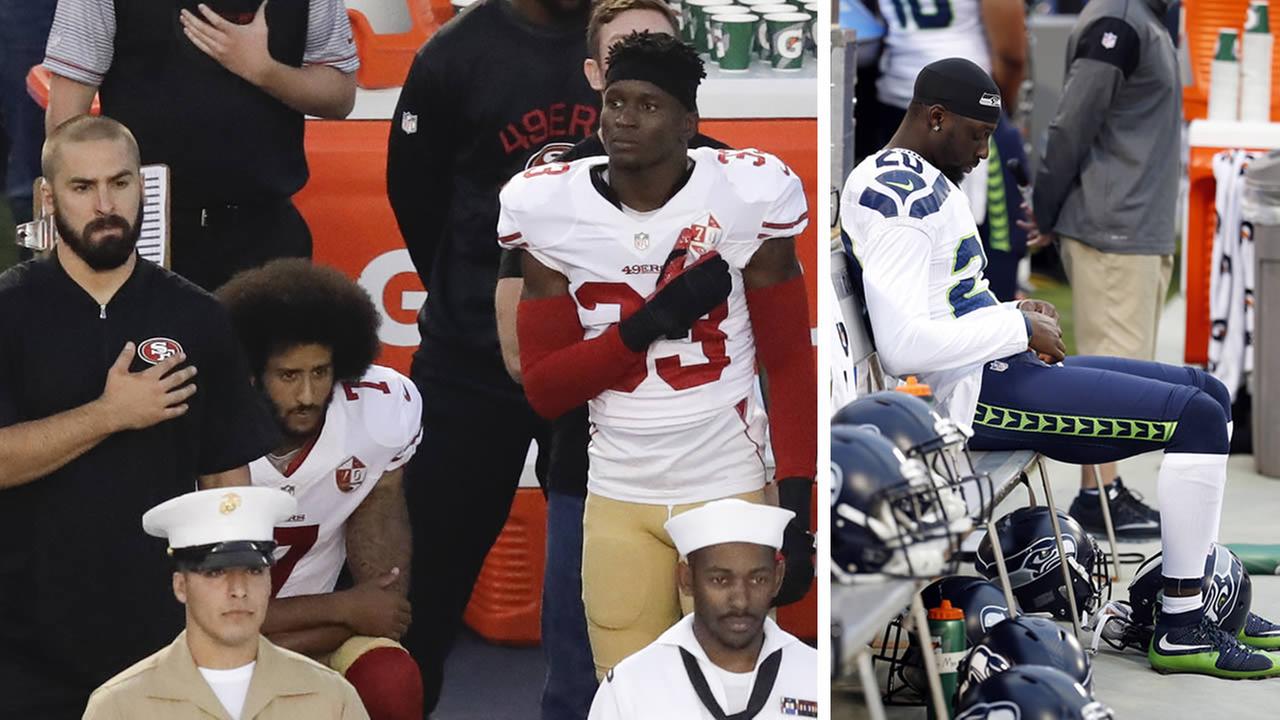 Interestingly enough, if Colin were white and sat during the anthem in protest to countless slain white people who receive no justice for their murders, whites would more than likely rally around him. I'm sure of it. Even if some criticized his lack of patriotism, it would be overshadowed by the overwhelming amount of support from whites who shared his thoughts and frustration. It would be a no-brainer because they too would not like their people being treated in such an unfair and cruel manner. The last thing anyone would bring up is America and, if they did, it would be to say that America has failed him and every other white person who hasn't received the justice they deserve. And how would they be wrong? I mean, it is their America right? It's just not ours. 
"Who exactly is "our" and what is "American?"
It's funny, if I wasn't sure that this was the unspoken sentiment masked in Paris' and many other peoples (non-black & black included) similar criticisms of Colin when I first heard it, I knew it for certain when I went back and listened to it again to quote her. It was what she said in its entirety. It's OK for him, Lebron James, and other NBA and WNBA players to wear #BlackLivesMatter t-shirts and be involved in that movement*, but the moment they act in a way that you find disrespectful to our American anthem, or is beyond your limits of comfort ability, you have a problem with it. Again, who exactly is "our" and what is "American?" The words seem inclusive but the sentiment (even unintentionally) is anything but.

"Our American anthem"

The problem is it's not Colin's anthem. It's "ours" and it's "American" and those ever so cunning, deceptive words do not include Colin. Instead they are a reminder of just how excluded he is and maybe always will be. "Ours" & "American" don't translate into blacks and people of color in this country, they translate into white, and that's what validates the feeling of disrespect. It's a:

White anthem.
White sport.
White money.
White fans. 

How dare he disrespect it?  
"The anthem is just as much his as it is the person who feels disrespected…"
This tone screams that he is being done a service from America to play football, earn big bucks and have its people enjoy him doing it. How dare he be bold enough to disrespect this country after he's been granted such a favor? But instead, the truth is, that America does not grant him the favor to do any of that – it grants him the freedom to. There is a big difference in that.  He is free to craft a talent, require payment to exhibit said talent, and earn the admiration of many for an extraordinary exhibition of his talent. He wasn't given nor does he need permission to play an American sport, get paid American dollars, have American fans or to sit down during the singing of our American anthem. He's simply free to. However, that is, if he's truly an American to begin with.

"He is an American."

Colin is an American and as an American the American anthem belongs to him. The anthem is just as much his as it is the person who feels disrespected by how he refuses to honor it. He is free to do with his anthem as you, I or anyone else chooses to, especially if it does not prevent, limit or encroach upon what another does with theirs. There is nothing un-American about Colin making the choice not to stand during the anthem. The only thing un-American is not allowing him the freedom to do so.