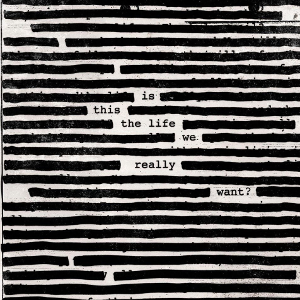 Is This The Life We Really Want? 
Roger Waters
2017 Columbia Records
Produced by Nigel Godrich
"If Waters' opinions offend you, skip this amazing little record."
At 73, Roger Waters has a catalog of outstanding records that stretch back to the early days of Pink Floyd up to and including his latest solo record Is This The Life We Really Want? I've devoured every post-Floyd release and gone back for seconds. None of it resembles Pink Floyd proper and that's fine by me. His 1984 solo record Pros and Cons of Hitchhiking found Waters in blues-rock territory that leaned less on class and politics than his later day Floyd work, and more on fever dreams and sex. 1987's Radio K.A.O.S. is Waters in full 80's mode and tells the story of a disabled man who gets the world to reassess its priorities by hacking into their deepest fears of nuclear oblivion. While 1992's Amused to Death mirrors themes of war and consumerism exercised on records like The Wall, no one could confuse the vibe with Pink Floyd.
Cut to Is This The Life We Really Want? where Waters finally embraces the sounds of his past.
Fans may find the concept a little less structured this time around. There's no real characters to follow except for Waters himself, but the themes are as focused as the music. Trump is in the cross-hairs, as are images of homes being bulldozed, women being mistreated, or worse, killed by drones while baking bread for their families.
The record inches into being much like The Final Cut does, and is punctuated with similar explosions of anxiety. It's a slow burn, a good ten minutes before the blood starts boiling during Picture That, a song that apes the creepiness of Wall-era Floyd in the intro, then downright borrows the gallop and moody Richard Wright keyboards from Sheep.
Bird in a Gale could also fit comfortably on The Wall and sponges sound collage textures from Animals. As does Smell The Roses, which may be the love-child of Pink Floyd classics Have a Cigar and Money. Deja Vu, indeed.
"Picture a courthouse with no fucking laws.
Picture a cat-house with no fucking whores.
Picture a shit-house with no fucking drains.
Picture a leader with no fucking brains.
(no fucking brains, no fucking brains)"
-Picture That
While there could be more humor and, dare I say, a decadent guitar solo or two, the audio experience as a whole is, as usual, impeccable. Once again Waters fashions a rich multi-dimensional soundscape where there always seems to be a TV on in the background and a drone cutting through the clouds. While the effects might seem overly familiar, producer Nigel Godrich brings something fresh to the knobs. It's nothing like he's ever produced before, with most songs stripped to their essential guts. Apart from the opening of Broken Bones, you may never suspect Nigel is as responsible for Radiohead's sound as Thom Yorke is.
Speaking of which, you may know that Waters has been quite vocal about Palestinian rights and even penned an open letter to Yorke about playing Israel. There is no divorcing Roger's politics from his music or live shows. Imbeciles like Howard Stern or Adam Sandler have suggested Roger is an anti-Semite due to his criticism of the Israeli government. That's like calling me anti-American for criticizing the U.S. government. If I want an opinion on geo-politics, I'll trust the guy that's been writing and talking about it eloquently his entire career. If I'm looking for fart jokes, I'll call those other guys.
The same kind of non-thinking has resulted in certain "fans" leaving Waters' recent concerts due to its anti-Trump content. That's like going to a Village People show and being offended by butt-less chaps. You'd have to be willfully ignorant, snowflake.
Roger doesn't pull any punches and neither does Is This The Life We Really Want? It's a record for adults using adult language that may be too deep for those that prefer their waters shallow.