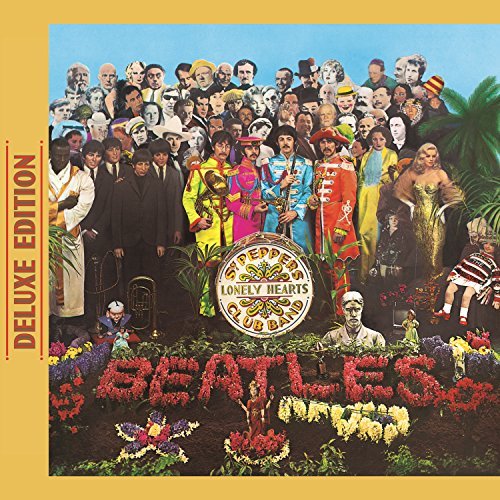 The Beatles – Sgt. Pepper's Lonely Hearts Club Band
Deluxe Edition – 2017
Capitol Records
Several anniversary editions of the 1967 masterpiece Sgt. Pepper's Lonely Hearts Club Band were released this week to celebrate the 50th anniversary of the most iconic record in the The Beatles's catalog. I probably buy this record every ten years, starting with (hold your breath) the soundtrack to the forgettable 1978 movie of the same name. That's right, my introduction to Pepper came via the Bee Gees and Steve Martin. You can't pick when you're born. But I soon purchased the vinyl, and then the cassette… oh and the original compact disc… and then the mono mix CD. And while the record was issued in four distinct formats this week, including a six-disc super deluxe edition, I only coughed up enough for the double disc. I'm not made of money, Paul.
It can't always recreate the initial magic of the original, but in many ways this remix over-delivers.
With this reissue Giles Martin (son of original producer George) found a happy medium between the original mono mixes and the notoriously hasty stereo versions previously rushed to radio. If happy mediums are your thing. I tend towards a little more rust and edginess. Or maybe I'm super used-to the original. Still, I'm having a blast listening, loving (and judging) the mix and the overall quality. Pepper never sounded so expensive, maybe because Giles relied on first generation tapes rather than mix-downs as a starting point. The sound is definitely more modern, akin to the tracks George and Giles did for Love in 2006.  There's a fullness and warmth to this mix, bolstered by a drum sound impossible in 1967 – especially in the Reprise, a track that still retains its pre-punk vigor.
"A Day in the Life" has some new layers of depth (like it ever needed that) thanks to some thick low end and a tasteful separation of parts. It's the track I keep going back to. Updates to "Good Morning, Good Morning" and "Getting Better" add a sonic punch that still features the beautiful round tones of Paul's sinewy bass-lines.
Probably most improved is "Within You Without You," the sprawling sitar dirge George Harrison somehow convinced John and Paul to include on the original. It benefits tremendously from the added dimension. "When I'm Sixty Four" has a fuller, more deliberate soundscape, but seems somehow reduced to the kind of song Pixar might throw behind a montage.
Sure, there are moments when things sound a little too precise, like some of "Lovely Rita" or the opening plucks of "She's Leaving Home," which have never sounded so immediate. This is good or bad based on your relationship to nostalgia and your acceptance of change. Some may adore the increased fidelity, how the vocals sound like they could have been recorded yesterday. Others will look upon this venture like the coloring of old black and white movies.
Disc two has loose alternate takes that are super fun to listen to, and recent stereo mixes of "Penny Lane" and "Strawberry Fields" that remind you there will never be another Beatles. Until the next set of reissues.
Track List (double disc)
Disc 1
Sgt. Pepper's Lonely Hearts Club Band
With a Little Help from My Friends
Lucy in the Sky with Diamonds
Getting Better
Fixing a Hole
She's Leaving Home
Being for the Benefit of Mr. Kite!
Within You Without You
When I'm Sixty-Four
Lovely Rita
Good Morning Good Morning
Sgt. Pepper's Lonely Hearts Club Band (Reprise)
A Day in the Life
Disc 2
Sgt. Pepper's Lonely Hearts Club Band (Take 9 and Speech)
With a Little Help From My Friends (Take 1 / False Start and Take 2 / Instrumental)
Lucy In the Sky With Diamonds (Take 1)
Getting Better (Take 1 / Instrumental and Speech at the End)
Fixing a Hole (Speech and Take 3)
She's Leaving Home (Take 1 / Instrumental)
Being For the Benefit of Mr. Kite! (Take 4)
Within You Without You (Take 1 / Indian Instruments)
When I'm Sixty-Four (Take 2)
Lovely Rita (Speech and Take 9)
Good Morning Good Morning (Take 8)
Sgt. Pepper's Lonely Hearts Club Band (Reprise) [Speech and Take 8]
A Day In the Life (Take 1 With Hums)
Strawberry Fields Forever (Take 7)
Strawberry Fields Forever (Take 26)
Strawberry Fields Forever (Stereo Mix 2015)
Penny Lane (Take 6 / Instrumental)
Penny Lane (Stereo Mix 2017)