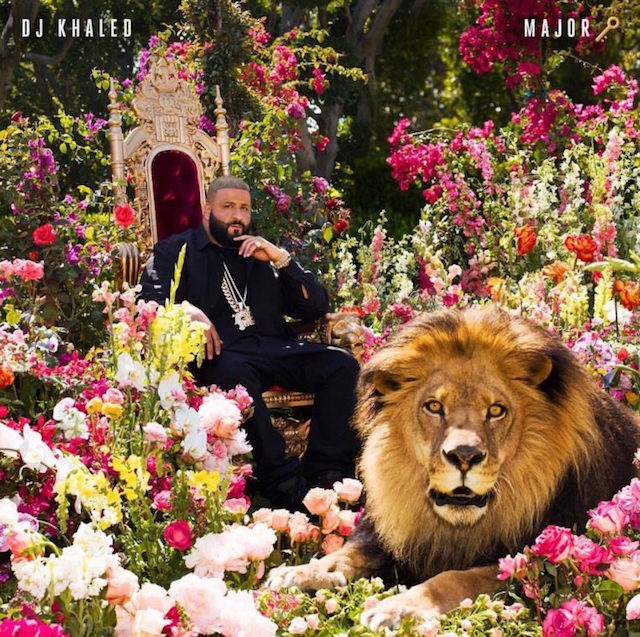 ANOTHER ONE! DJ Khaled is back with his ninth studio album "Major Key" and it's SPECIAL. The king of collabos brings a slew of recording artists and producers together on fourteen tracks peppered with his signature style. This posse of posse cuts contains a mixture of club bangers, street serenades and conscience rhymes for your discerning ears.
He sets things off right with one of the hottest singles of the summer "I Got the Keys" featuring Jay-Z and Future.
Courtesy of the abundance of hit makers, Major Key has some other notable tracks that will immediately grab your attention. Nas sounds as nasty as ever on "Album Done" dropping jewels like "It's a dub on that, we get government aid/Spend it at they stores, putting' they kids through college/We need balance, so we can lease and own deeds in our projects/So i'm asking' Gs to go in their pockets/The racial economic inequality, let's try to solve it".
J Cole comes just as correct in possibly the best solo effort on the album in "Jermaine's Interlude". The melodic mood of the beat, fitting flow and content will require multiple passes at taking this all in. While his peer Drake will have the ladies bopping to "For Free" and the brothers asking if it's just me?
Now out of the bulk of musical marriages present in Major Key, the union of Big Sean & Kendrick Lamar takes top billing in "Holy Key". Powerfully dissected by the vocals of Betty Wright, you won't be able to find a wasted bar from cradle to grave.
"Don't Ever Play Yourself" takes things back to the cypher days on the corner when everyone got their bars in and forgot…better yet didn't need a hook to make it right. The co-conspirators on this assault are Jadakiss, Fabulous, Busta Rhymes, Fat Joe & Kent Jones. You may be surprised who the anchor is on this ship but he holds it down! You be the judge.
Now if that wasn't enough to convince you to add this to your collection, peep the track listing below. That should change your mind and have you mouthing…WE THE BEST!
Track List
I Got The Keys ft. Jay Z and Future
For Free ft. Drake
Nas Album Done ft. Nas
Holy Key ft. Big Sean, Kendrick Lamar & Betty Wright
Jermaine's Interlude ft. J. Cole
Ima Be Alright ft. Bryson Tiller and Future
Do You Mind ft. Nicki Minaj, Chris Brown, Jeremih, Future, August Alsina and Rick Ross
Pick These Hoes Apart ft. Kodak Black, Jeezy & French Montana
Fuck Up The Club ft. Future, Yo Gotti, Rick Ross & YG
Work For It ft. Big Sean, Gucci Mane & 2 Chainz
Don't Ever Play Yourself ft. Jadakiss, Fabulous, Busta Rhymes, Fat Joe & Kent Jones
Tourist ft. Travis Scott & Lil Wayne
Forgive Me Father ft. Meghan Trainor, Wiz Khalifa & Wale
Progress ft. Mavado