Daniel Ortiz Rants on: Avengers Infinity War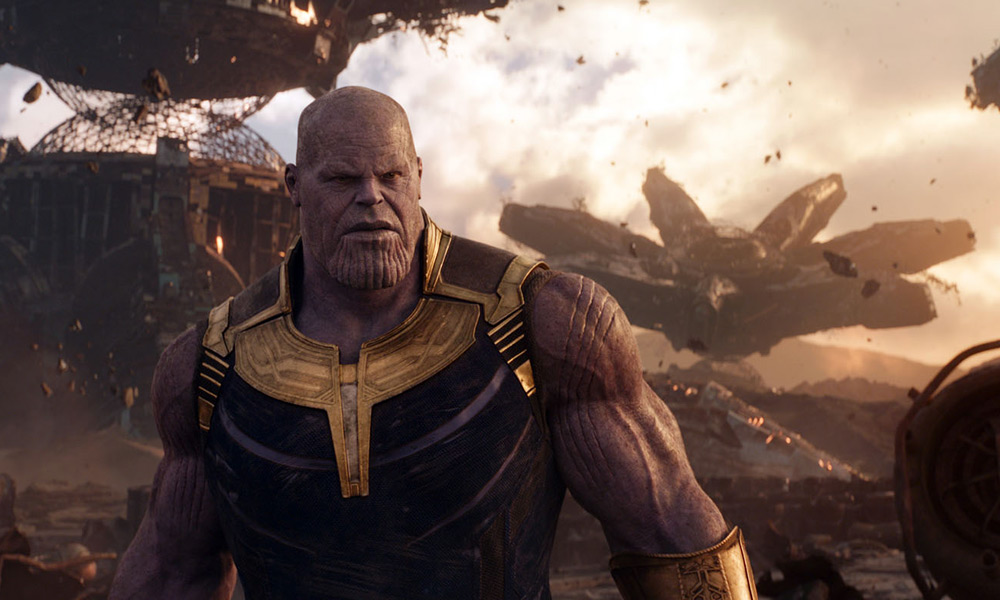 "The Avengers and their allies must be willing to sacrifice all in an attempt to defeat the powerful Thanos before his blitz of devastation and ruin puts an end to the universe."
Everyone's most anticipated movie of 2018 has finally hit the screen. Avengers Infinity War is the most ambitious comic book adaptation of all time. When the first Avengers film came out, I wondered how would they get this movie to work with all these characters and they nailed it. Captain America Civil War came out years later and they planned to add more characters, plus a newly purchased Spider-Man from Sony. I wondered how would they get this movie to work with all these characters…NAILED IT! Then a couple years back the producers were discussing Infinity War. They mentioned getting the Avengers together, throw in Spider-Man, add all our favorite characters from Wakanda, sprinkle in some Dr. Strange and then add the Guardians of the Galaxy. I wondered how would they get this movie to work with ALL these CHARACTERS??? Tonight, I will go ahead and say, DC…you have a loooooooooong way to go! BECAUSE MARVEL FREAKIN' NAILED IT!!!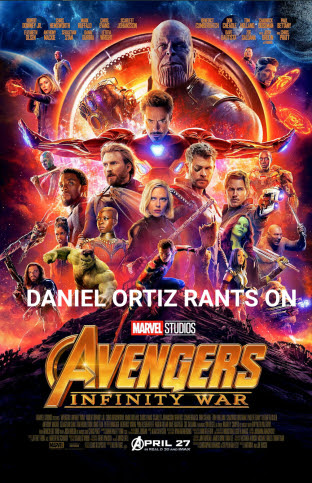 This movie was nothing short of epic! As you may have assumed, I was very concerned about how such a cast of big-named actors; some that are used to the lead role in all of their movies would be willing to share a screen, and even in some cases take a back seat to this project. Would this work?? It did!! Even in the Marvel Universe these characters have larger-than-life-ego's, but the writers did an amazing job giving each one of them a moment to shine, without forcing dialogue or action.
The most prosperous of all the characters in this movie was the antagonist, Thanos. His character was so enthralling and he hooked you with every word he spoke. Even his most maddening philosophies gave him such a depth in character, and where it would've been extremely easy to roll with him being one dimensional, the writers took their time to humanize him without sacrificing his diabolical side.
There were also a lot of cool cameos calling back past characters that were part of individual properties. It was a nice nod to see a character that could've easily been forgotten, but Marvel understands how instrumental they are to the personal development of their respective protagonist. One cameo was completely unexpected from one of my favorite HBO shows, especially since the person played a pretty hilarious role reversal.
The action and battle scenes in this movie were very well done. They were engaging, entertaining and each one had a high cost. You really didn't know in which direction a win was going. I also want to point out that the CGI on Thanos was remarkable as well. There was no distraction in his look, other than how intimidating he was.
The writers did an amazing job of adding heart, humor, action, philosophy, and emotion into this film. It turned out being a lot heavier in message and emotion than I expected and will give the viewer a lot to talk about well after walking out the theater. Oh yea, and there is only one end-credit scene.
According to my rate scale, I said Jesus himself would have to direct a movie to give it this grade…and for the first time ever…
Overall Grade: A+
Jesus didn't direct it, but this movie was truly a gem. It wasn't a film where the protagonists rode off into the sunset. It made you feel some sort of way when it ended and left you salivating for more. I'm ready for 2019! Please like, share and subscribe for more content.
Avengers Infinity War
Action, Adventure, Fantasy
April 2018
Director: Joe Russo / Anthony Russo
Marvel Studios
2 hours 29 minutes
White Right: Meeting the Enemy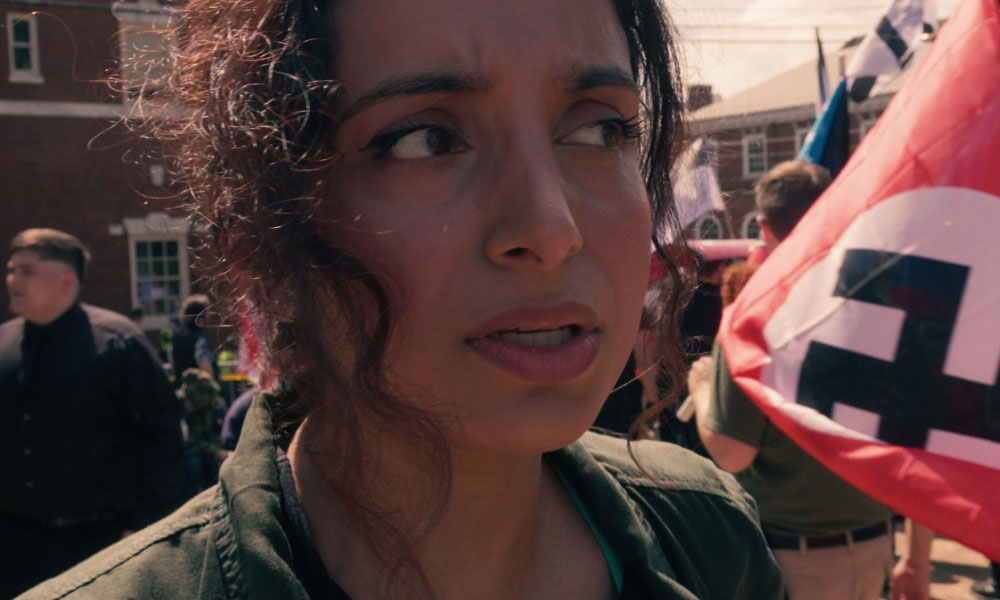 Deeyah Khan puts herself in real jeopardy in White Right: Meeting the Enemy, confronting the whitest rightest supremacists and Neo-Nazis with the oldest trick in the book; she becomes their first friend of color. No shit. You'll be amazed as Deeyah proves racism is born from miseducation and a total lack of experience.  Sure, not everyone becomes a believer in the end, but you sure will.
Ray Romano's Dad Comedy Hits Home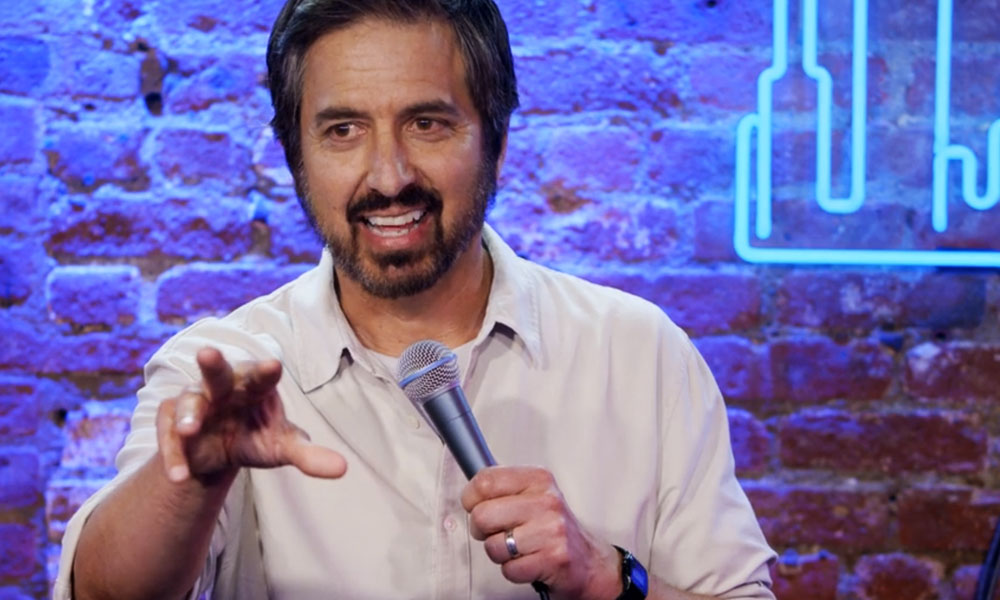 For his latest Netflix special, comedian Ray Romano returns to the Comedy Cellar doing two surprise gigs for unsuspecting fans. 
Roma: Return of the Auteur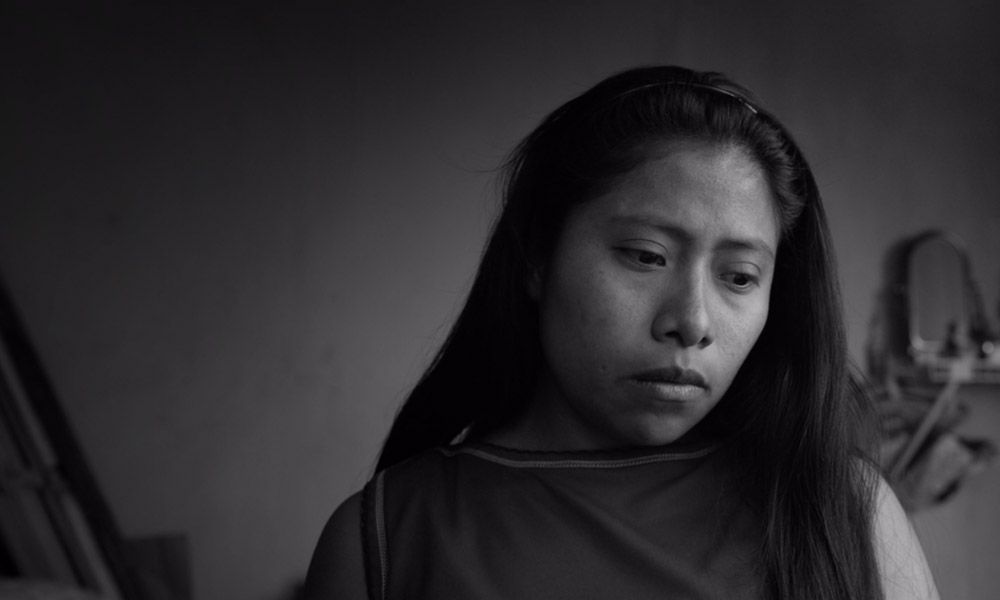 Alfonso Cuarón's Roma is easy on the eyes yet sometimes hard to watch, which is a credit to the Director and that connection he creates between viewer and heroine – in this case Cleo, the family maid and emotional heartbeat of the film. We love and sympathize with Cleo immediately. There's no way she's making it to the end unscathed.
Cleo is part of the family, yet could be fired any minute for, say, not cleaning up after the dog the day Dad leaves the family forever. That uneasy precipice between acceptance and utility has made her a warrior that handles each situation with a compassion lacking in the noxious men around her.  She's the Marge Gundersen of Mexico City – insofar as she spends much of the film pregnant, making all the right moves within a world where the options are questionable.
Cuarón does more with silence than most do with tons of exposition and editing. There's a reason he's the only person to be nominated for Best Director and Best Cinematographer in the same year.
Like some of the 1969 sci-fi movie Marooned referenced within the film, Roma moves at a snail's pace – allowing the story to seep into being rather than seem forced upon you. Underlying anxieties of race and toxic masculinity bubble beneath the surface, tethering the zeitgeist of 1971 Mexico City to the here and now.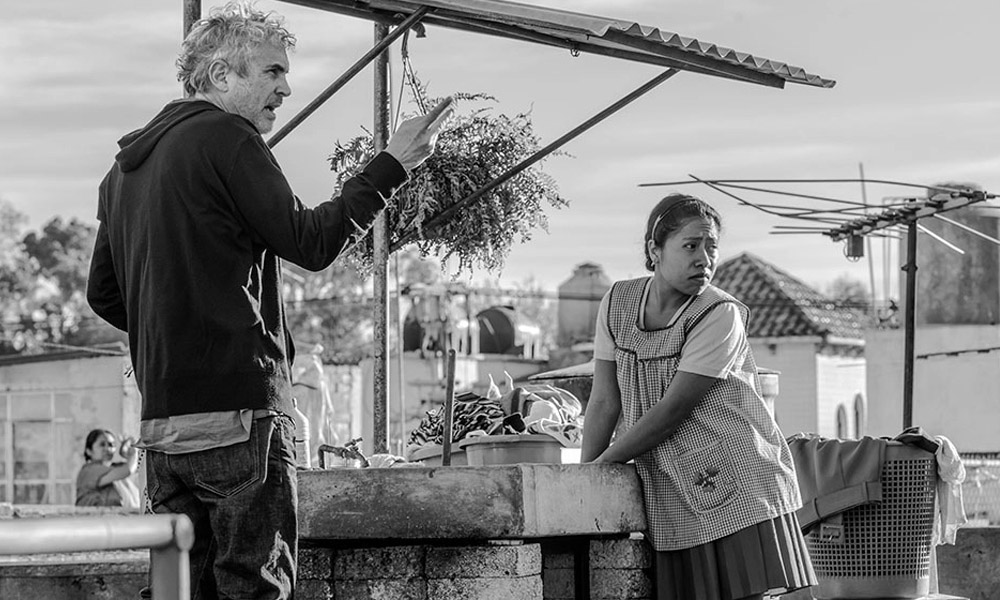 What Yalitza Aparicio brings to the role of Cleo is astounding. She has an unassuming charm yet commands the screen. A masterfully presented scene of Cleo in labor does something few films ever do: get me to suspend my disbelief. I'm always hyper-aware that there's a sound guy holding a boom mic off camera and a slew of crew itching for craft services. It's a curse that keeps me from enjoying movies like most folks do. But there are moments in Roma when I forgot I was watching people pretend. It's a great trick if you can pull it off, and Roma does so with grace.
Roma (2018)

2h 15min | Drama | 21 November 2018 (USA)

Summary:

A year in the life of a middle-class family's maid in Mexico City in the early 1970s.

Countries: Mexico, USALanguages: Spanish, North American Indian, English, Norwegian, Japanese, German, French