Bricolage – A Vietnamese Gastropub Grows in Brooklyn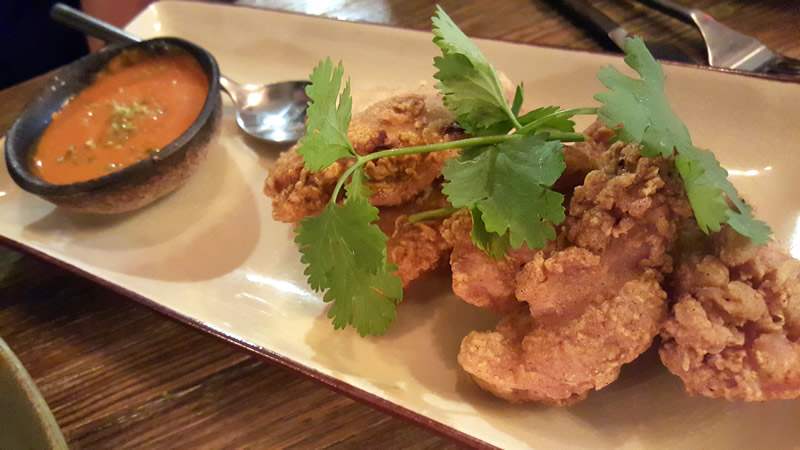 I sifted through recent Eater Heatmaps in Brooklyn for something new and interesting.  Sent Alex a few options and she texted back "Let's go to Bricolage and hit that shit hard."
Some online due diligence reveals that two cooks from The Slanted Door in San Francisco partnered up with locals to create this much-needed Vietnamese gastropub in Park Slope.
Having read some Yelps and articles, I had an idea about what I wanted to try.  First, I need a drink STAT. This knot in my shoulder isn't gonna soothe itself.  I order the Jaxon's Punch. At least I think that's what it was called. I drank them pretty quickly. My girl tried it and gave me the "too sweet" face.
Alex had a non-alcoholic drink that was bright and citrus-y. Jason had a Margarita. I was jealous it came in a rocks glass.
Between small and large plates, there are a lot of choices on the menu. Everything from traditional papaya salad and whole branzino to inventive Vietnamese crepes.
We started with Sriracha Butter Chicken Wings and they were a hit. I think we needed at least another order. The sauce was a bit spicy but my girl painted it on happily.
We should have ordered two Crispy Imperial Rolls, too. Pork, shrimp, glass noodle, wood ear mushrooms – fried hard, son!
These Summer Rolls were a tasty treat, with a slightly spicy peanut sauce. Even if these shrimp look like they're trapped in The Matrix.
My girl had the Claypot Shrimp – and it wasn't spicy enough for her. But she likadaspice!  Tasted good to me, but I was more than mildly obsessed with my own dish, the Unshaking Beef. Niman Ranch flank steak, pearl onions, scallion, lime-pepper sauce.  Mmm. The table dug it, especially those caramelized pearl onions. The lime-pepper sauce gave it just the right amount of Vietnamese funk.
By now these drinks are giving everything in the room a soft haze. I have a great view of the kitchen. Perfectly charred steaks and chops make it hard to consider being a vegetarian. Those poor delicious animals. OK, this has to be my last drink.

Jason had the Lemongrass Grilled Pork Chop, which I now realize I never tried. I could be better at this. But it looks good in the picture, no? I could go for one of these right about now. Looks simple and perfect.

Alex got the House Made Banh Canh Noodles – coconut milk, tofu, pickled vegetables, herbs. It was delicious. She let me dip twice. Those noodles were perfect, with a coconut flavor that ran deep.
Lubricated with rum, I don't even care when a kid at the next table drops a metal school-bus on my girlfriend.
"Can you get that for me?" the mother asks my girl.
"I will cut you and your child," she thinks to herself.
There are two options for dessert. The table agreed on one so I ordered both. "And one more of these," pointing to my empty glass.
The Coconut-tapioca Pudding with five spiced ginger syrup was subtle and lovely. On the other end of the spectrum, the Chocolate Molten Blue Cheese Lava Cake was complicated. Yet even the skeptical among us were instantly converted – getting that deep chocolate into a bit of blue cheese dragged through salty apricot jam.  Savory to sweet something like 60-40.  A perfect way to end the night.
Bricolage is certainly another plus in the Brooklyn column. I look forward to getting familiar with their entire menu, including cocktails.
Writing Your First Book / Should I Self Publish?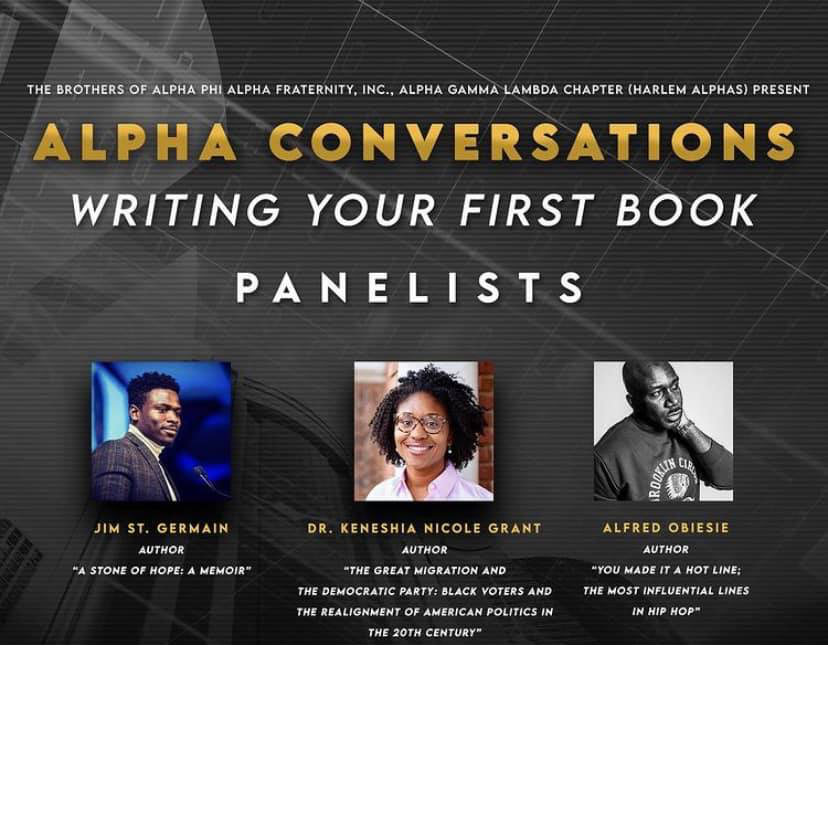 I had the distinct pleasure of  participating in a panel discussion on writing your first book, presented by the Harlem chapter of Alpha Phi Alpha Fraternity Inc.  Alongside Jim St. Germain, Author – A Stone of Hope: A Memoir and Dr. Keneshia Nicole Grant, Author – The Great Migration and the Democratic Party: Black Voters and the Realignment of American Politics in the 20th Century.  We opined on pain points, benefits and strategies regarding our inaugural voyages into authorship. Feel free to watch for your self and I hope this provides some insight to all those looking to make the same voyage. Enjoy!
What the NFT is a BEEPLE?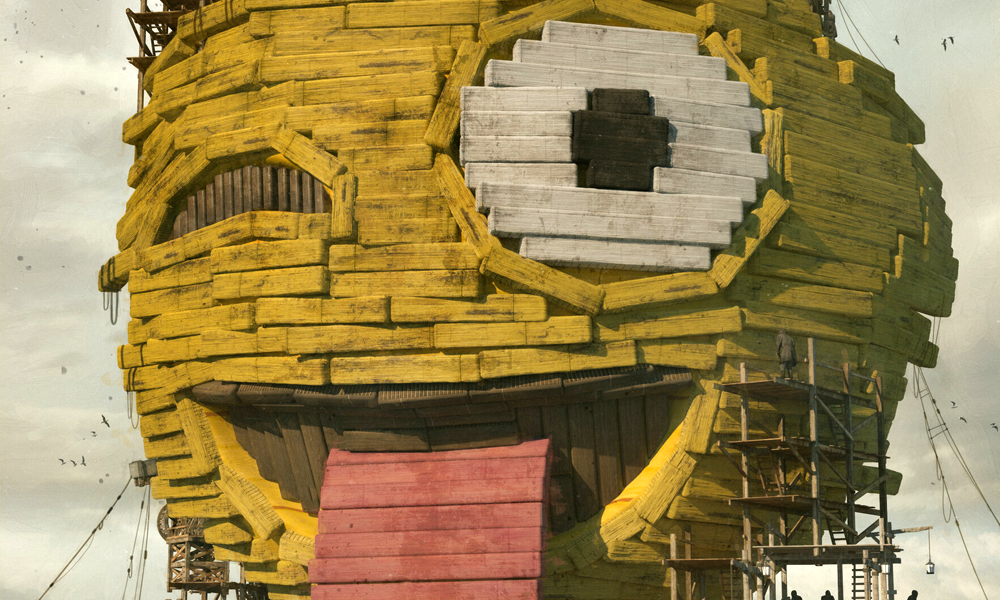 On March 11 this year, the digital artist Beeple sold a collage of digital images from his "Everydays" series for nearly 70 million dollars as an NFT, or non-fungible token. And if that sentence confuses you, you're not alone.
A non-fungible token is a unit of data on a digital ledger called a blockchain, where each NFT can represent a unique digital item, and thus they are not interchangeable. NFTs can represent digital files such as art, audio, video, and other forms of creative work. While the digital files themselves are infinitely reproducible, the NFTs representing them are tracked on their underlying blockchains and provide buyers with proof of ownership." – Wikipedia
Still confused? Let the artist himself explain it, and learn how he went from NFT newbie to making the third most expensive artwork by a living artist in three months. Not to suggest Beeple is an overnight success. The "Everydays" series alone involved creating a piece of art every day since May 1, 2007 – and he hasn't missed a day.
Check out some of Beeple's amazing and controversial work below.
Comic Fans: Geek out with Cartoonist KAYFABE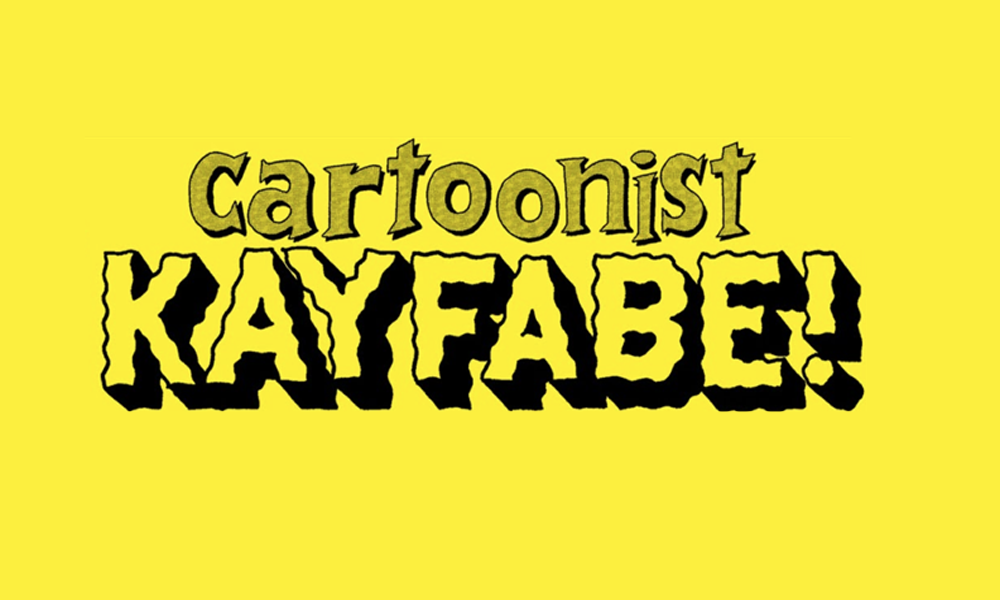 Cartoonist Kayfabe is a YouTube channel hosted by comic-book makers Ed Piskor and Jim Rugg.
Comics have come a long way since they were just for kids – and anyway, those kids have grown up and rightfully embrace it as  an artform. Cartoonish Kayfabe expertly walk you through the finer points of comic creation and appreciation, referencing some high quality images along the way.  If you're a comic geek, you will dig it – especially if you're into 90's era and independent comics.