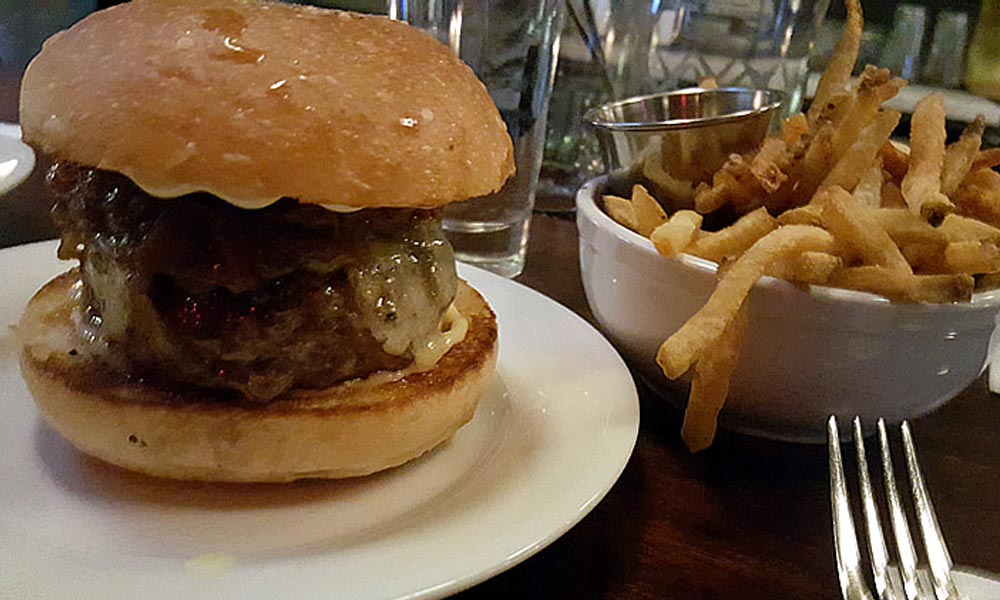 Little King
749 Metropolitan Avenue • Brooklyn, NY 11211
Excellent spot for crafty cocktails and smallish plates in East Williamsburg.
Quaint bar setup, but concise and well stocked. Dug the Trolley Dodger (Redemption Bourbon, Vermouth Bianco, Cherry Heering, Peychauds) and the super smokey War Horse (Laphroaig single malt, Overholt Rye, lemon, Aperol, Falernum). Bartender let us know that the drink program will change regularly to keep it interesting.
Roasted Bone Marrow with pear and bourbon glaze and toasted baguette may provoke purists, but I found it tasty and perfectly sized for two people to share without feeling overly stuffed afterwards. Same for the Little King Burger, covered in caramelized onion and tomato jam so you won't confuse it with the multitudes of burgers on every street in this town. Solid fries, too.
Menu also includes Beef Carpaccio, Fried Brussels Sprouts, Chili Glazed Chicken Wings, Cheese and Salumi Plates, and more. I intend to know it well. Across the street from the L train, and a stones throw from the G – this is my new go-to spot before shows at Brooklyn Steel, for sure.
Related Links:
– Little King, a new bar and gastropub, is now open in Williamsburg – Free Williamsburg
– The Making of Little King- Tumblr
– Metropolitan Minibar Little King Reigns Supreme Over Graham L-Stop – Greenpointers
– Little King Bar – Design Sponge
Here's five acts doing their thing in the first installment of Hip Hop Now.
Chicago rapper Saba's new record Care For Me features Chance The Rapper on "Logout."
From Everything is Fine, a collaboration between rapper/satirists Jean Grae and Quelle Chris, here's "Zero."
Tyler, the Creator stays weird and rhymes chicken nugget with fuckit on rap nugget "Okra."
Dallas rapper Bobby Sessions lost his cousin to police violence and channels that energy into the controversial "Like Me."
Rapper/actor A$AP Rocky samples Moby's "Porcelain" on "A$AP Forver."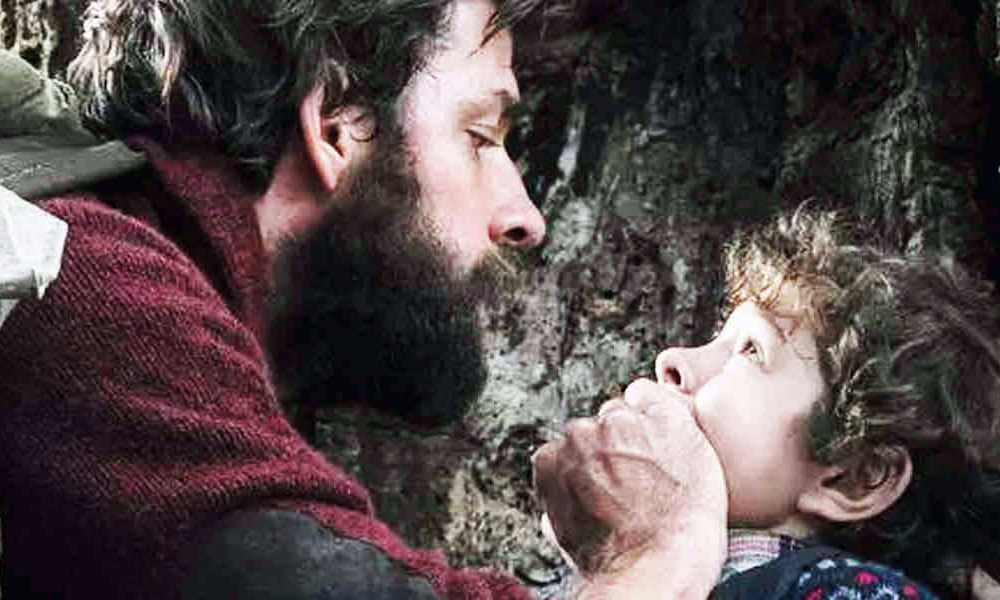 "A family is forced to live in silence while hiding from creatures that hunt by sound."
A lot of skepticism crossed my mind when I first saw the trailer for A Quiet Place. A lot of familiarity to the falsely-marketed It Comes of Night were smeared all over this film. A family trapped in what seems like a post-apocalyptic world, forced to farm, hunt, and live like 1930's Okie's in the dust bowl. No real explanation of what happened and what is hunting them. Nah! I figured that they would foresee the comparisons and will stray away from the "its the people that are the real monsters" trope.
Thank the Lord that they did.
From the beginning of the film we see that there is a real threat, and the family is just trying to live in silence, literally. They have to keep extremely quiet in order to not be heard by the creatures who kill by sound. The theater experience was very interesting for this film as the audience fell to dead silence, as if we were participating in the same scenario.
This movie relied heavily on some tremendous acting. John Krasiniski not only directs but stars with real-life wife Emily Blunt, and holds down the lead role with a mix of grit and sincerity. Blunt knocks it out the park as the mother who suffers through grueling moments, pantomiming some extreme pain that had the audience cringing with tension.
More impressive were the kids. Noah Jupe, who has been quietly making waves with his acting in movies such as Wonder and the sub-par film Suburbicon, was stretched in this movie portraying the son, but Millicent Simmonds, who I couldn't pinpoint to any other film, carried a lot of the emotional weight and was burdened with the heaviest guilt.
Now the creatures were obviously CGI and it was noticeable, but when they make their grand appearance it doesn't really matter. The way they hunt, move about, and made their weird clicking noise, made them fascinating monsters and even a bit creepy.
This movie did a great job of mixing emotion and tension and even though I found it toned down on the horror, I think it could have a few people curled up in their seats from the thrill.
Overall Grade: B
This movie was good and it was held up but some truly stellar acting, directing and writing. Don't expect a lot of horror, but do expect to be uneasy with a few scenes. Oh, the ending was simple but very bad-ass!
Drama, Horror, Thriller
April 2018
Director: John Krasinski
Paramount Pictures
1 hours 30 minutes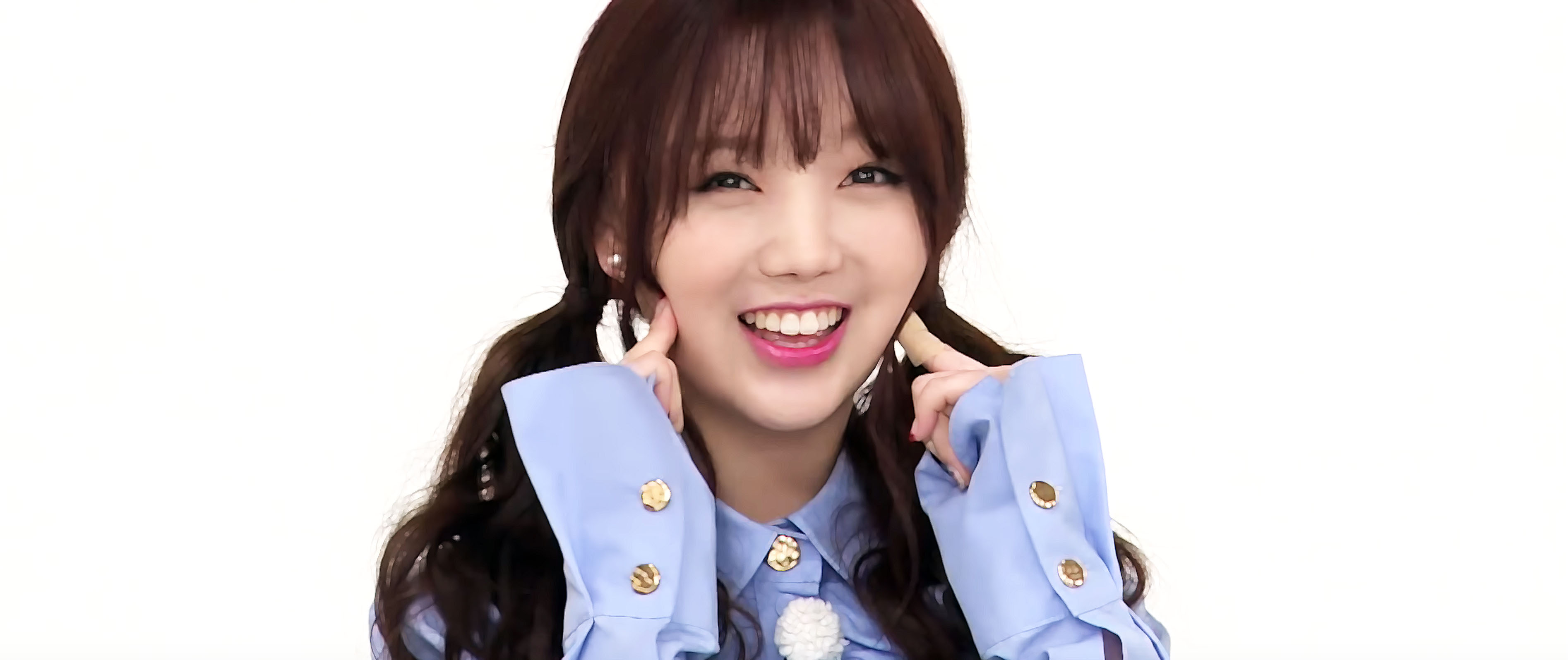 You know how you and your significant other do the baby talk thing? Come on, you do it, admit it. Sometimes you talk to each other in a childish voice or make silly little gestures that you would never use at, for example, a business meeting or at the dentist. Well, this is a whole cottage industry in South Korea and they call it Aegyo. 
Aegyo, a tool long leveraged by South Korean ladies to get what they want through sheer cuteness, has been leveraged by male and female K-Pop Idol groups to ginormous success. In fact, there are songs where one can do little cutsey gestures to the whole thing. Two popular aegyo anthems are The Gwiyomi Song and Oppaya, and there are videos aplenty on YouTube where folks of all ages and backgrounds vie for cringe-worthy cuteness. Some of these videos have millions upon millions of views. There's even K-Pop Idol shows where folks watch each other express aegyo and react with howls of laughter.
Holy cow, the more I talk about this, the weirder it gets. Yet, I can't look away.
Other cultures are jumping on the band wagon, too. Check out the videos below for some adorable examples.
https://www.youtube.com/watch?v=jcgGASL8EXo