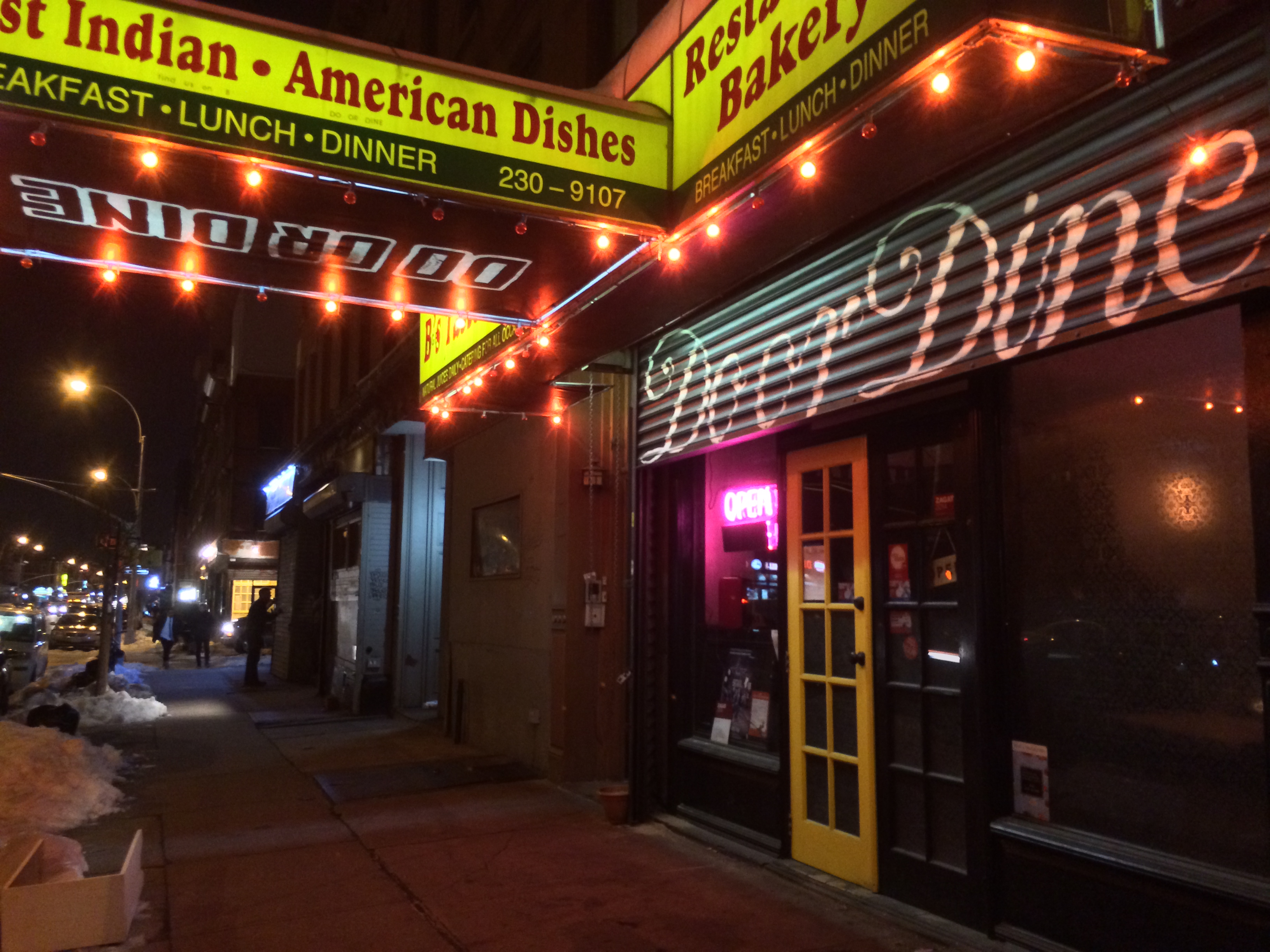 "And I do it like Bed-Stuy, do or die."
– Biggie
Do or Dine's been calling my name for a while now. I don't know what kept me from it – maybe some bad things I heard about the neighborhood. But I should have known better and now I expect Do or Dine and I will be going steady. Especially since she totally puts out on the first date.
It's important to note that looks can be deceiving. For example, don't believe your eyes; this isn't a West Indian spot. Do or Dine retained the previous tenant's awning and facade. I agree; that's awesome. From the outside you'd never expect to be greeted by cultured ambiance, well-curated old-school hip-hop and a disco ball you'll appreciate more as the night progresses.
Speaking of which, that drink you're drinking is also pretty deceiving, but they don't call it Cinnamon Toast Krunk by accident. If you like your drinks to taste like breakfast cereal, you will be rewarded. I go for the George & Ginger, a combo of Dickel whiskey and ginger beer. Looks safe enough from the outside, but if remembering things is important to you, don't drink four of these on the same day you didn't eat lunch.
"Do I have legs?"  I ask my girlfriend at the end of the meal.
My girl also dug the Spherickle Back (tequila followed by a gelatinous pickle-flavored chaser).  And she was most adorable ordering the Bonita Applebum (applejack, cinnamon/serrano, lemon), totally oblivious to the song-origin of it's namesake.
"Can I kick it?" I quote to her.
"What?"
Looks are also deceiving when it comes to this doughnut; filled not just with jelly but foie gras. The mere notion puts a bone in my pocket. Available as an appetizer or dessert, let me suggest you order it for dessert, and once the novelty subsides, skip it on your next visit to order more small plates.
Like, say, the deviled E666S with cilantro and bacon. Tempura, no less, with a small but essential dot of sriracha on top.
Is it any surprise the steak tartare is served in the shape of a cow grazing on a bed of greens? Yeah, kinda. With some yummy espresso aioli and a tiny raw egg you scramble into the goodness. What's so deceiving about the Nippon Nachos is that they aren't really nachos at all. More like the very legitimate love-child of nachos and dumplings.  Probably best post-maryjane.
"You've got quail," Justin Warner says, presenting the preciously plated fowl to the table. My girl rolls her eyes, but agrees the truffle-poached quail is delicious – even if the polenta and "mush consommé" are no equals.
As far as big-plates go, "A Chicken and Woffals"is a sophisticated blend of jerk, maple, pineapple and offal. Is that chicken liver atop the Cornish hen? And also in the waffle batter, you say? Have her bathed and brought to my room.
That Pork & Beans dish is deceptive, too. I mean, it don't look like no pork and beans.  Looks more like pork, kimchi and mustard greens had a fight on your plate. Lucky for you, the make-up sex happens in your mouth. I don't know what's wrong with me.
Apart from the foie doughnut, there is only one other choice for dessert; the decidedly deception-less Snickers ice-cream bar. It's literally store bought, drawn and quartered with the wrapper still on. Maybe all this deception has more to do with reinforcing the low-rent aesthetic of an otherwise deluxe apartment in the sky.
(My girl won't get that reference either.)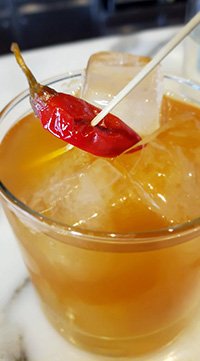 We strolled leisurely down 11th, avoiding the tourist-infused High Line, toward a chef's counter reservation at Toro where we happily ordered a step beyond what might be considered reasonable.
I went with a steady stream of Pizza Night! cocktails – a spicy Old Fashioned with Calabrian chili, chorizo infused bourbon, Mike's Hot Honey, and peach bitters. Cold and hot. Spicy and sweet.
We also found the Hell's Bell Pepper to be just the right amount of savory – tequila, mezcal, yellow bell pepper, agave and bird's eye chili.
Now we're diving headfirst into an expensive plate of Paleta Iberico De Cinco Jotas – a dry cured boneless Iberian ham that delights and is gone before you can say "twenty eight dollars."
Some addictive Maiz Asado con Alioli y Queso Cotija followed – a dangerously convenient version of grilled street corn, and a nice foil for the Setas, a bowl of deliciously unctuous mushrooms set beneath a sexy chivy yolk.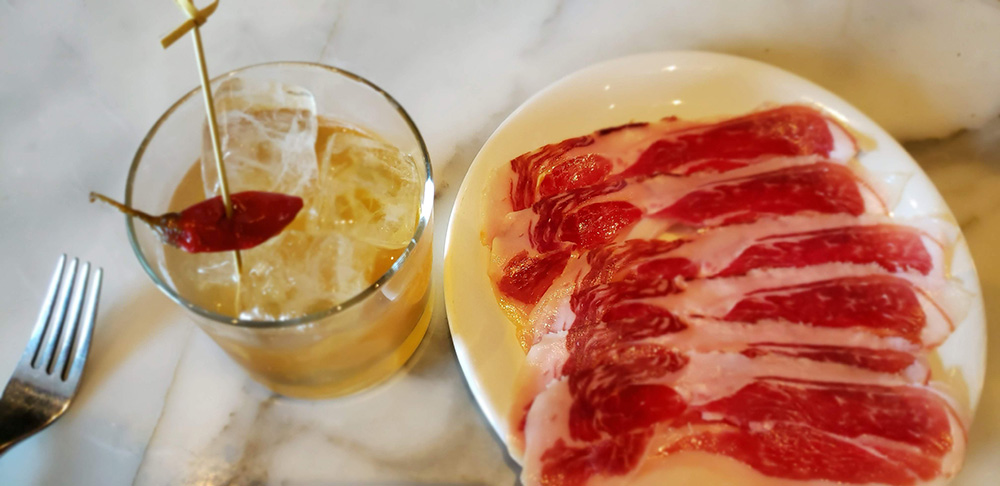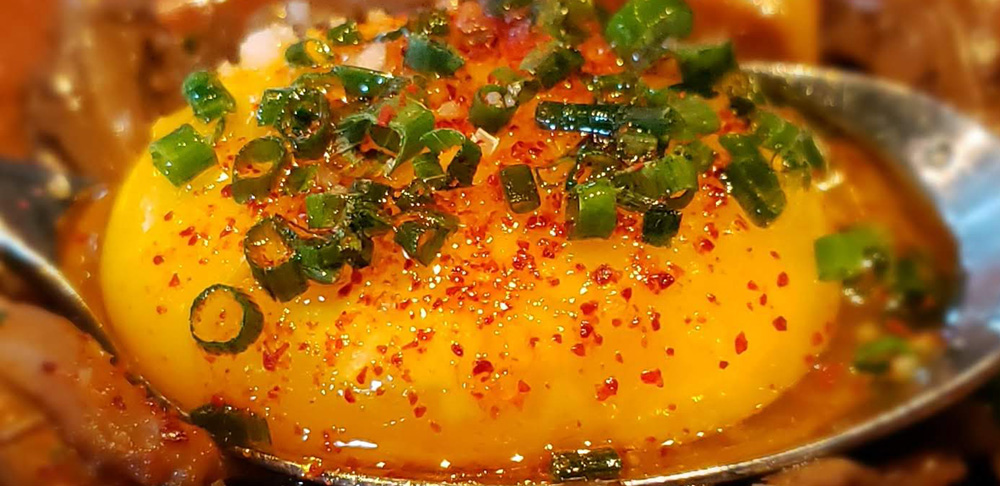 Then things got heavy – in a good way. Unable to choose between bone marrow and foie gras, we picked both. I'm more of a purist when it comes to bone marrow, so the Asado De Hueso with guajillo and chorizo XO, Brussels sprouts and escargot – perhaps has a little too much going on. Yet I ate it happily.
We opted for the Foie Gras Tonkatsu – a crispy foie sandwich with strawberry tomato jam and pickled daikon. Kinda perfect bar food if you're OK with foie taking second billing. Nice marriage of textures, too.
"Hey man, that's probably delicious, right?" asked a stranger at the bar – flanked by two liquored up and leathery ladies of a certain age. I smiled and snapped a picture of his seared foie.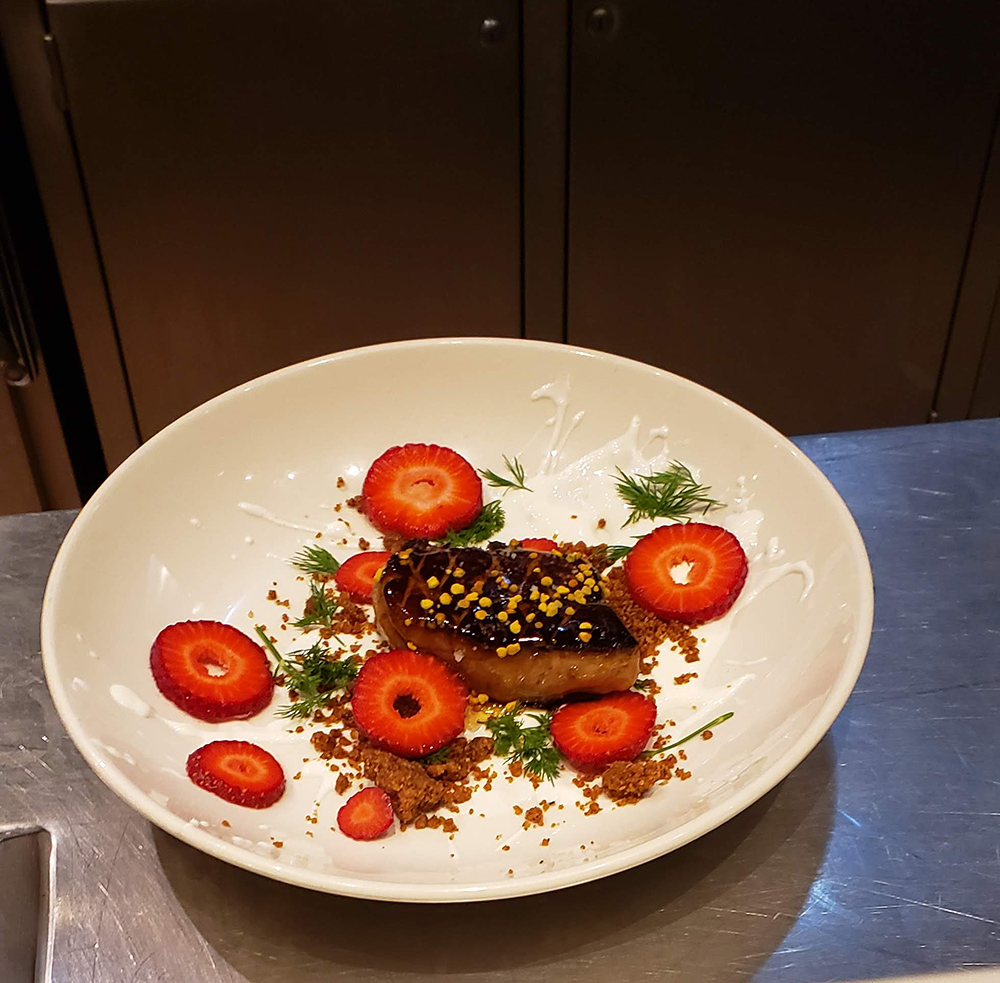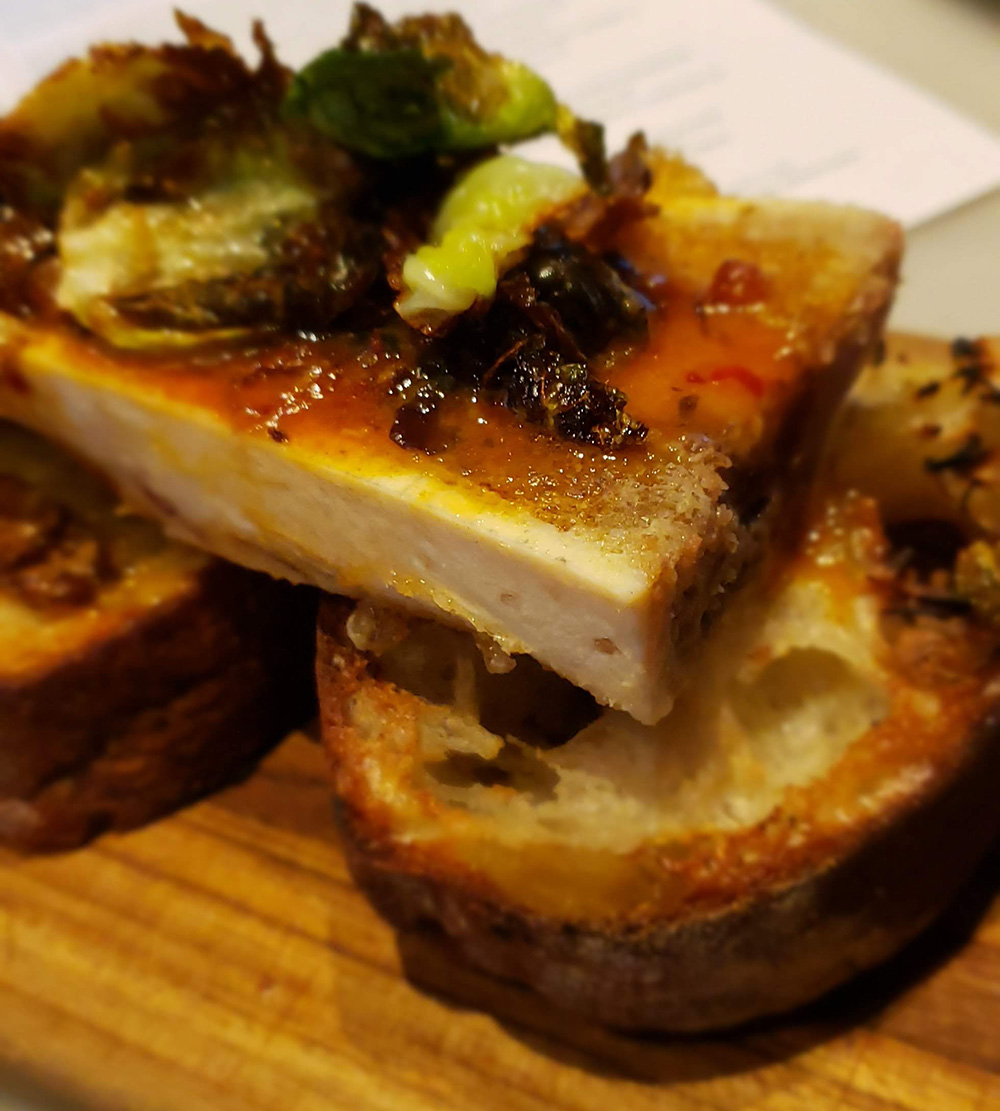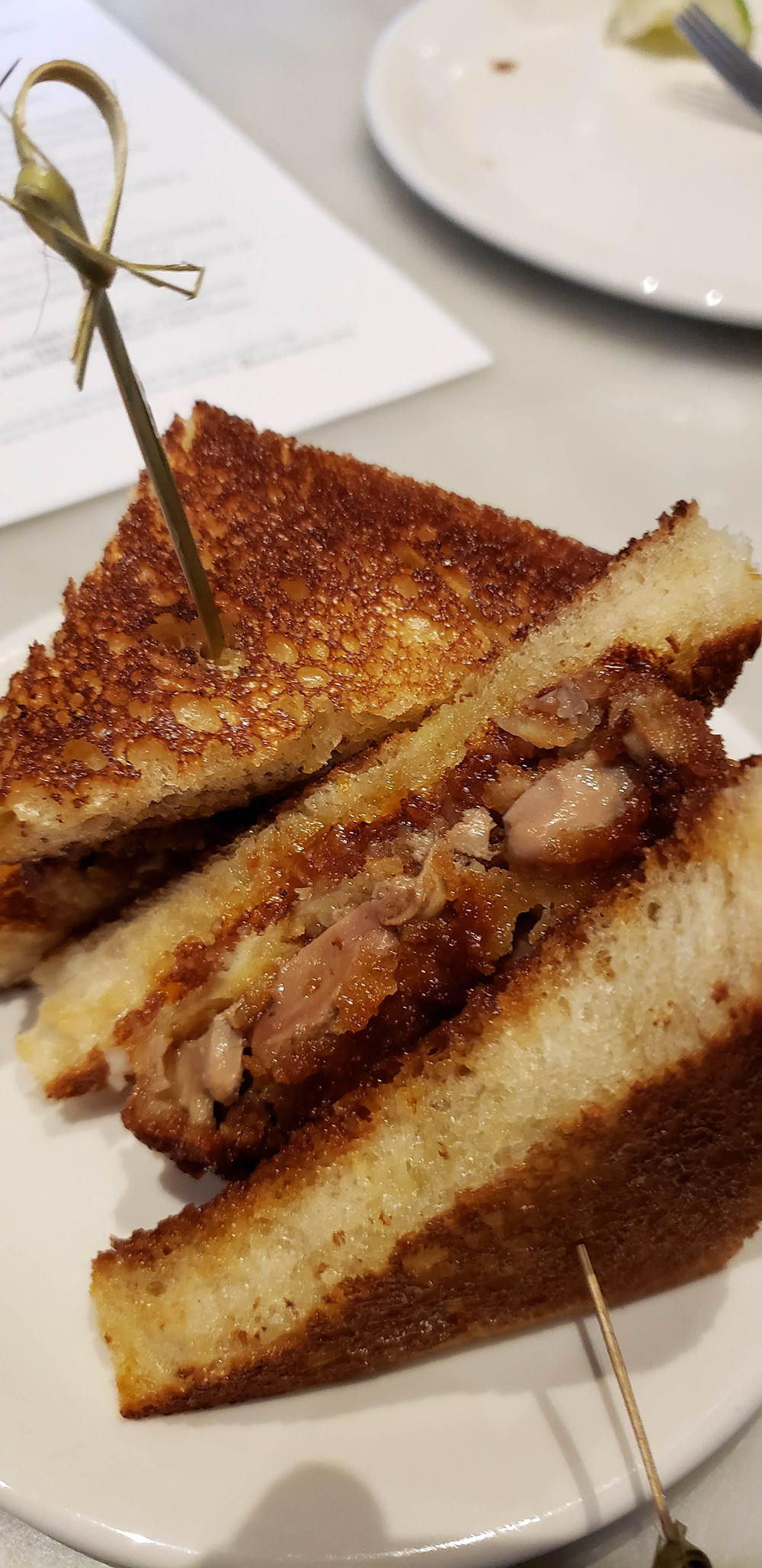 For dessert we had hamburgers.
Ok, not dessert per se, but our last course were a pair of delectable Hamburguesas, mini dry-aged burgers with a spicy kick on a potato bun.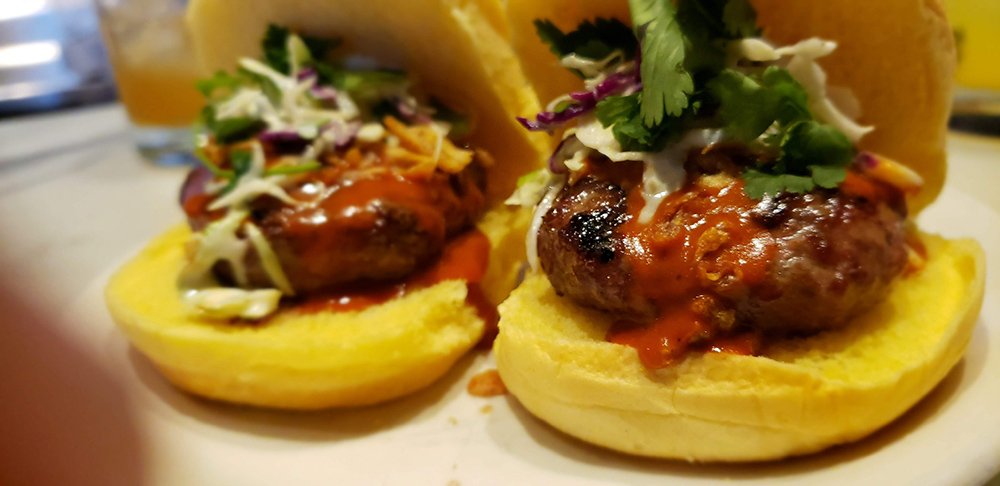 In a nutshell, Toro is the perfect place for you and your overpaid friends to meet up, get buzzed, and eat decadent small plates while ignoring a world gone mad.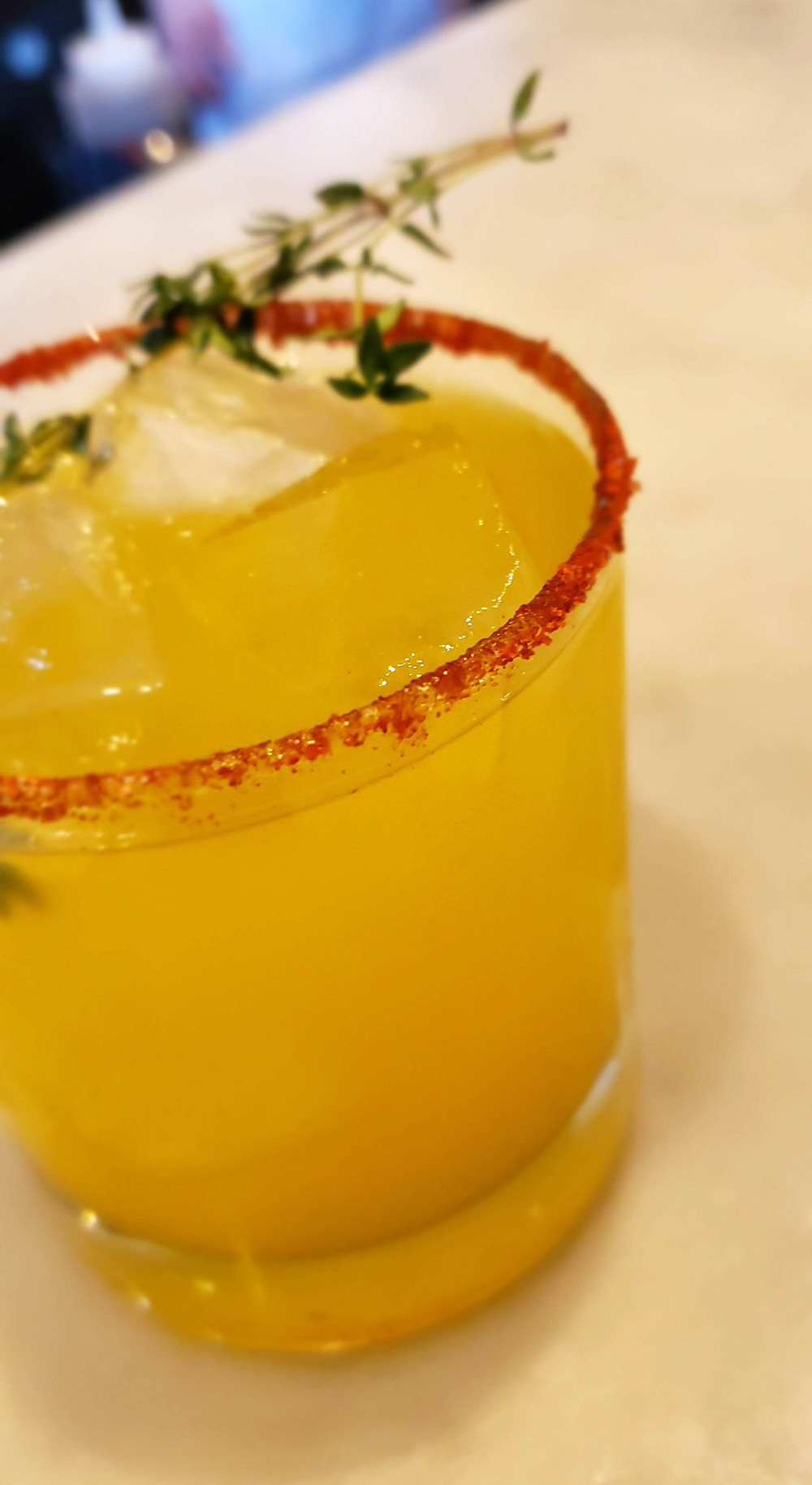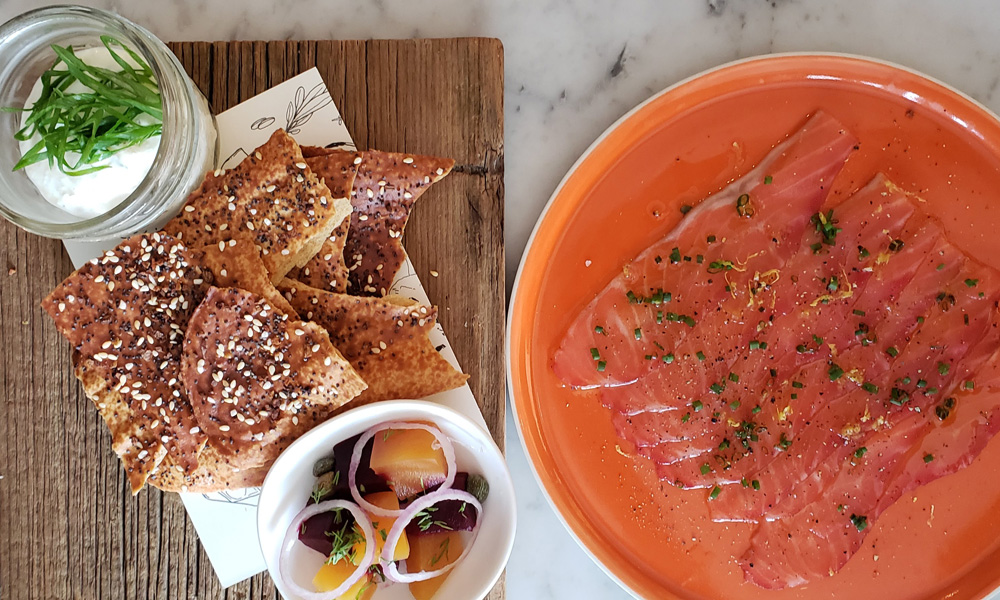 Olmsted
659 Vanderbilt Avenue, Brooklyn, NY 11238 – Map
Website
Prospect Heights restaurant from chef-owner Greg Baxtrom packs them in for dinner and recently rolled out brunch. Expect twists and turns, like a breakfast of Carrot Kathi Rolls (Carrot Pulp Falafel, Cilantro Stem Raita) or the Duck Duo, crispy duck sausage with scrambled egg and maple flatbread. And don't leave without trying their bacon, egg, and cheese Egg Rolls, as delicious as they are adorable.
The tight and thoughtful dinner menu includes a scrumptious Duck Liver Mouse, a clever Beef Tartare, Heritage Pork with Raclette, and other seasonal curve-balls. Toss in a playful cocktail menu and you've found the perfect spot for those who like a dash of quirkiness on the plate.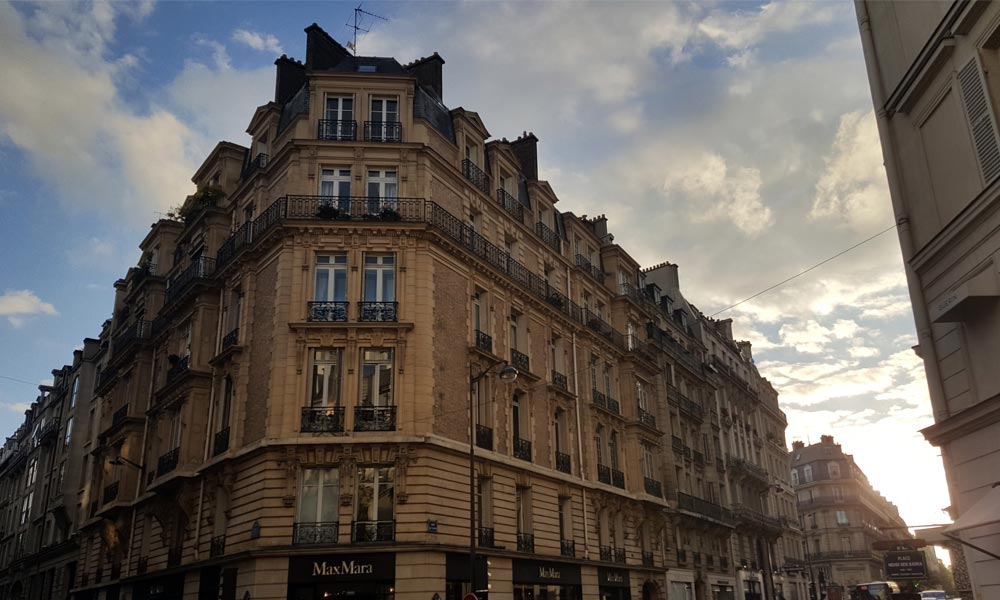 On your fourth trip to Paris, you take less pictures and enjoy more actual moments. Best to live like a local. We rent an apartment and stock up on breads from Poilâne, french butter, various cheeses, some fromage de tête. Good coffee. And the inevitable bottle of Orangina. 
The Google Map below has more restaurants than you could see in any one trip. I wound up having super memorable tasting menus at Frenchie and Ellsworth, and a nice meal at Ore in Versailles. But we also had excellent low key bistro meals, enjoyed Pizzeria Popolare, and some cocktails and charcuterie at aveK.
One of my favorite spots, L'Avant Comptoir, was closed the night I visited.  And I regret not getting to Clown Bar or the Experimental Cocktail Club.
There's always next time.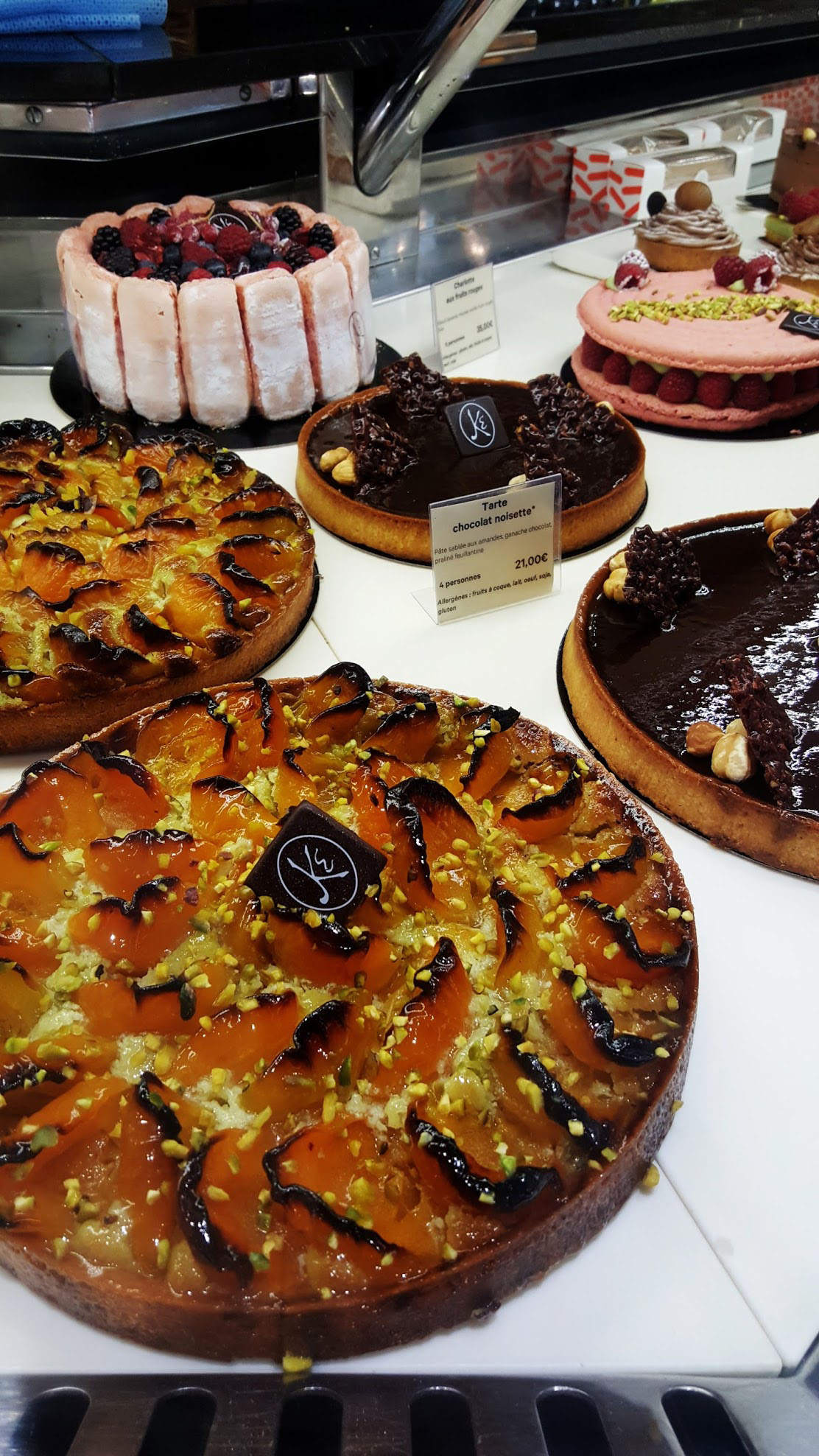 Between the historic sites, architecture, museums, churches, parks, and restaurants… there's a whole hell of a lot to do in and around Paris. Check out our Google Map for some ideas.
Links
Eater Paris
Time Out Paris
Lonely Planet Paris
To the GoogleMap above