Xixa – Mexico City in the Heart of Williamsburg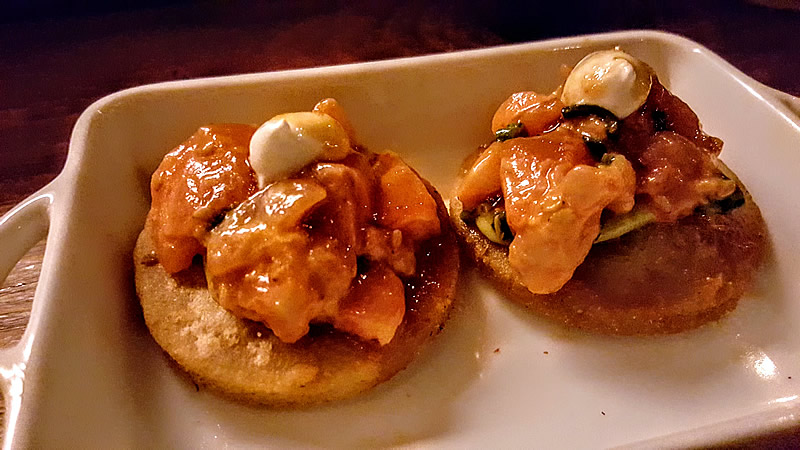 If there's one take-away from this review it's that you should stop reading now and make a reservation at Xixa regardless of any of my criticisms. You'll be blown away by the same mastery of flavors and texture you've come to expect from sister spot Traif just a few doors down. Whether shunning kosher at Traif or embracing Mexican at Xixa, Chef Jason Marcus casts a large shadow over the Williamsburg culinary scene.
Last year while ringing in another new year at Traif I wondered what might be happening at Xixa. This year Kim and I decided to break tradition. I don't regret it for a second, although, truth be told, New Year's Eve may not be the best time to truly experience any restaurant.
We had reservations at the bar, which is my usual preference. Our Bartender steered me in the right direction. The Bourbon Tequila with Old Fashioned ice cube was my favorite cocktail of the year. I order another.
"How much you wanna bet they don't know we're here for dinner," Kim says after 40 minutes drinking.
"They gotta know. We gave our name at the door. And we sent them an email with our La Famiglia choice last week."
"How much?"
"Three dollars?"
We shake on it.
I order another Bourbon Tequila. "And you guys know we're getting food, right?"
"Oh, no. I thought you were just here for drinks."
I hand my girl three singles.
After some apologies, the dishes come out quickly. Too quickly. Three right away, with loose explanations made in haste. I like to hear what's in each dish before I dig in. Managing expectations is all part of service.
We start with the Mexico City style sauteed Edamame with chili and jícama. Was it the best Edamame I've ever had? Sho 'nuff!! Should I have eaten it before the subtly flavored Mahi-Mahi? Probably not.
I took a few breaths and dug into the Mahi-Mahi and Guacamole dishes. Delectable, soft and fresh. Peppers, hummus, vegetables, tortillas made of cheese, others made of corn, all competing for the spotlight. "A first world problem," I thought to myself, dragging an index finger through that fiery Edamame sauce.
"This drink is kicking my ass," Kim says.
"Good. Me too. Can I get one more of these?"
"This round is on us for making you wait," Bartender says.
Next up, the Salmon Sopes. I don't normally dig salmon, but these were delicious. Not sure of the entire composition as they were placed without much of an explanation. At this point they were still trying to catch us up. Delicious anyway, for sure, albiet something of a larger amuse-bouche. I could eat nine of them.
The Foie Gras with Roasted Pineapple, torrejas, costeno honey, chipotle-pineapple reminded us why Jason should be Knighted. Even better than the amazing foie dish at Traif. I lifted the ingredients from their website because, again, I'm not sure that info was conveyed.
"Maybe you should have answered that ad after all," Kim says, referencing a help-wanted Traif and Xixa placed some months ago for someone to manage both spots. I was THIS close to responding but felt under-qualified.
Half in the bag at this point, I had no idea what spices were in that Grilled Corn, but knew I could sink my teeth into them forever. The Seafood Pozole with lobster and squid was equally delicious, with a side of submersibles like crispy tortilla chips.

When tortillas with dipping sauces and cheese hit the table, I wasn't sure if it was a stand alone dish or part of the La Famiglia tacos, the main dish of the night. As instructed, we emailed our choice of Confit Short Ribs a week in advance, though we were close to trying the Crispy Goat Neck.
Should I dig into this plate or wait for the short ribs? This stuff seemed like it would go with tacos. So we waited. Then I asked if this went with the La Famiglia and two servers said yes. By now midnight had come and gone and many folks were leaving the place. I think we reminded one other person about the short ribs and they eventually made their way to the table. In retrospect, I think the previous plate may have been stand alone. I hope so, I ate most of it waiting for the short ribs.
Kim and I looked at each other and pretended to type on the bartop, mimicking, as we sometimes do, asshole hipsters complaining on Yelp.
When the confit short ribs finally arrived the heavens cracked open and blessed two foodies at the bar. We cut into the super crispy surface, through an unctuous layer of fat, into succulent beef we then wrapped in soft (beet?) taco shells sprinkled with corn and lime. Of course the sauces provided were worth bottling, like those at Traif. It was the dictionary definition of umami. Halfway through we were full and got the rest to go. It was excellent the next day.
Two desserts followed. Nothing as Earth shattering as some I've had on non-holidays at Traif, but sweet and delectable in their own right. A soft and luscious Strawberry Flan was followed by Churros with two dipping sauces, one citrus and the other a sinful dark chocolate. Scrummy.
We paid the bill and lamented that restaurants are not at their best on holidays. Balancing altered menus with large crowds results in sacrifices here and there. Yet, I don't see myself changing up this tradition, and in particular I can't wait to get back to Xixa on a boring weeknight when I'm more likely to get the full attention my fat ass desires.
Rest Easy Eric Curran a.k.a M.C Krispy E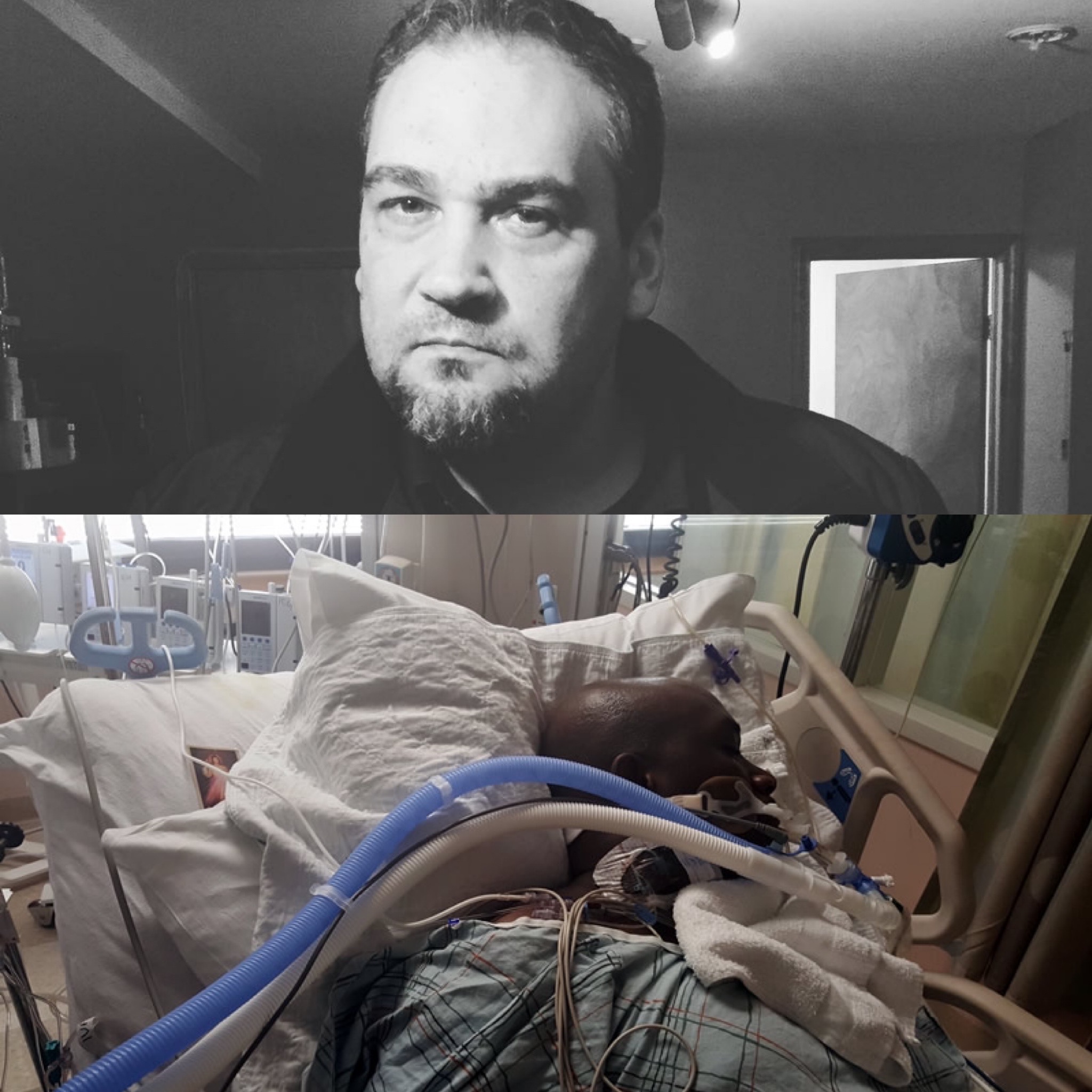 Almost every year for the past 6 years and on the same day, I've posted the same pic of me in the hospital  during my temporary and untimely demise  in 2015. A few weeks after I was back to "normal", I asked Eric "Why'd you take the pics?" And he said, "I knew you would want to write about it if you lived." Eric was right. Eric was often right and Eric always had my best interest at heart. I am going to miss my friend.
You ever meet someone and become friends immediately?! Well this was not the case with Eric. Before he was my manager at Morgan Stanley, I would often see this 6'4″, giant white guy walk up to the only black woman at work, say something then walk away without any hint of human emotion. Naturally I thought he was a jerk until I asked her "Yo, is that dude bothering you?" She laughed and proceeded to tell me he was a great person, which I ultimately got to experience first hand. Little did I know this Italian from Staten Island was more Brooklyn than most Brooklynites.
Eric was not with the shits!! If there were ever someone who lived their life in direct, honest and no uncertain terms, that would be Eric. He would ask me questions at work like "Why are the other consultants making more money than you?" I knew the answer to that question and so did he. Eric then proceeded to increase my salary by 15K. After arguing with all our managers that "You need to hire Alfred!", they eventually did 1 year prior to the 2015 incident. In the hospital, one of my friends asked me, "What if you didn't have health insurance when this happened?" I would be in debt for the rest of my life is the obvious answer. I still am in debt for the rest of my life but at least, it is to those who made sure I had a more enjoyable life and for that, I will gladly repay.
My mom loved to tell me the story of how she met Eric. After they told her I was going to be in the ICU for some time, she told the doctor "Well I'm not going anywhere." She then hears a voice from that back of the room that says "Well I'm not going anywhere either!" That was Eric and in true form, he was at that hospital every single day until I was discharged.
Eric passed away in December 2021 of stage 4 cancer. After feeling faint on his way to my bbq, he went to get checked out and was diagnosed. During the past 5 years, Eric lost his mom, twin brother and dad. I can't even begin to imagine what that must have felt like but I'm glad that pain he was feeling is no more.
It's been a bit difficult to deal with it to be quite honest and I've been writing this in my head for years but never had the bravery or grace to accept that my friend wouldn't be here soon. I also can't imagine what it must be like to lose your entire family nucleus unexpectedly. In true Eric fashion however, I would like this to not be about me but whomever has lost someone and has been coping. I've always intimated that my life would not be as enriched as it was were it not for the people in it. The problem with that is there is also no way to deny that it feels empty without those who helped craft your path. Rather than focus on the negative, I would rather focus on the examples of duty, family and emotional intelligence. All concepts reinforced by Eric that have led me to have successful relationships since I've put them into practice.
From being my manager to my business partner, writer, book editor, artistic director, and most importantly, my friend, I am going to miss you MC Krispy E a.k.a "Enrique Pollazo!" And although you told me Enrique means Henry in Spanish and not Eric, it was too late!
Sidebar. The day I was discharged, while everyone was deciding what was best for me, no one had remembered that I would need clothes in order to leave the hospital. Eric shows up (unasked) with all the clothes I had on the day I coded, laundered and ready to go. I don't know what I've done to deserve friends like this but i need to keep doing it! Sidebar complete.
Rest in Peace Eric. "Be Good."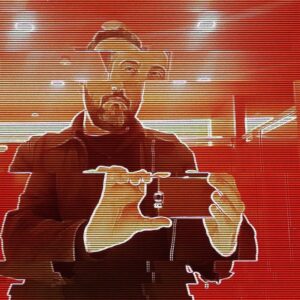 Writing Your First Book / Should I Self Publish?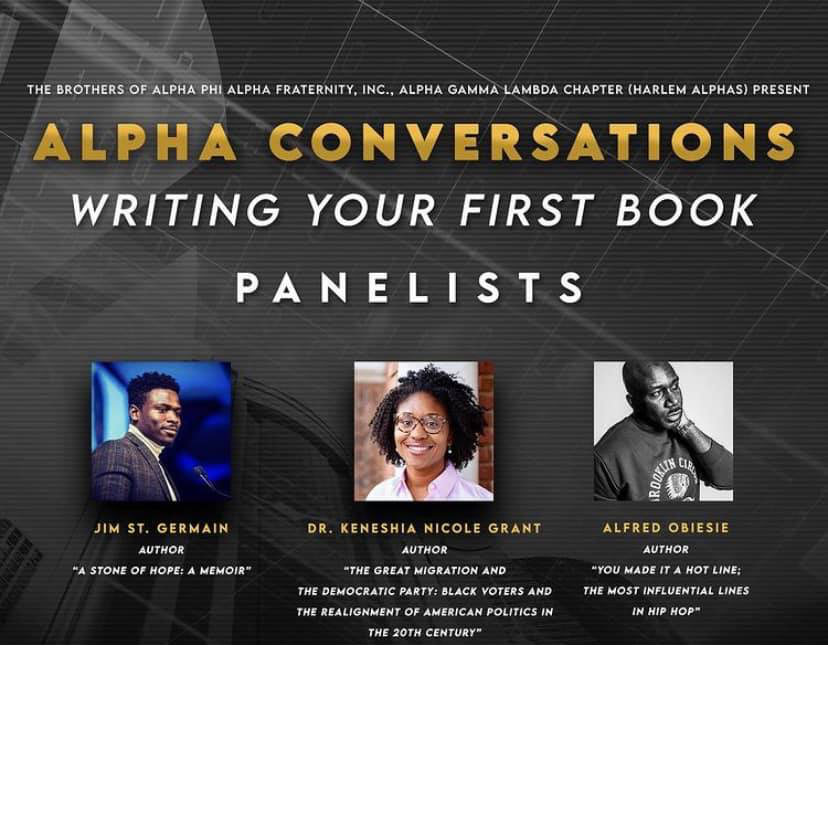 I had the distinct pleasure of  participating in a panel discussion on writing your first book, presented by the Harlem chapter of Alpha Phi Alpha Fraternity Inc.  Alongside Jim St. Germain, Author – A Stone of Hope: A Memoir and Dr. Keneshia Nicole Grant, Author – The Great Migration and the Democratic Party: Black Voters and the Realignment of American Politics in the 20th Century.  We opined on pain points, benefits and strategies regarding our inaugural voyages into authorship. Feel free to watch for your self and I hope this provides some insight to all those looking to make the same voyage. Enjoy!
What the NFT is a BEEPLE?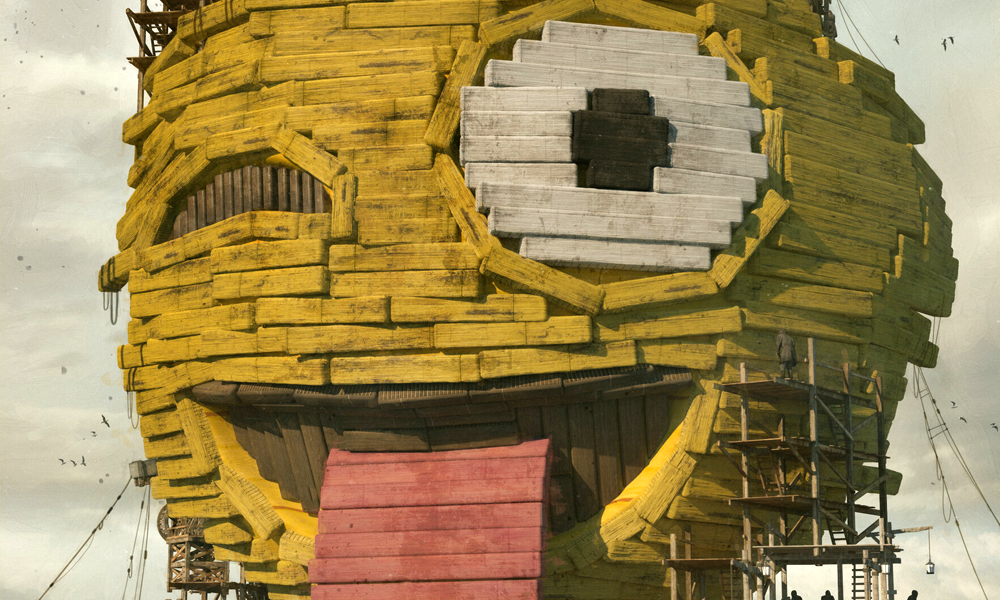 On March 11 this year, the digital artist Beeple sold a collage of digital images from his "Everydays" series for nearly 70 million dollars as an NFT, or non-fungible token. And if that sentence confuses you, you're not alone.
A non-fungible token is a unit of data on a digital ledger called a blockchain, where each NFT can represent a unique digital item, and thus they are not interchangeable. NFTs can represent digital files such as art, audio, video, and other forms of creative work. While the digital files themselves are infinitely reproducible, the NFTs representing them are tracked on their underlying blockchains and provide buyers with proof of ownership." – Wikipedia
Still confused? Let the artist himself explain it, and learn how he went from NFT newbie to making the third most expensive artwork by a living artist in three months. Not to suggest Beeple is an overnight success. The "Everydays" series alone involved creating a piece of art every day since May 1, 2007 – and he hasn't missed a day.
Check out some of Beeple's amazing and controversial work below.