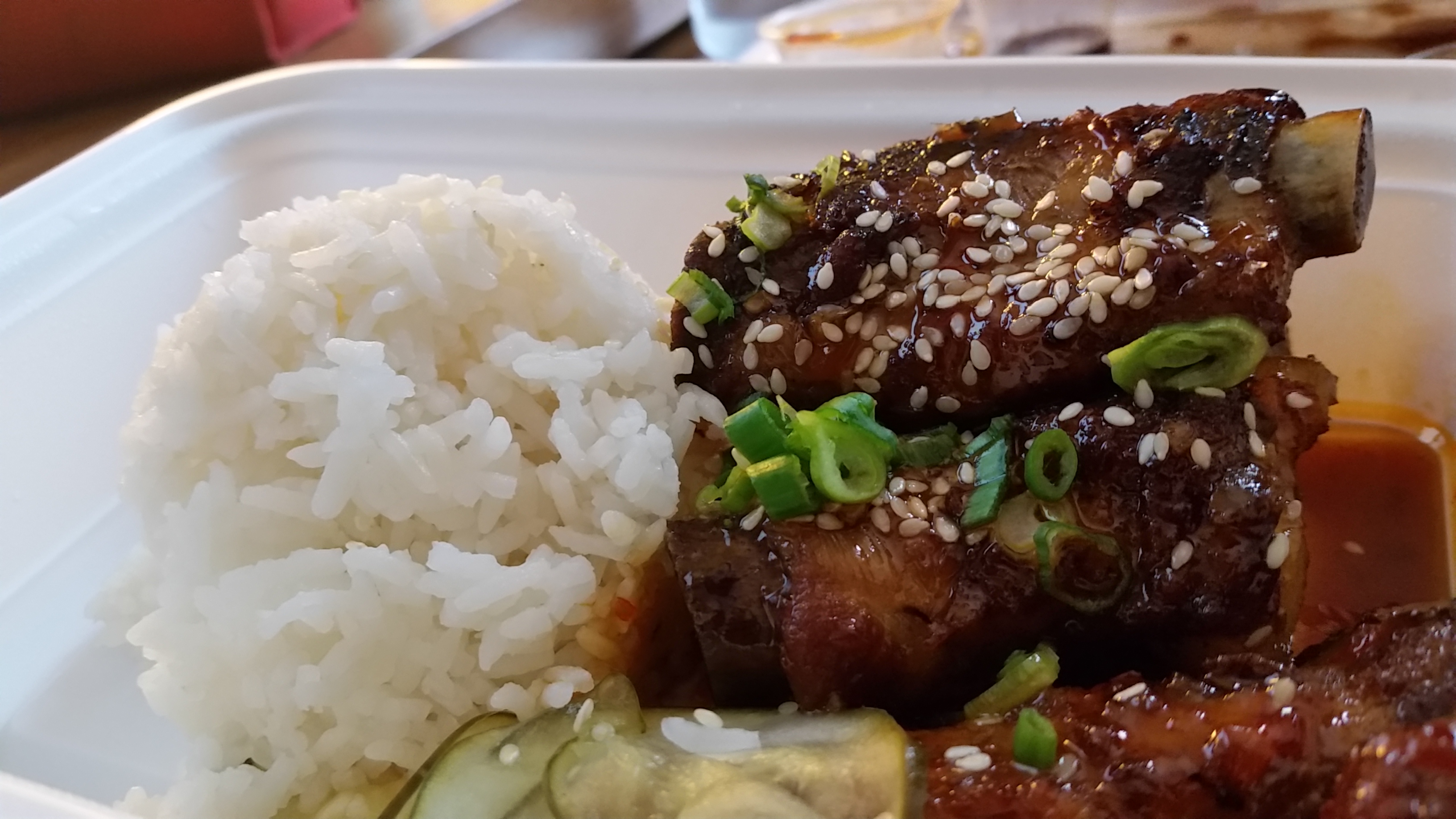 I've walked by this locale a thousand times over the years. There was always some new restaurant here that never took, whose arrival I'd await with anticipation yet with menus that ultimately never enticed me. That changed now that East Wind Snack Shop opened a month ago. Chef Chris Cheung (Nobu, Jean-Georges) may have cracked the code of this odd little space right off the F train at Prospect Park West.
Cheung has lived in this hood for 16 years. I bet he walked down those F Train steps thinking "what could I do with that space?" as often as I have. The result is a small family run spot by a local and celebrated chef buzzing like none before it.
The menu (dumplings, buns, ribs, spring rolls, etc.) is tight and approachable – seemingly do-able in a super small kitchen. Were there days early on when they'd run out of dumplings? Yeah, but you would too if your dumplings tasted like these. And they're on top of it, even extending their hours till 9.
Did we wait a bit when we ordered to go? Yeah, but it's a new hotspot, and that's what happens. I'm not rushing to Yelp to complain about it. I even take some of the blame since we really should have just eaten there instead of taking-out. It's a nice low-fi vibe. Cute stools. They were sweet and apologized for the wait, twice giving us treats, including these Haws that my girl knew instantly. Soft sugary fruit wafers wrapped like Chinese firecrackers.
There's plenty of other kitschy treats on hand from chocolate and strawberry Pocky, to Ramune soda, and Foco Tamarind.
We sauntered home with steaming hot dumplings and such in a brown paper bag, our expectations high. Maybe too high, considering there was no guarantee this stuff would even still be hot when we finally dug in. Cut to the chase; everything was hot and delicious. The Pan Fried Juicy Pork Dumplings were delectable. Just the right amount of salty, not overly doughy and not stingy with the pork, cooked perfectly with a shiny happy sear. The dictionary definition of what I want when I want one. And I want more than one.
We also had the the Sweet Chili Ribs with Pickles and Jasmine Rice. They were a thing of simple beauty, even fresh out of the plastic take-out carton. Perfectly tender and glazed. I did a little dance inside when my girl let me eat the last one.
Oh, East Wind, we needed you in these parts. I look forward to a getting my hands on your buns and hotcakes.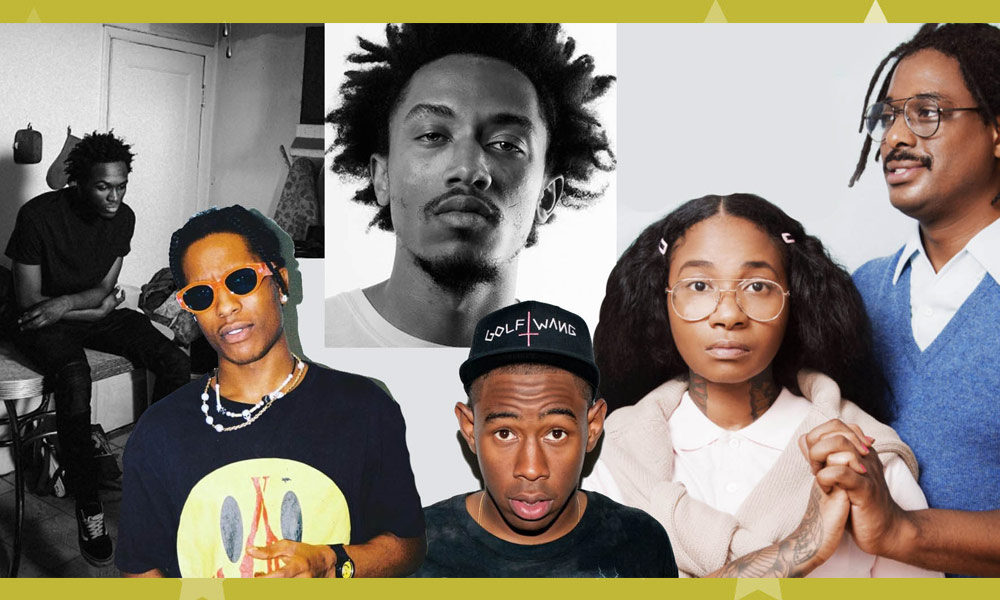 Here's five acts doing their thing in the first installment of Hip Hop Now.
Chicago rapper Saba's new record Care For Me features Chance The Rapper on "Logout."
From Everything is Fine, a collaboration between rapper/satirists Jean Grae and Quelle Chris, here's "Zero."
Tyler, the Creator stays weird and rhymes chicken nugget with fuckit on rap nugget "Okra."
Dallas rapper Bobby Sessions lost his cousin to police violence and channels that energy into the controversial "Like Me."
Rapper/actor A$AP Rocky samples Moby's "Porcelain" on "A$AP Forver."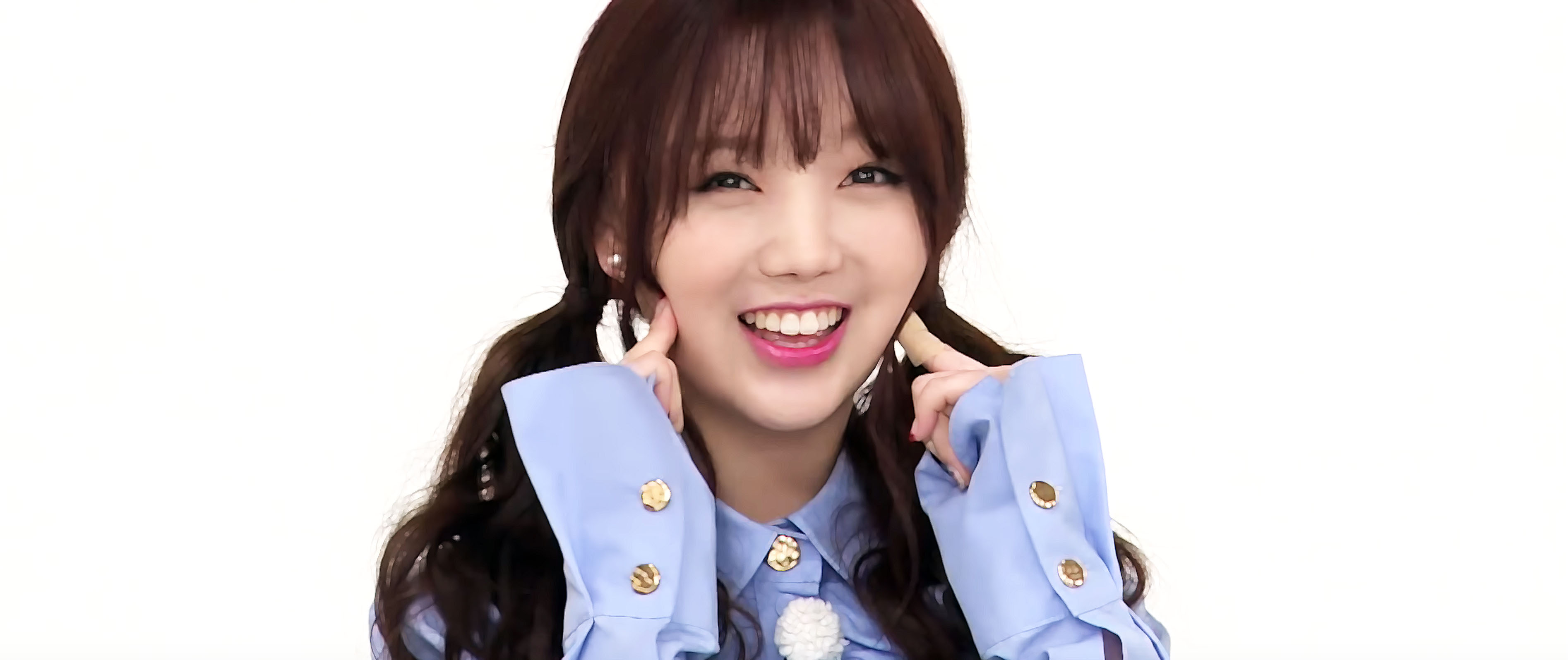 You know how you and your significant other do the baby talk thing? Come on, you do it, admit it. Sometimes you talk to each other in a childish voice or make silly little gestures that you would never use at, for example, a business meeting or at the dentist. Well, this is a whole cottage industry in South Korea and they call it Aegyo. 
Aegyo, a tool long leveraged by South Korean ladies to get what they want through sheer cuteness, has been leveraged by male and female K-Pop Idol groups to ginormous success. In fact, there are songs where one can do little cutsey gestures to the whole thing. Two popular aegyo anthems are The Gwiyomi Song and Oppaya, and there are videos aplenty on YouTube where folks of all ages and backgrounds vie for cringe-worthy cuteness. Some of these videos have millions upon millions of views. There's even K-Pop Idol shows where folks watch each other express aegyo and react with howls of laughter.
Holy cow, the more I talk about this, the weirder it gets. Yet, I can't look away.
Other cultures are jumping on the band wagon, too. Check out the videos below for some adorable examples.
https://www.youtube.com/watch?v=jcgGASL8EXo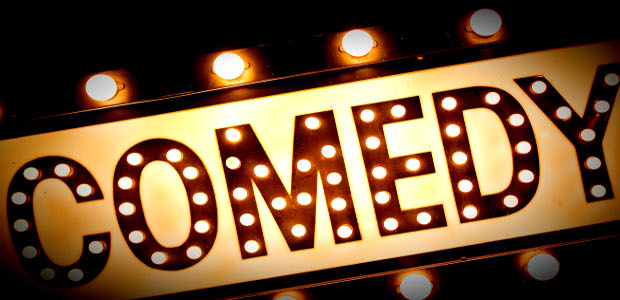 There are stars among us and they're shining brighter in each and every post. Thanks to the platforms of new media and growing creativity, we have a vast amount of refreshing personalities making their way to the spotlight. The barriers of entry have crumbled and the gate keepers are fading away.
So with the holiday season upon us let me take this time to give you the gift of laughter and share a few of these gems that should be on our bigger screens sooner than soon. Some you may already know and others you need to know. Pass it on! It's free!
FIND THEM – FOLLOW THEM – LAUGH WITH THEM
P.S – Do yourself a favor…don't watch while eating. You'll choke on your food.
https://www.instagram.com/p/Bb2ynNsjVTz/?hl=en&taken-by=iampapajean
https://www.instagram.com/p/Bb43oWxHsQ_/?hl=en&taken-by=troyinla