Self Destruction – Hip Hop Beef, Bravado & B.S.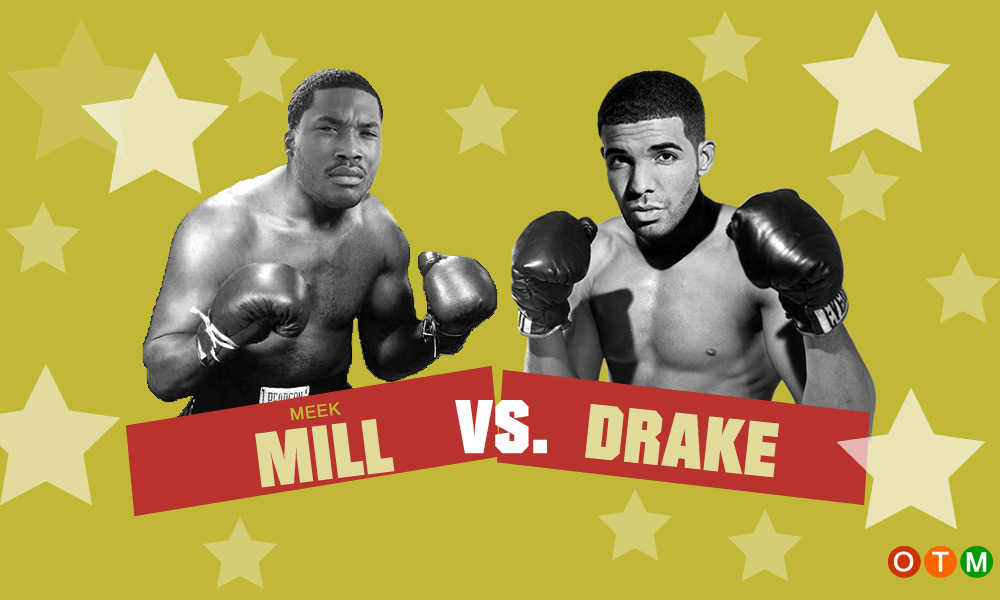 Remember back in the day when hip hop was real and rappers were good and ….STOP right there. This will not be another article about how things were so much better back in my era of hip hop and how we did it better and blah blah blah. Nor is it about stopping the violence and saving the children. The children are unfortunately on their own for this one. This is about good old fashioned silly ass beefs between groan (not a misspelling) ass millionaires complaining to the world about whom / what they like and don't like.
Rappers are still claiming they are better than all other rappers .
Whether us old timers want to admit it or not, the rules of the game haven't really changed. From
Kool Moe Dee
to Kool Mo'
Drake
, rappers are still griping about who stole whose style from whom, albeit on
Twitter
and
Instagram
. Rappers are still claiming they are better than all other rappers and they're unfortunately still pumping bullets into each others vehicles. Although I'd prefer the latter didn't exist, the first 2 often leads to hip hop hijinx of the highest order. Let's examine some of the latest tussles and throw-downs in our beloved genre.
Action Bronson vs. Ghostface Killah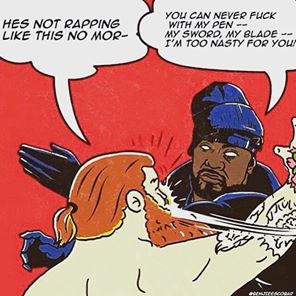 Recent addition to the Hip Hop family Action Bronson and vocal doppelganger of one Mr. Tony Starks a.k.a Ghostface Killah of the Wu Tang Clan may have gotten a bit carried away during a segment on ESPN (why are rappers on ESPN again?). After proclaiming "He's not rapping like this no more" (referring to Ghostface) and being egged on by the ESPN conflict creating consortium (see The Decision or Skip Bayless), Ghostface not only responded but literally threatened to end Bronson's livelihood and life. Well that escalated quickly. Although Action has since apologized (via Twitter), Ghost has since not accepted his apology in a recently released rebuttal video in which he eloquently stated "NO." Me thinks Action may have bitten off more than he can chew (for once).
Meek Mill vs. Drake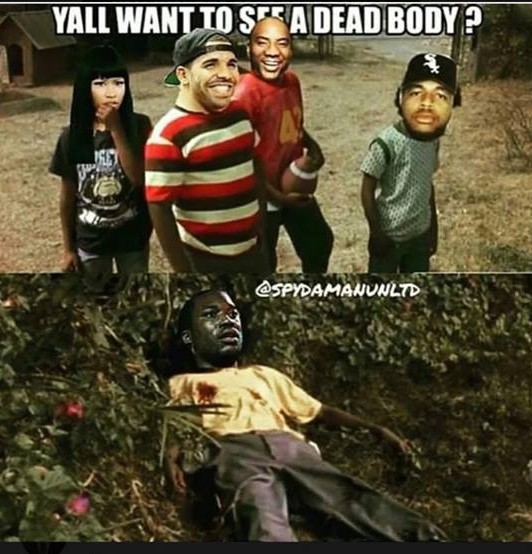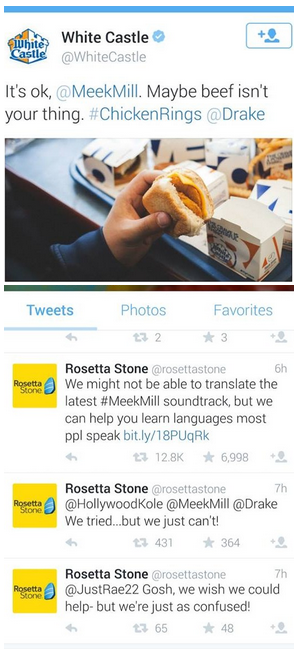 Did the singing rapper who used to be an actor just win a rap battle over the street rapper signed to the corrections officer acting like a street rapper? I don't know what's real and what pretend anymore. I feel like I've been drugged (where's Bill Cosby?). Whatever the case may be, a battle featuring 2 of the largest stars in the genre currently just took place..sorta. All allegedly over Drake not writing his own rhymes but claiming to be a lyrical juggernaut and also not promoting their duet on Meek Mill's latest album.
You would think Wheelchair Jimmy would be the one with the handicap and be coy in a rap battle but apparently Mill is the one who should've stayed Meek.  Before we knew it, there were 2 diss records from Drake and one "diss" record from Meek Mil. More importantly, there were 7,000 memes from social media and fortune 500 companies unanimously proclaiming who they believed to be the victor.
It would seem this tussle with Drake may have even caused the recent split with Meek's current girlfriend and Drake's label mate, Nicki Minaj. With ASSets like that in jeopardy, things don't appear to be getting any better for Meek.
 Lil Wayne vs. Birdman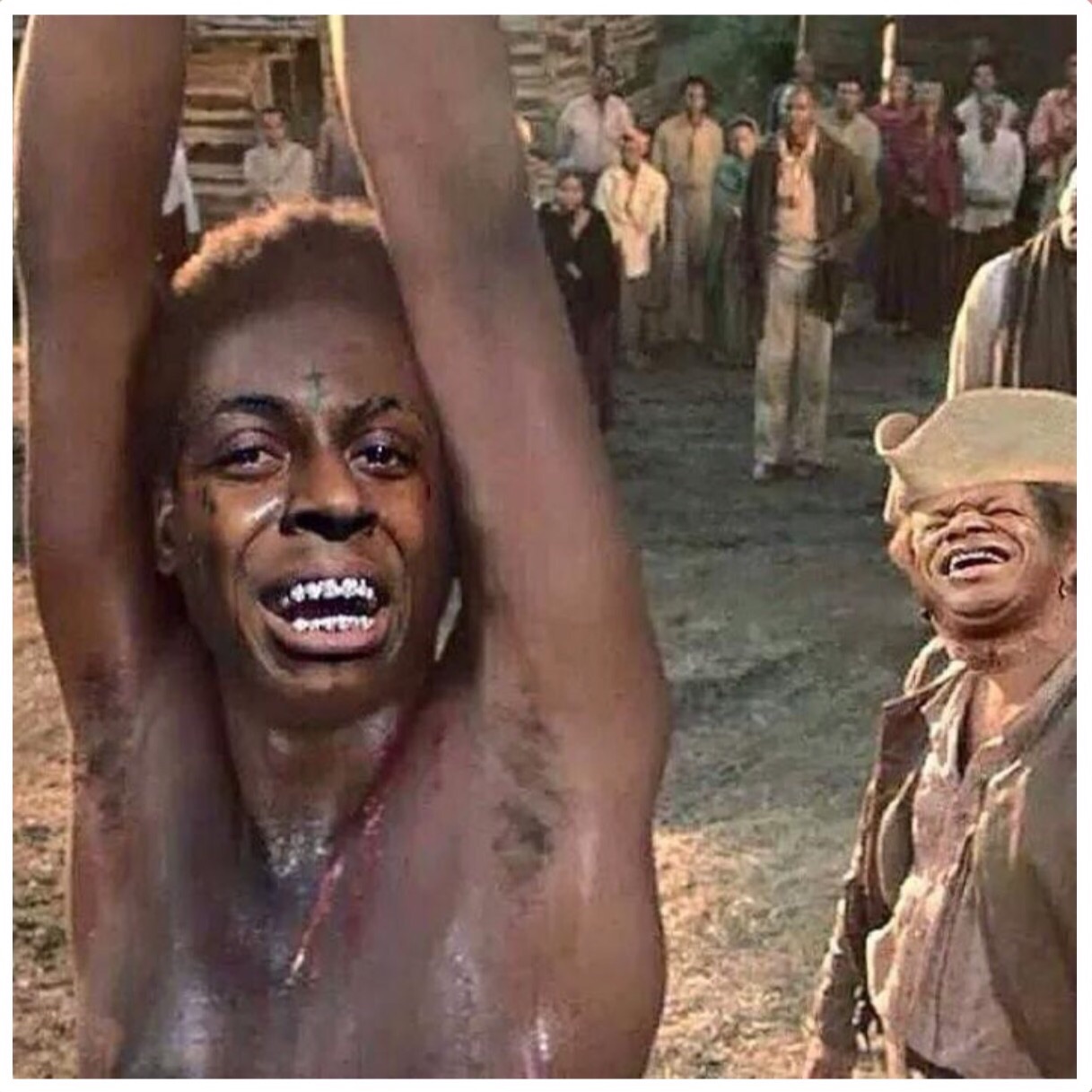 Now this is the type of father-son relationship only Senator Palpatine could appreciate. Lil Wayne, yet another Cash Money Records artist, has accused co owner of the label Bryan "Baby Birdman" Williams of not paying him his full monies. From Juvenile to B.G to Turk to Manny Fresh and now Lil Wayne, the list of rappers continues to grow to almost ALL Cash Money artists that have had financial disagreements with Birdman. Be that as it may, none of those artists were as big as Lil Wayne and none of those artists were literally raised by Birdman.
Wayne has aired his grievances publicly on many occasions in concerts and performances. This prompted Birdman to take the only logical course of action which consists of throwing cups of water on Wayne during said performances and possibly ordering his execution via gunshots to the tour bus. Birdman and another Cash Money Artist, Young Thug were recently named in the indictment of an associate (Jimmy Carlton Winfrey) for the attempted murder of Lil Wayne. Something tells me this one is far from over. Sure hope it doesn't end in memorial songs and R.I.Ps.
This can't be considered beef. This is more like kale-fed vegetarian soy beef.
So there you have it. The modern day beefs that have all ears perked up and ready to say "ooooh, you heard what he said about his momma?" Ok, I may have to change my opening statement. Maybe my generation did certain aspects of hip hop better because this can't be considered beef. This is more like kale-fed vegetarian soy beef. I mean it says it's beef and it may even look like beef but once you bite into it, the consistency immediately blows it's cover and forces your tongue to scream; "SAY MAN! THIS AIN"T NO FILET MIGNON (pronounced Phil-Let Mig -NON!) There were no
Takeovers
or
Ethers 
here (
Jay Z
v.
Nas
) and
The Bridge to the South Bronx
did not collapse (
MC Shan
vs.
KRS -1
). No classics left behind and no classics to look forward to. So what exactly have we learned here, children? The only logical conclusions I can surmise from all this are;
You probably shouldn't talk shit about Ghostface Killah on national television (especially when you sound like him)
Canadian actor-singing rappers ain't nothing to f*ck with
You probably shouldn't sign to Cash Money Records if you want all your Cash Money
Whether these particular round of squabbles fostered healthy competition amongst emcees or lent to the degradation of the culture remains to be seen.  For the moment at least, they registered as several blips in the social stratosphere and theses days, that's kinda the only thing that matters. Oh well, at least they tried. Better luck next time.
Sidebar; Really Meek? That was your response?!??!?!?! Sidebar Complete.
Rest Easy Eric Curran a.k.a M.C Krispy E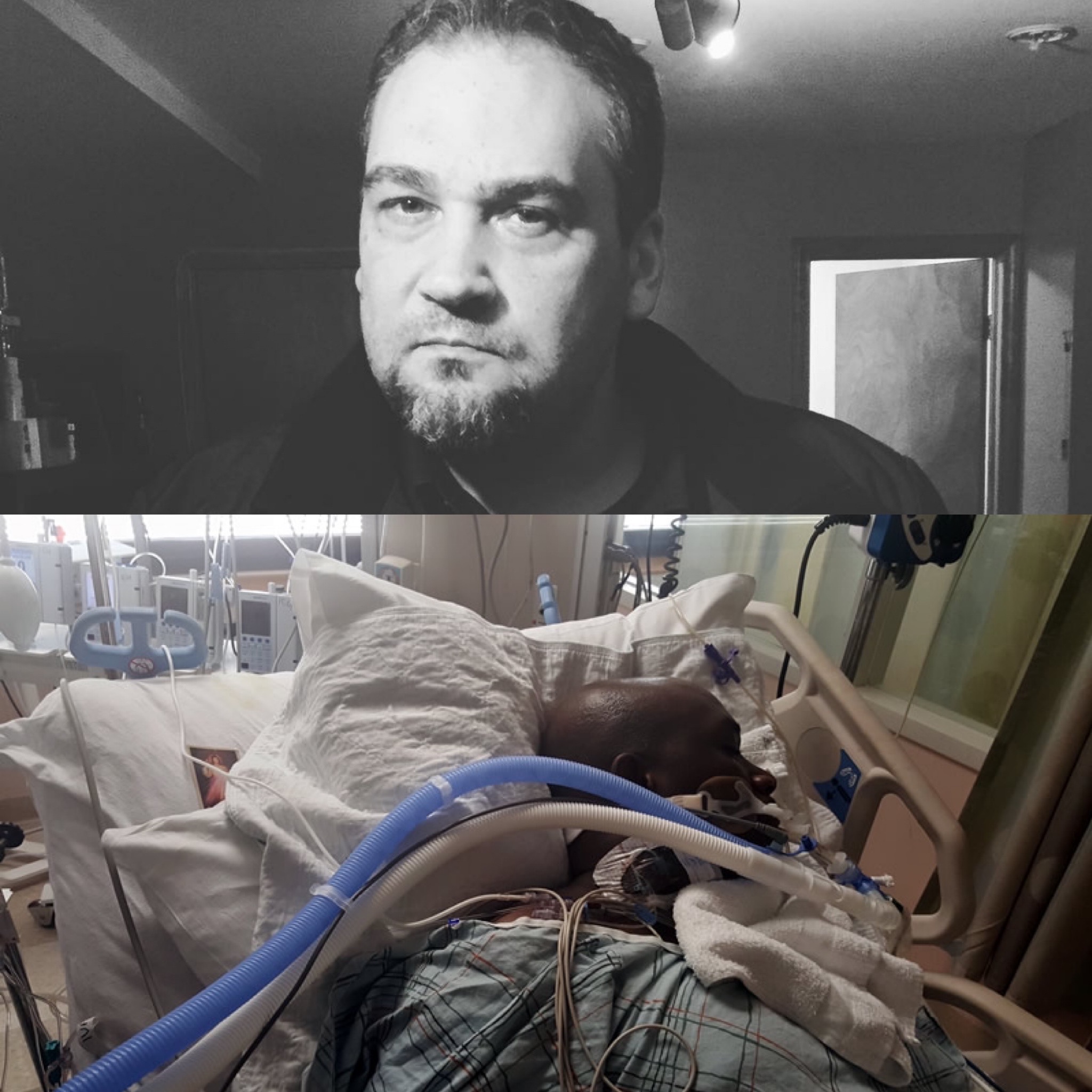 Almost every year for the past 6 years and on the same day, I've posted the same pic of me in the hospital  during my temporary and untimely demise  in 2015. A few weeks after I was back to "normal", I asked Eric "Why'd you take the pics?" And he said, "I knew you would want to write about it if you lived." Eric was right. Eric was often right and Eric always had my best interest at heart. I am going to miss my friend.
You ever meet someone and become friends immediately?! Well this was not the case with Eric. Before he was my manager at Morgan Stanley, I would often see this 6'4″, giant white guy walk up to the only black woman at work, say something then walk away without any hint of human emotion. Naturally I thought he was a jerk until I asked her "Yo, is that dude bothering you?" She laughed and proceeded to tell me he was a great person, which I ultimately got to experience first hand. Little did I know this Italian from Staten Island was more Brooklyn than most Brooklynites.
Eric was not with the shits!! If there were ever someone who lived their life in direct, honest and no uncertain terms, that would be Eric. He would ask me questions at work like "Why are the other consultants making more money than you?" I knew the answer to that question and so did he. Eric then proceeded to increase my salary by 15K. After arguing with all our managers that "You need to hire Alfred!", they eventually did 1 year prior to the 2015 incident. In the hospital, one of my friends asked me, "What if you didn't have health insurance when this happened?" I would be in debt for the rest of my life is the obvious answer. I still am in debt for the rest of my life but at least, it is to those who made sure I had a more enjoyable life and for that, I will gladly repay.
My mom loved to tell me the story of how she met Eric. After they told her I was going to be in the ICU for some time, she told the doctor "Well I'm not going anywhere." She then hears a voice from that back of the room that says "Well I'm not going anywhere either!" That was Eric and in true form, he was at that hospital every single day until I was discharged.
Eric passed away in December 2021 of stage 4 cancer. After feeling faint on his way to my bbq, he went to get checked out and was diagnosed. During the past 5 years, Eric lost his mom, twin brother and dad. I can't even begin to imagine what that must have felt like but I'm glad that pain he was feeling is no more.
It's been a bit difficult to deal with it to be quite honest and I've been writing this in my head for years but never had the bravery or grace to accept that my friend wouldn't be here soon. I also can't imagine what it must be like to lose your entire family nucleus unexpectedly. In true Eric fashion however, I would like this to not be about me but whomever has lost someone and has been coping. I've always intimated that my life would not be as enriched as it was were it not for the people in it. The problem with that is there is also no way to deny that it feels empty without those who helped craft your path. Rather than focus on the negative, I would rather focus on the examples of duty, family and emotional intelligence. All concepts reinforced by Eric that have led me to have successful relationships since I've put them into practice.
From being my manager to my business partner, writer, book editor, artistic director, and most importantly, my friend, I am going to miss you MC Krispy E a.k.a "Enrique Pollazo!" And although you told me Enrique means Henry in Spanish and not Eric, it was too late!
Sidebar. The day I was discharged, while everyone was deciding what was best for me, no one had remembered that I would need clothes in order to leave the hospital. Eric shows up (unasked) with all the clothes I had on the day I coded, laundered and ready to go. I don't know what I've done to deserve friends like this but i need to keep doing it! Sidebar complete.
Rest in Peace Eric. "Be Good."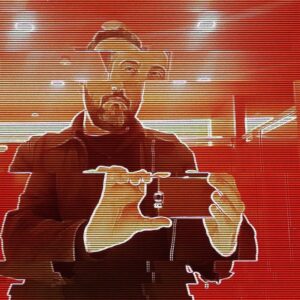 Writing Your First Book / Should I Self Publish?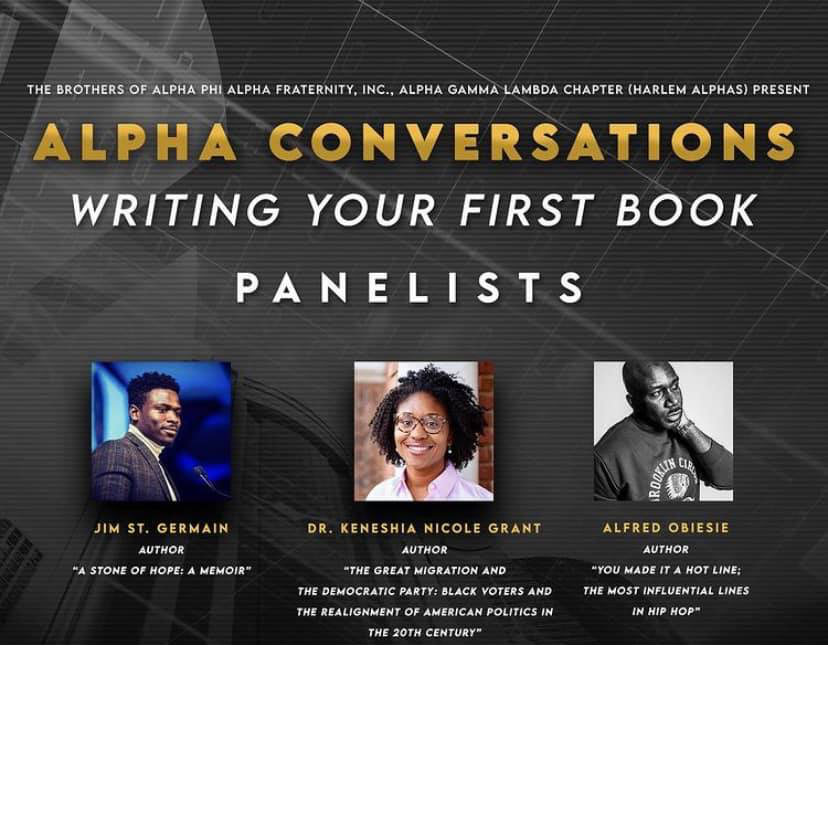 I had the distinct pleasure of  participating in a panel discussion on writing your first book, presented by the Harlem chapter of Alpha Phi Alpha Fraternity Inc.  Alongside Jim St. Germain, Author – A Stone of Hope: A Memoir and Dr. Keneshia Nicole Grant, Author – The Great Migration and the Democratic Party: Black Voters and the Realignment of American Politics in the 20th Century.  We opined on pain points, benefits and strategies regarding our inaugural voyages into authorship. Feel free to watch for your self and I hope this provides some insight to all those looking to make the same voyage. Enjoy!
What the NFT is a BEEPLE?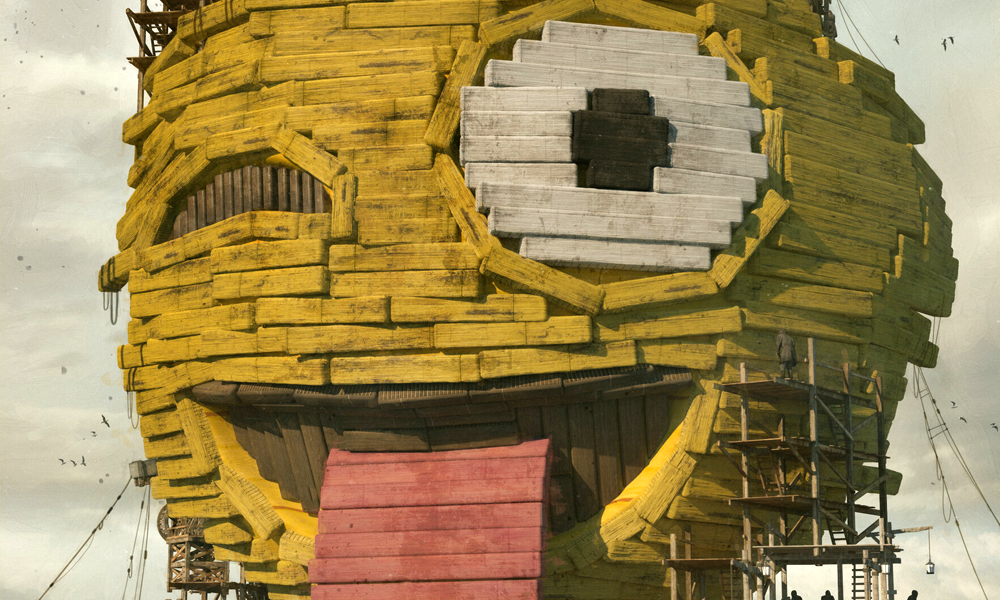 On March 11 this year, the digital artist Beeple sold a collage of digital images from his "Everydays" series for nearly 70 million dollars as an NFT, or non-fungible token. And if that sentence confuses you, you're not alone.
A non-fungible token is a unit of data on a digital ledger called a blockchain, where each NFT can represent a unique digital item, and thus they are not interchangeable. NFTs can represent digital files such as art, audio, video, and other forms of creative work. While the digital files themselves are infinitely reproducible, the NFTs representing them are tracked on their underlying blockchains and provide buyers with proof of ownership." – Wikipedia
Still confused? Let the artist himself explain it, and learn how he went from NFT newbie to making the third most expensive artwork by a living artist in three months. Not to suggest Beeple is an overnight success. The "Everydays" series alone involved creating a piece of art every day since May 1, 2007 – and he hasn't missed a day.
Check out some of Beeple's amazing and controversial work below.