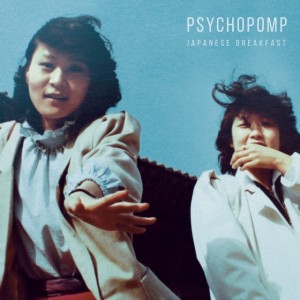 Japanese Breakfast – Psychopomp
2016 – Yellow K Records
Japanese Breakfast's Psychopomp came out this week, the debut solo record from Little Big League's Michelle Zauner. I read that Zauner recorded these tracks (based on previous lo-fi versions) in the wake of her mom's battle with cancer. Might explain why these renditions with musician Ned Eisenberg are heavy on the ethereal, with the voice of a siren woven throughout. I can hear the influence of Harriet Wheeler of The Sundays in Zauner's delivery, or maybe it's just the quality of her voice. Specifically the track "In Heaven," one of a few songs here that deal directly with the death of her mother.
Zauner isn't shy about mixing complicated emotions with contrasting tones and textures. Just listen to title track "Psychopomp" which bleeps slowly into existence before a brief answering machine message from, presumably, Zauner's mom. Not to imply this record is a downer, though it does get more than a little shoegazey (in the loveliest of ways).
Sexiness is tempered with sweetness.
Songs like "Heft" and "Rugged Country" have choruses that swell into existence from deep wells of love and loss. Sexiness is tempered with sweetness, so when Zauner
sings
"
Can I get your number? Can I get you into bed? When we wake up in the morning, will you give me lots of head?
" it doesn't sound creepy or gratuitous. Like it might from me, for example. "Jane Cum" is perhaps a little less sweet as Zauner beckons 
"Soulless animal, keep feeding on my meat. All my tiny bones between your teeth."
Damn, Japanese Breakfast!!
Japanese Breakfast is on tour now.