New Radiohead Album Even Better in This Order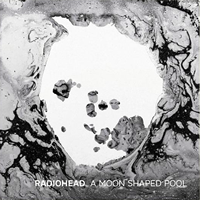 Radiohead – A Moon Shaped Pool
XL Recordings, 2016
Produced by Nigel Godrich and Radiohead
This was a cool little release not a lot of people saw coming. Fans assumed the band were in the studio but were surprised nonetheless by a cryptic "Burn the Witch" leaflet this month, followed by the anti-viral meltdown of Radiohead's social media presence and a website that slowly faded into transparency. With all eyes upon them Radiohead sneaked out two new videos within as many days and released their 9th record A Moon Shaped Pool. The band didn't even release the title in advance. Bam!
I'm not so sure you should trust any review written within two days of a record release, but welcome to the internet. I think I can drop a little science.
First off, anyone looking for sequels to OK Computer or The Bends is barking up the wrong tree. With some variation, Radiohead found a sound in the less electronic moments of Kid A they continued to hone on every record that came after, including A Moon Shaped Pool.  Here they incorporate a little more of the string department in the form of acoustic guitars and the London Contemporary Orchestra.
"I was afraid it was gonna be a bunch of blips and bleeps," a friend said to me. It's not, but "it certainly won't make my running mix," he added.
"Distance. It's like a weapon of self defense against the present tense." – Present Tense
My verdict is that this is some of their best work in a long line of great work. Beautiful songs perfectly executed. Thom Yorke is the one of the best singers of this or any generation with a tone that digs into the listener.
Nigel Godrich
treats those vocals like a delicate meringue, sometimes layered in the glitchy distance.
The band, as usual, coalesces around the material adding complicated pieces to puzzles built on seemingly sparse ideas. They get just as weird as they want to, even if it competes for attention with some masterful melodies. "True Love Waits," for example, and "Daydreaming" are as melodic and beautiful as the band's best work while incorporating some real musical exploration, sometimes happily over the line. There isn't a song on this record that isn't exploring.
I gotta admit I liked the record more after I changed the running order. I know that's probably sacrilege, but the original is in alphabetical order, which I found a little weird, and maybe just knowing that altered my perception of the pacing. Maybe one day I'll go back to the original, but I've got it right where I want it now. My version doesn't start with "Burn the Witch." I think it sets the wrong pace for the record and belongs somewhere in the middle. Holy shit, who cares what I think?
Track two is the six and a half minute pastoral "Daydreaming." Yorke's phrasing is effortless and genius here and on the darkly brooding "Decks Dark" a song I'd open the record with. Hell, I'll just put my order below when I list the tracks. You twisted my arm.
Johnny Greenwood's orchestral fingerprints abound, hinting at his night job scoring film, probably nowhere as expertly as "The Numbers," "Glass Eyes," and the looming and meandering "Tinker Tailor Soldier Sailor Rich Man Poor Man Beggar Man Thief."
"I'm not living, I'm just killing time. Your tiny hands. Your crazy kitten smile." -True Love Waits
For me, bassist Colin Greenwood is the unsung hero of Radiohead. His unexpected choices are super musical. He creates real movement and a thick spine behind some difficult grooves. His counterplay with Yorke's vocal adds depth to tracks like "Desert Island Disk" and bounce to songs like "Ful Stop." When that song takes off three minutes in it's fresh and new and beautiful with Yorke making a mantra of "t
he truth will mess you up
."
There's speculation a recent separation colored Yorke's tone on this record. You can almost hear it in the pangs of "True Love Waits," a song fans may remember from the early days. "I'm not living, I'm just killing time," Yorke sings, turning the knife. There's a similar sadness in the fading sunlight of "Present Tense" where Yorke laments "in you I'm lost."
A Moon Shaped Pool is not a party record. Its a breakup record with hints of anxiety strung like patio lights across yards of regret. It's a deep and sad but beautiful record that makes you pay attention to your own breath. Your own place on the subway platform. Isn't that why we love Radiohead?
Original Tracklisting
Burn the Witch
Daydreaming
Decks Dark
Desert Island Disk
Ful Stop
Glass Eyes
Identikit
The Numbers
Present Tense
Tinker Tailor Soldier Sailor Rich Man Poor Man Beggar Man Thief
True Love Waits
My Track Listing
Decks Dark
Ful Stop
Daydreaming
Identikit
Present Tense
Burn the Witch
Glass Eyes
Desert Island Disk
The Numbers
Tinker Tailor Soldier Sailor Rich Man Poor Man Beggar Man Thief
True Love Waits
Rest Easy Eric Curran a.k.a M.C Krispy E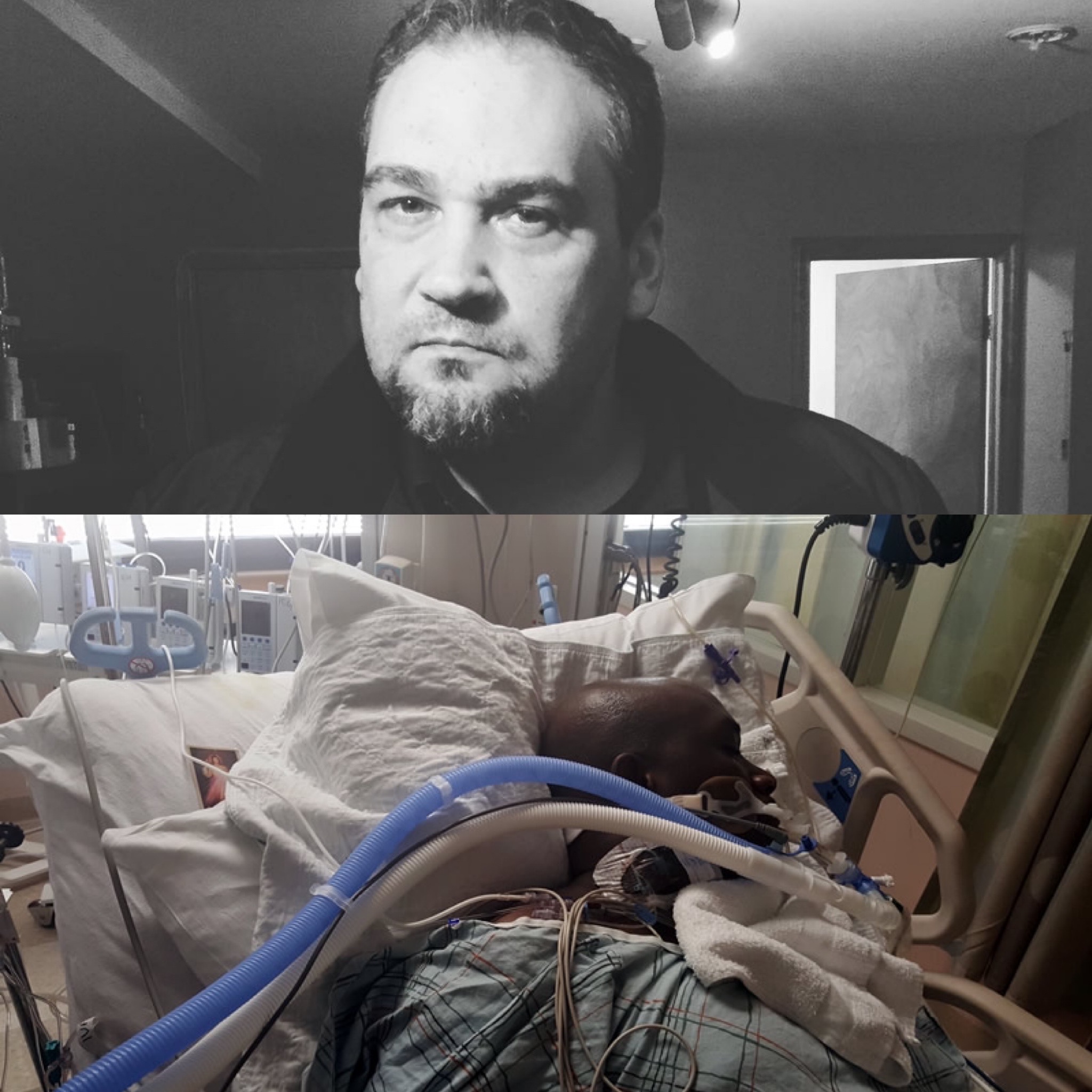 Almost every year for the past 6 years and on the same day, I've posted the same pic of me in the hospital  during my temporary and untimely demise  in 2015. A few weeks after I was back to "normal", I asked Eric "Why'd you take the pics?" And he said, "I knew you would want to write about it if you lived." Eric was right. Eric was often right and Eric always had my best interest at heart. I am going to miss my friend.
You ever meet someone and become friends immediately?! Well this was not the case with Eric. Before he was my manager at Morgan Stanley, I would often see this 6'4″, giant white guy walk up to the only black woman at work, say something then walk away without any hint of human emotion. Naturally I thought he was a jerk until I asked her "Yo, is that dude bothering you?" She laughed and proceeded to tell me he was a great person, which I ultimately got to experience first hand. Little did I know this Italian from Staten Island was more Brooklyn than most Brooklynites.
Eric was not with the shits!! If there were ever someone who lived their life in direct, honest and no uncertain terms, that would be Eric. He would ask me questions at work like "Why are the other consultants making more money than you?" I knew the answer to that question and so did he. Eric then proceeded to increase my salary by 15K. After arguing with all our managers that "You need to hire Alfred!", they eventually did 1 year prior to the 2015 incident. In the hospital, one of my friends asked me, "What if you didn't have health insurance when this happened?" I would be in debt for the rest of my life is the obvious answer. I still am in debt for the rest of my life but at least, it is to those who made sure I had a more enjoyable life and for that, I will gladly repay.
My mom loved to tell me the story of how she met Eric. After they told her I was going to be in the ICU for some time, she told the doctor "Well I'm not going anywhere." She then hears a voice from that back of the room that says "Well I'm not going anywhere either!" That was Eric and in true form, he was at that hospital every single day until I was discharged.
Eric passed away in December 2021 of stage 4 cancer. After feeling faint on his way to my bbq, he went to get checked out and was diagnosed. During the past 5 years, Eric lost his mom, twin brother and dad. I can't even begin to imagine what that must have felt like but I'm glad that pain he was feeling is no more.
It's been a bit difficult to deal with it to be quite honest and I've been writing this in my head for years but never had the bravery or grace to accept that my friend wouldn't be here soon. I also can't imagine what it must be like to lose your entire family nucleus unexpectedly. In true Eric fashion however, I would like this to not be about me but whomever has lost someone and has been coping. I've always intimated that my life would not be as enriched as it was were it not for the people in it. The problem with that is there is also no way to deny that it feels empty without those who helped craft your path. Rather than focus on the negative, I would rather focus on the examples of duty, family and emotional intelligence. All concepts reinforced by Eric that have led me to have successful relationships since I've put them into practice.
From being my manager to my business partner, writer, book editor, artistic director, and most importantly, my friend, I am going to miss you MC Krispy E a.k.a "Enrique Pollazo!" And although you told me Enrique means Henry in Spanish and not Eric, it was too late!
Sidebar. The day I was discharged, while everyone was deciding what was best for me, no one had remembered that I would need clothes in order to leave the hospital. Eric shows up (unasked) with all the clothes I had on the day I coded, laundered and ready to go. I don't know what I've done to deserve friends like this but i need to keep doing it! Sidebar complete.
Rest in Peace Eric. "Be Good."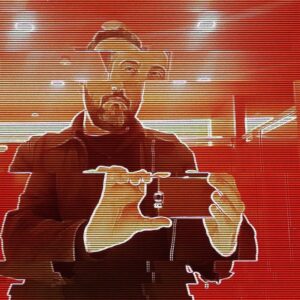 Writing Your First Book / Should I Self Publish?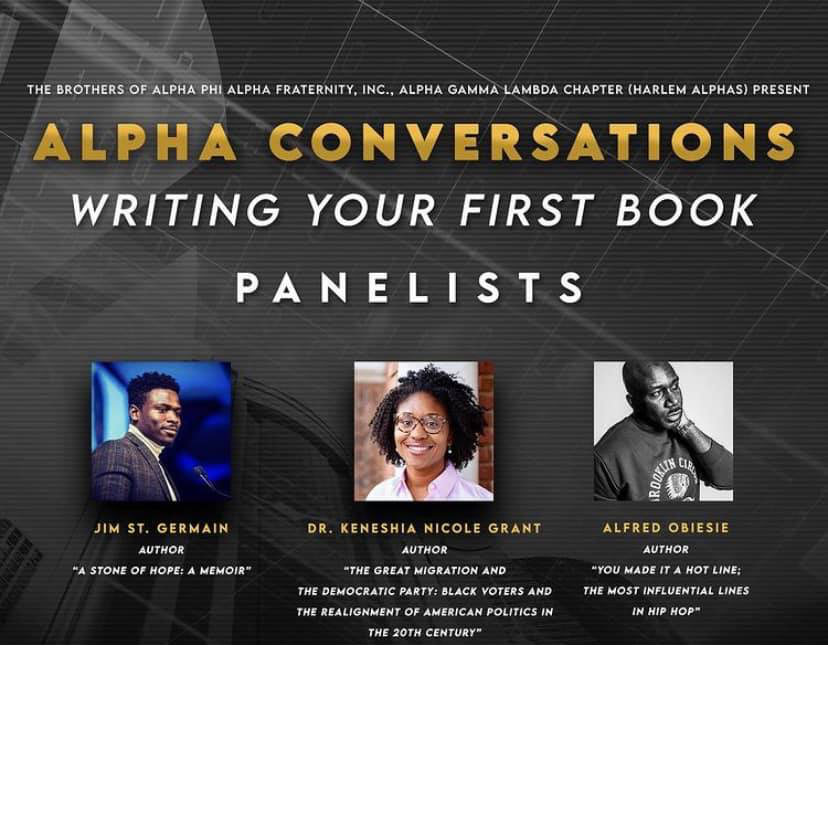 I had the distinct pleasure of  participating in a panel discussion on writing your first book, presented by the Harlem chapter of Alpha Phi Alpha Fraternity Inc.  Alongside Jim St. Germain, Author – A Stone of Hope: A Memoir and Dr. Keneshia Nicole Grant, Author – The Great Migration and the Democratic Party: Black Voters and the Realignment of American Politics in the 20th Century.  We opined on pain points, benefits and strategies regarding our inaugural voyages into authorship. Feel free to watch for your self and I hope this provides some insight to all those looking to make the same voyage. Enjoy!
What the NFT is a BEEPLE?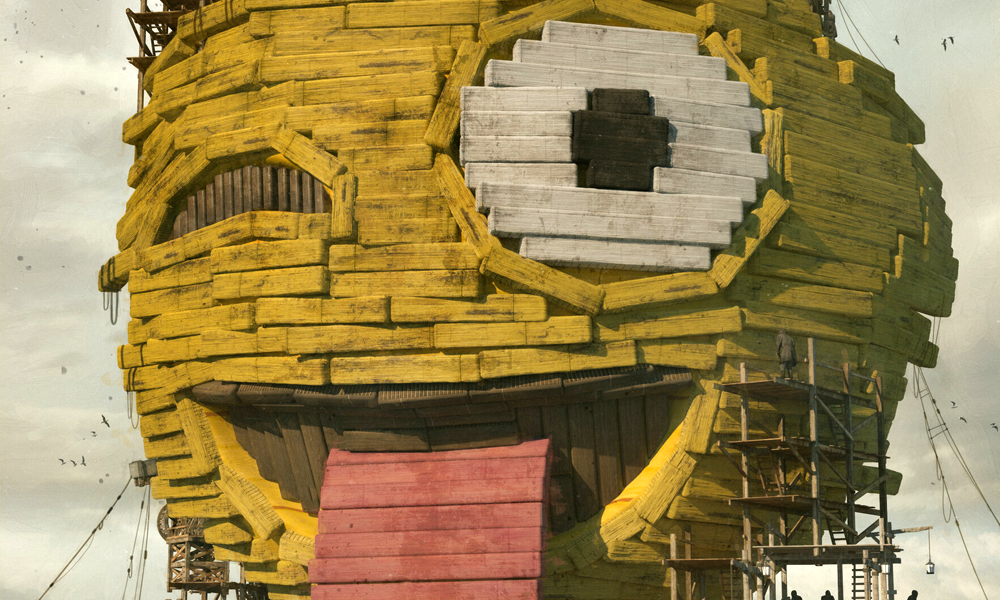 On March 11 this year, the digital artist Beeple sold a collage of digital images from his "Everydays" series for nearly 70 million dollars as an NFT, or non-fungible token. And if that sentence confuses you, you're not alone.
A non-fungible token is a unit of data on a digital ledger called a blockchain, where each NFT can represent a unique digital item, and thus they are not interchangeable. NFTs can represent digital files such as art, audio, video, and other forms of creative work. While the digital files themselves are infinitely reproducible, the NFTs representing them are tracked on their underlying blockchains and provide buyers with proof of ownership." – Wikipedia
Still confused? Let the artist himself explain it, and learn how he went from NFT newbie to making the third most expensive artwork by a living artist in three months. Not to suggest Beeple is an overnight success. The "Everydays" series alone involved creating a piece of art every day since May 1, 2007 – and he hasn't missed a day.
Check out some of Beeple's amazing and controversial work below.