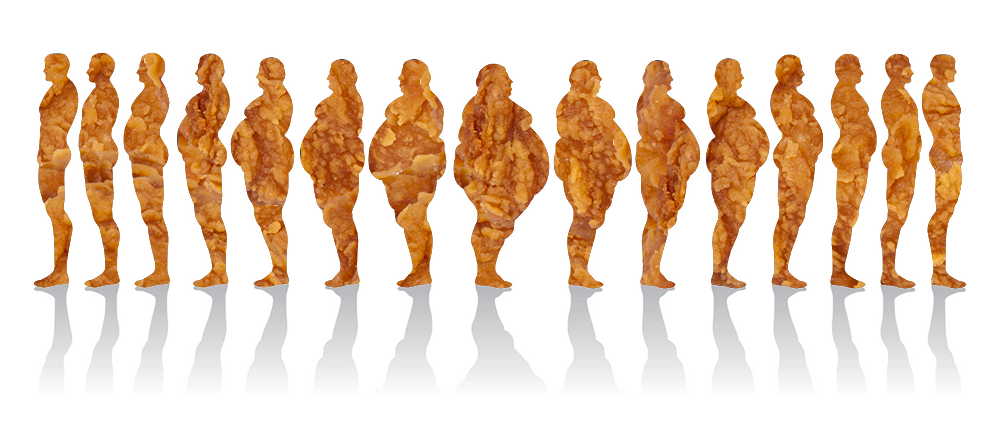 "Just when I thought I was out, they pull me back in."
– Michael Corleone, Godfather III
I'm out of control. I know it. I'm on a bread-a-thon. A cavalcade of carbohydrates. I'm puffing up like a blowfish.
It's that time again.
Moderation is everything, they say. They should shut their stinkin' traps.
No, I'm not going back on Atkins, successful as it may have been in the past. I usually do great the first few weeks, then I lust for ice-cream and chocolate like
Burroughs
jonsing for heroin.
Moderation is everything, they say. They should shut their stinkin' traps. My brain knows moderation is everything, but my genes want the tender caress of cakes and pies.
No, this time I'm gonna augment the proteins with fruits and vegetables, regardless of natural starch and sugars. Maybe this will temper the beast.
I got nothing in the apartment that fits the bill, so I take my book and make way through the rain to Little Purity on 7th Avenue. It takes all my energy not to visit The Tuscan Gun,  where they just added a pressed Nutella croissant to their menu. How could they do this to me?  No, no. I must be good. I only started yesterday.
https://instagram.com/p/9MgSyTu8Yg/
Out of the rain, I slide into a booth by the window and order a burger with sauted onions and mushrooms. Not exactly dietetic, I know, but low carby if not for the sugars inherent in the onions.
"No fries," I say. "And no bun. And a Diet Coke."
Don't ask me why I ordered a Diet Coke. I panicked. I haven't had one of those in a long time. Zero carbs, but also chock full of stuff that doesn't belong on our insides. Shoulda ordered a non-sweetened iced tea. Next time.

There's worse ways to spend a rainy weekday afternoon than reading at a diner, eating an unusually good burger with mozzarella, mushrooms and onions.
"I can do this," I think to myself.
I order coffee and keep reading, occasionally glancing up at the rain. Having made a mental note to eat more fish, I think about picking up some on the way home so I can surprise my girl with a change-of-pace dinner.
Just then the waiter places a beautiful piece of apple pie on the table.
"This is for you, boss," he says to me. "They just made it."
For a second I think to come clean. Thank him for the gift but say I'm not eating those kind of carbs. Before I know what happened the piece of pie is laying on top of the burger in my stomach before I can even take a selfie with it. You'll have to trust me when I say it was picture perfect and it didn't stand a chance. It was so nice of him to offer it that I didn't want to say no.
"Ok, this is a temporary setback," I think to myself. You can't plan for something like this. How often does a complimentary piece of fresh apple pie makes its way to your table?
This is what happens. Like when you promise yourself you'll go to the gym three times this week, and suddenly you have a pain in your knee that came out of nowhere but the spite of the universe.
I finish the coffee, savoring my book a while longer, and ask for the check instead of a refill.
Tucking the book away I approach the cashier to pay the bill. Glancing it over I see a piece of apple pie listed; $3.45. Uhmm… wait… what?
Thanks again, universe.
I file this away onto the ever growing list of things I won't make a fuss over, pay the bill and pick up some Tilapia on the way home.
Tomorrow is another day.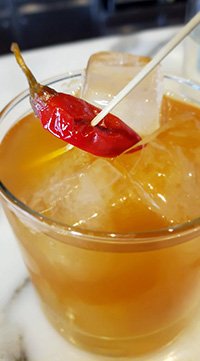 We strolled leisurely down 11th, avoiding the tourist-infused High Line, toward a chef's counter reservation at Toro where we happily ordered a step beyond what might be considered reasonable.
I went with a steady stream of Pizza Night! cocktails – a spicy Old Fashioned with Calabrian chili, chorizo infused bourbon, Mike's Hot Honey, and peach bitters. Cold and hot. Spicy and sweet.
We also found the Hell's Bell Pepper to be just the right amount of savory – tequila, mezcal, yellow bell pepper, agave and bird's eye chili.
Now we're diving headfirst into an expensive plate of Paleta Iberico De Cinco Jotas – a dry cured boneless Iberian ham that delights and is gone before you can say "twenty eight dollars."
Some addictive Maiz Asado con Alioli y Queso Cotija followed – a dangerously convenient version of grilled street corn, and a nice foil for the Setas, a bowl of deliciously unctuous mushrooms set beneath a sexy chivy yolk.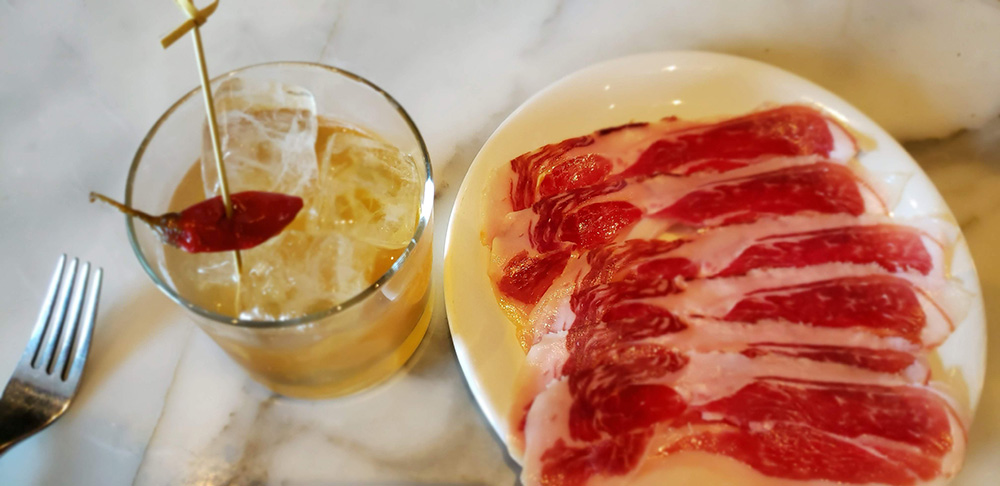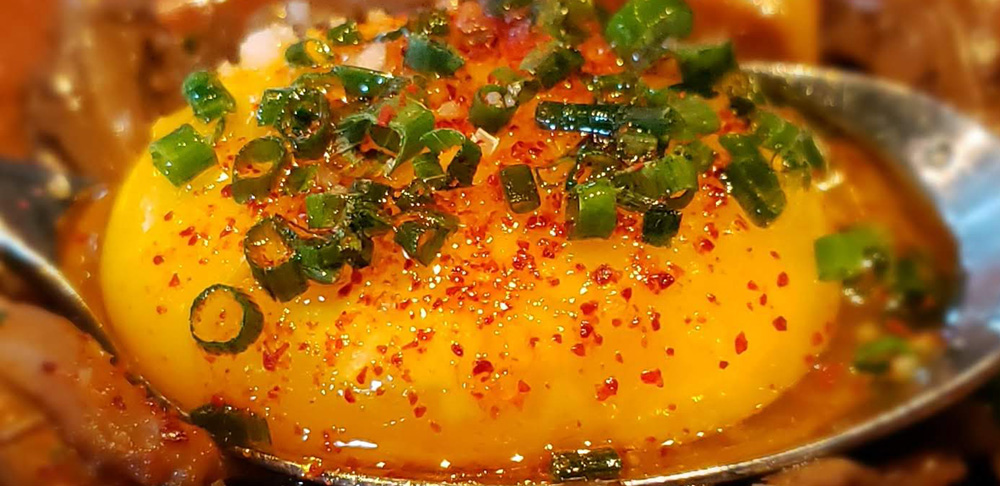 Then things got heavy – in a good way. Unable to choose between bone marrow and foie gras, we picked both. I'm more of a purist when it comes to bone marrow, so the Asado De Hueso with guajillo and chorizo XO, Brussels sprouts and escargot – perhaps has a little too much going on. Yet I ate it happily.
We opted for the Foie Gras Tonkatsu – a crispy foie sandwich with strawberry tomato jam and pickled daikon. Kinda perfect bar food if you're OK with foie taking second billing. Nice marriage of textures, too.
"Hey man, that's probably delicious, right?" asked a stranger at the bar – flanked by two liquored up and leathery ladies of a certain age. I smiled and snapped a picture of his seared foie.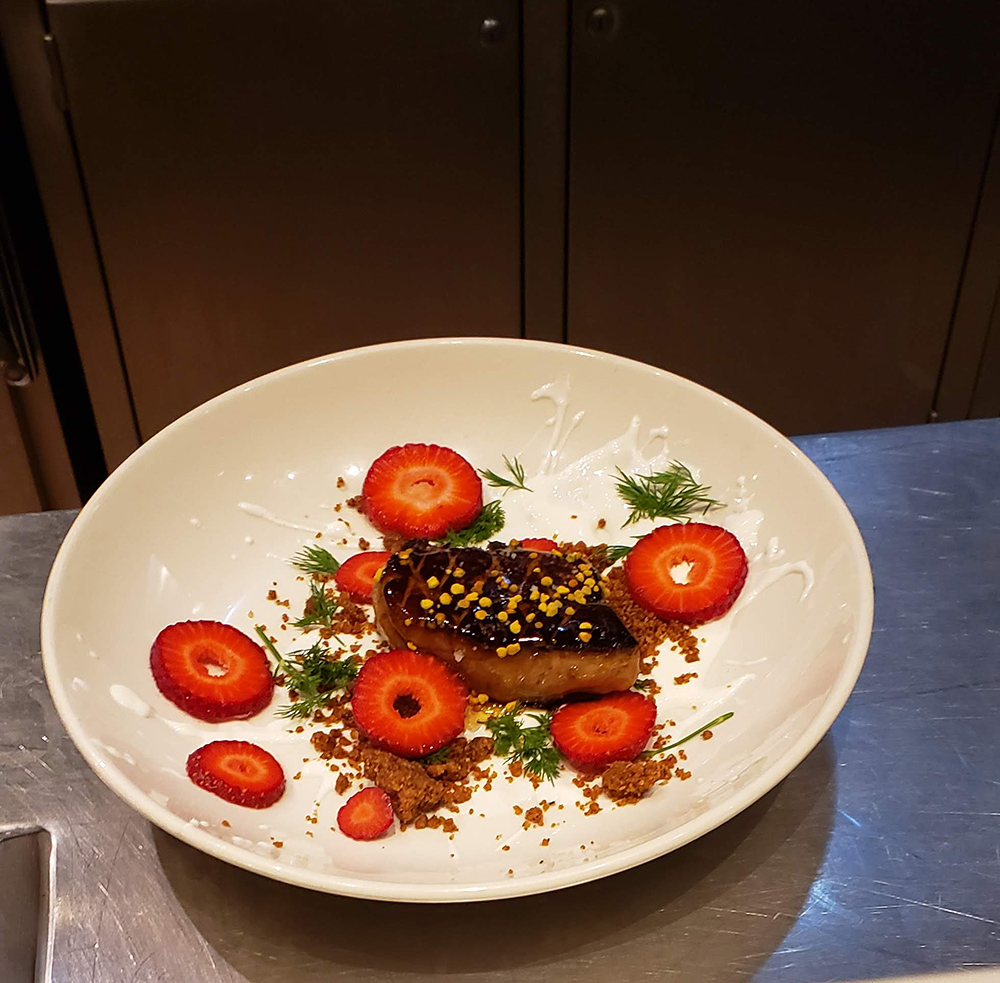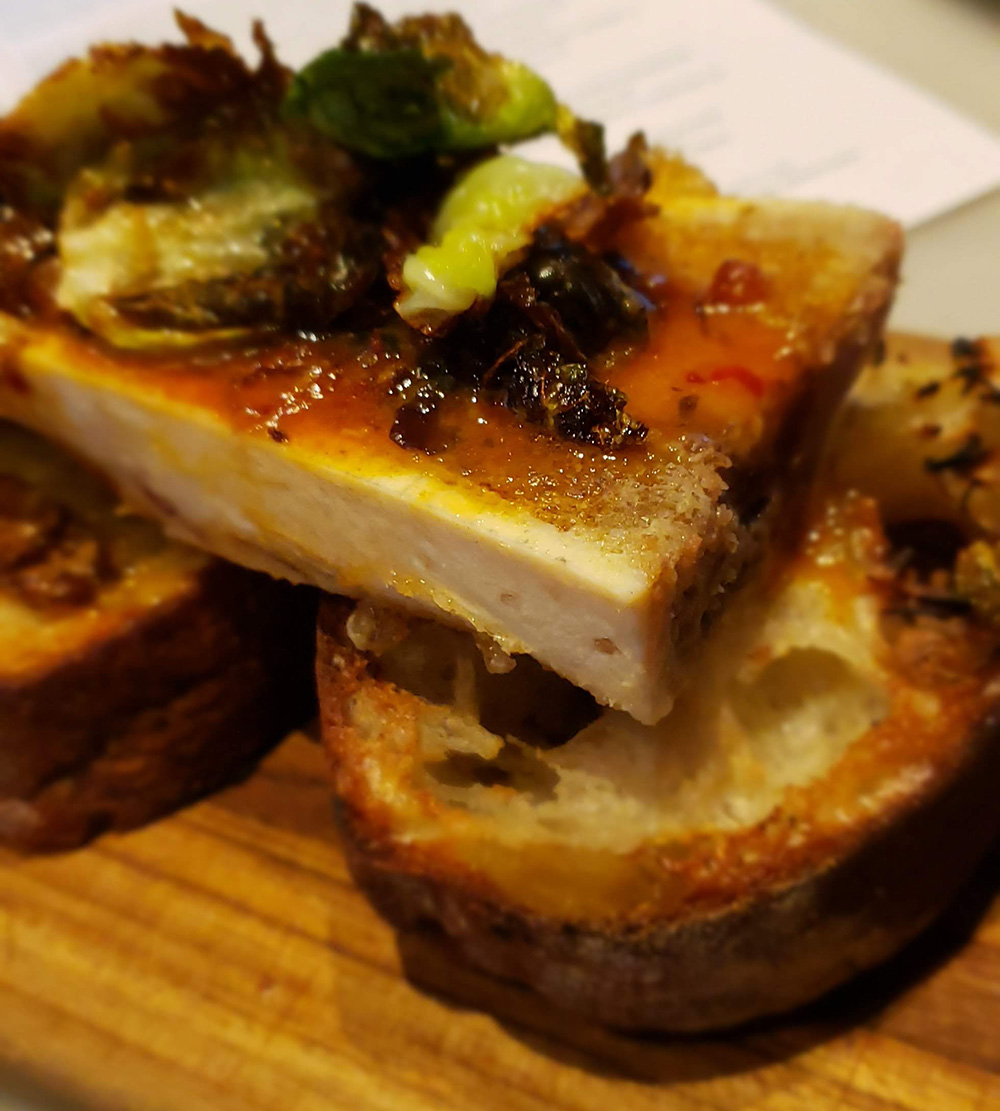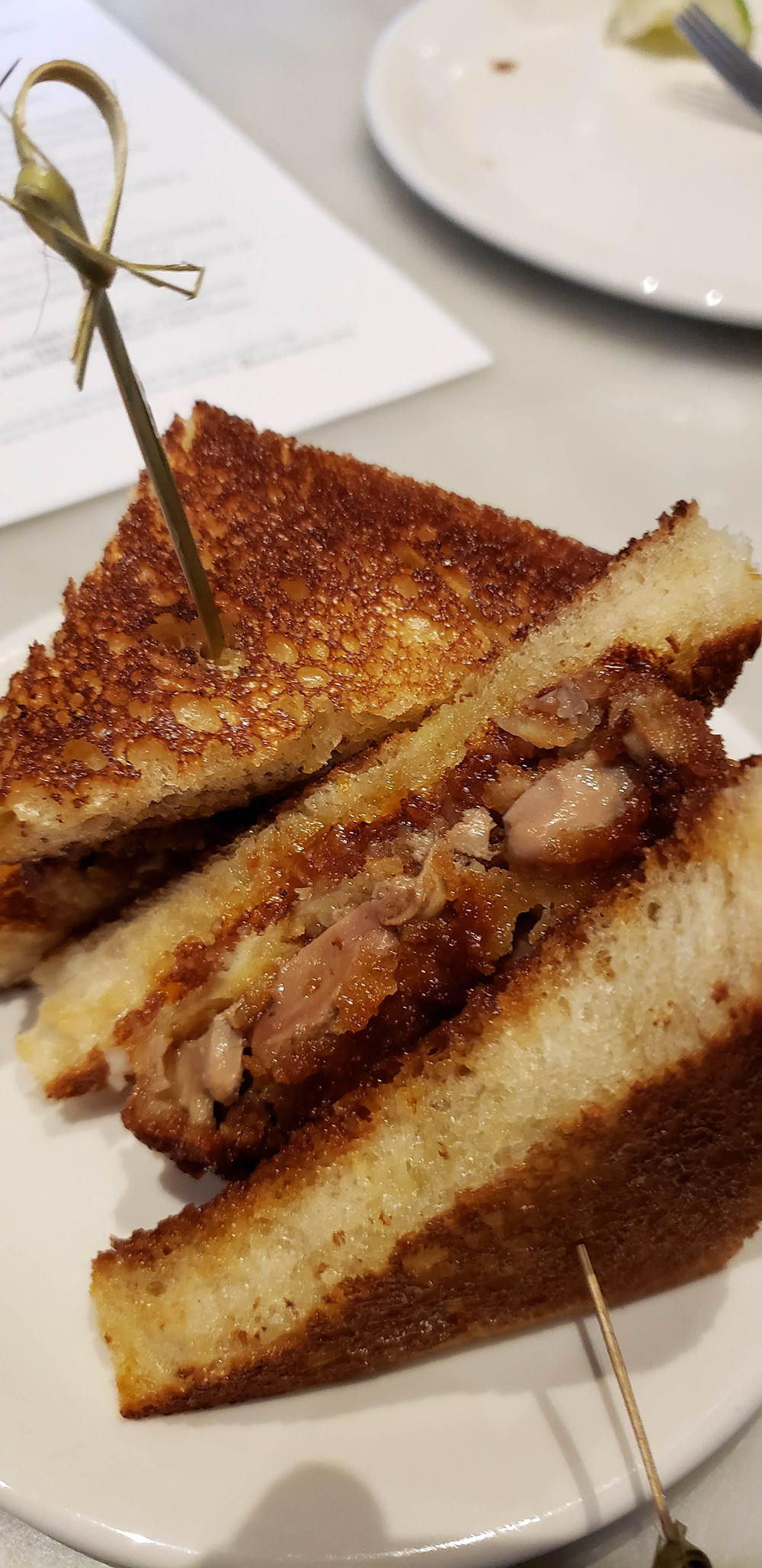 For dessert we had hamburgers.
Ok, not dessert per se, but our last course were a pair of delectable Hamburguesas, mini dry-aged burgers with a spicy kick on a potato bun.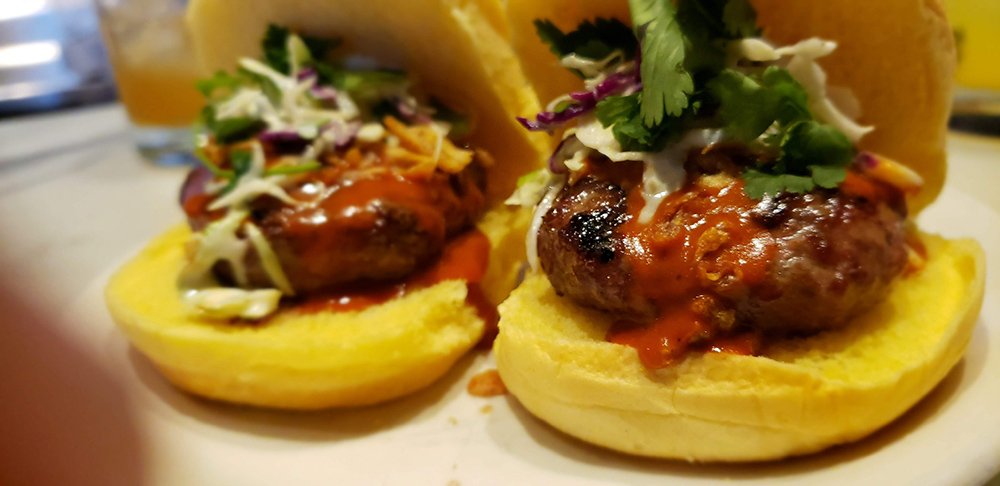 In a nutshell, Toro is the perfect place for you and your overpaid friends to meet up, get buzzed, and eat decadent small plates while ignoring a world gone mad.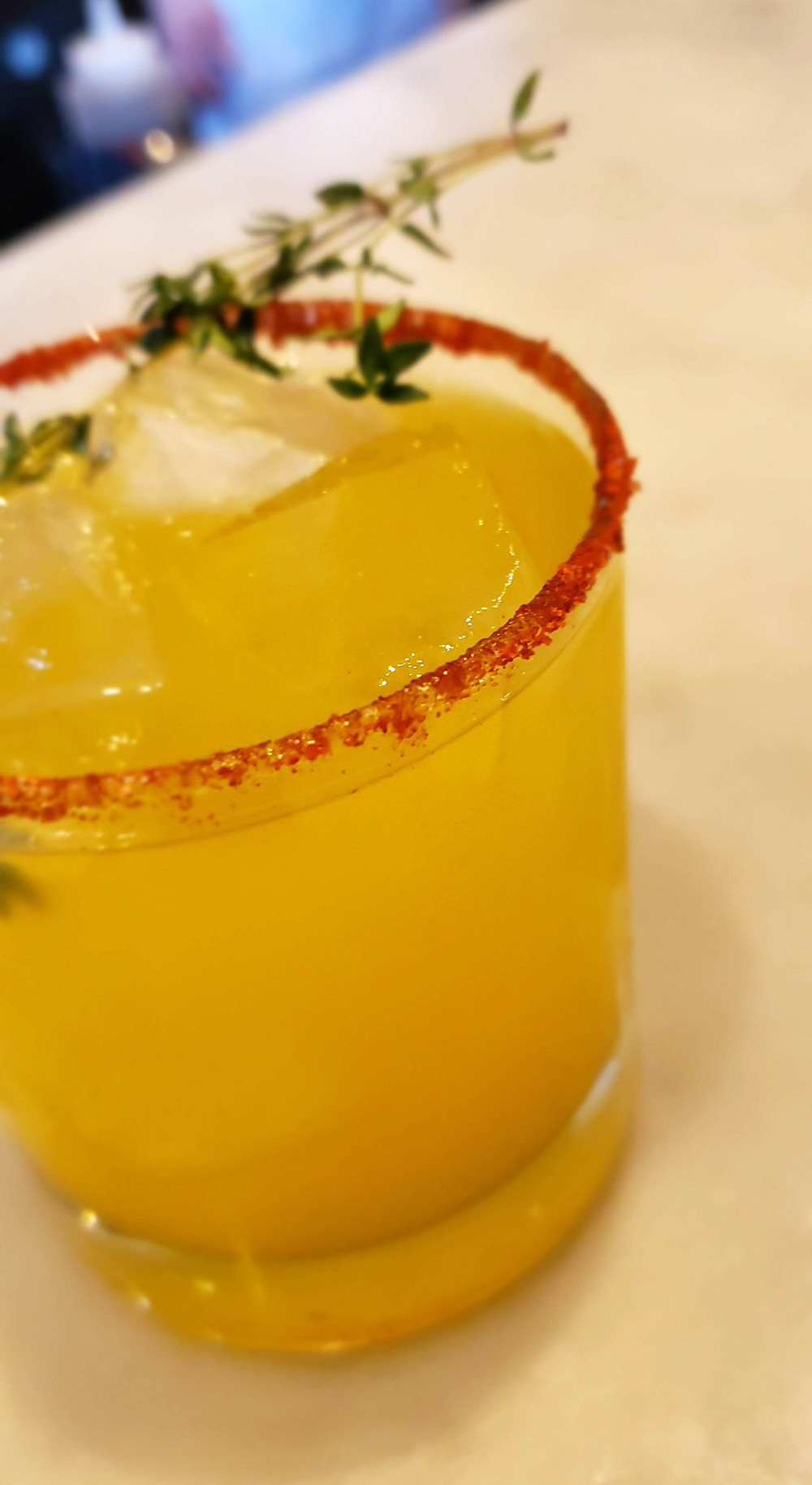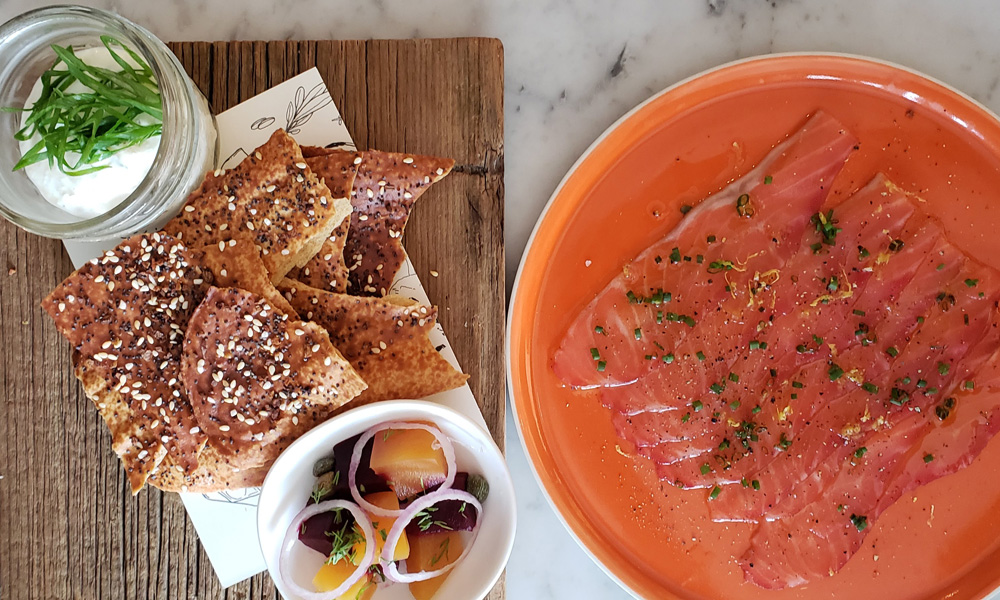 Olmsted
659 Vanderbilt Avenue, Brooklyn, NY 11238 – Map
Website
Prospect Heights restaurant from chef-owner Greg Baxtrom packs them in for dinner and recently rolled out brunch. Expect twists and turns, like a breakfast of Carrot Kathi Rolls (Carrot Pulp Falafel, Cilantro Stem Raita) or the Duck Duo, crispy duck sausage with scrambled egg and maple flatbread. And don't leave without trying their bacon, egg, and cheese Egg Rolls, as delicious as they are adorable.
The tight and thoughtful dinner menu includes a scrumptious Duck Liver Mouse, a clever Beef Tartare, Heritage Pork with Raclette, and other seasonal curve-balls. Toss in a playful cocktail menu and you've found the perfect spot for those who like a dash of quirkiness on the plate.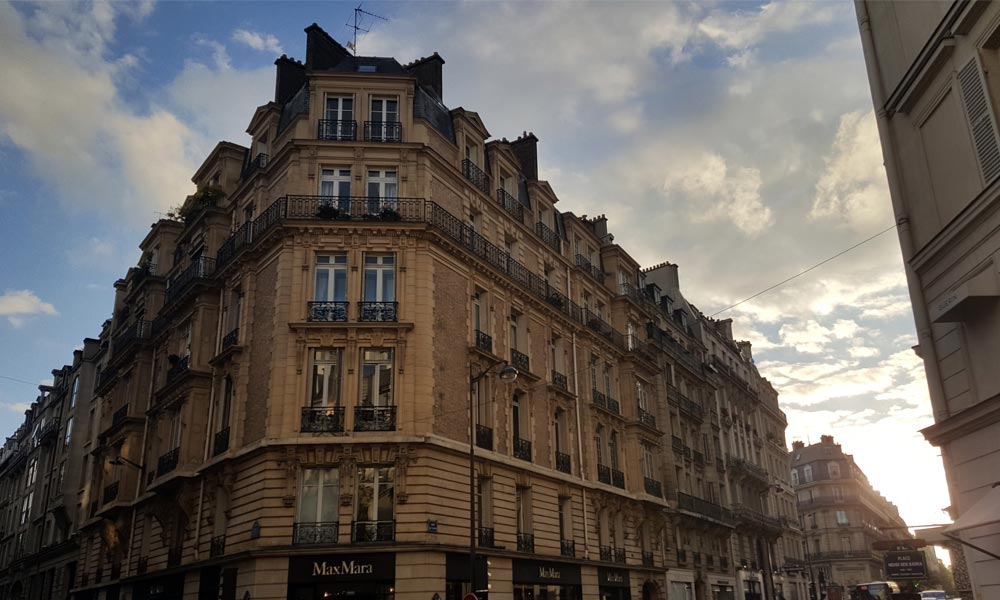 On your fourth trip to Paris, you take less pictures and enjoy more actual moments. Best to live like a local. We rent an apartment and stock up on breads from Poilâne, french butter, various cheeses, some fromage de tête. Good coffee. And the inevitable bottle of Orangina. 
The Google Map below has more restaurants than you could see in any one trip. I wound up having super memorable tasting menus at Frenchie and Ellsworth, and a nice meal at Ore in Versailles. But we also had excellent low key bistro meals, enjoyed Pizzeria Popolare, and some cocktails and charcuterie at aveK.
One of my favorite spots, L'Avant Comptoir, was closed the night I visited.  And I regret not getting to Clown Bar or the Experimental Cocktail Club.
There's always next time.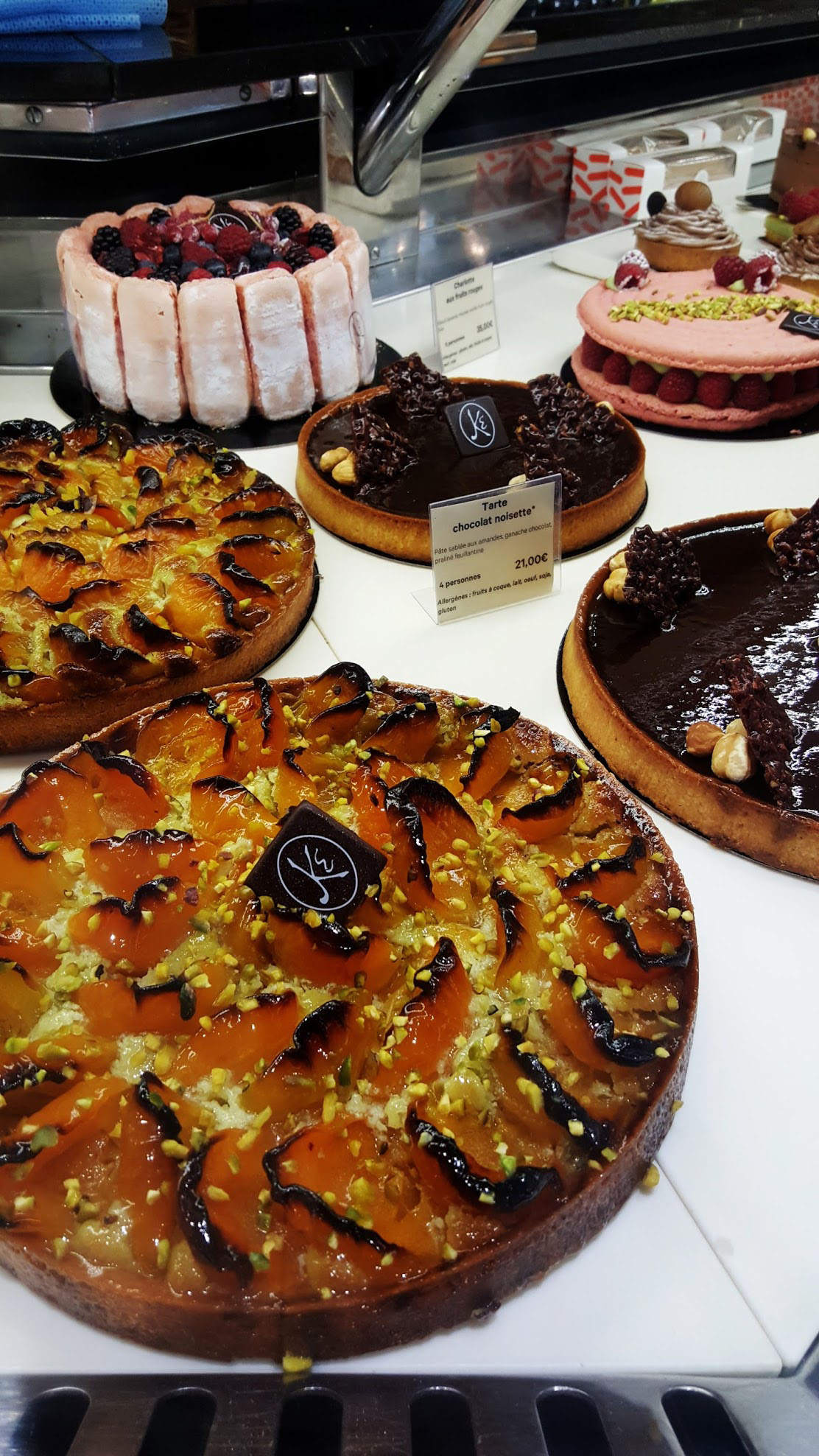 Between the historic sites, architecture, museums, churches, parks, and restaurants… there's a whole hell of a lot to do in and around Paris. Check out our Google Map for some ideas.
Links
Eater Paris
Time Out Paris
Lonely Planet Paris
To the GoogleMap above