5. This show is based on a best selling dystopian novel by Margaret Atwood. Set in a totalitarian society after a religiously backed American coup, the new country of Gilead takes drastic steps once environmental problems make most of the planet sterile. They make women property of the state. Unfortunately, in this current climate, it does not seem that far from reality. Just imagine if Trump's America was full of ultra religious idiots who find out they can't have kids any more.
4. The simplistic sets add a sense of reality to The Handmaid's Tale. It feels like it could be a foundation for all of those "what if slavery still existed?" scripts that popped up recently. It definitely has that southern antebellum vibe you might remember from 12 Years A Slave and the TV show Underground.  Gilead mirrors what things might resemble if we slipped back into our often denied painful history.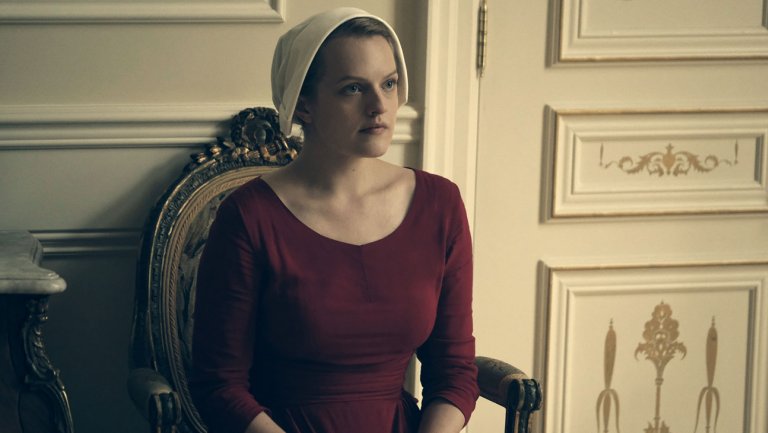 3. The biblical basis for this new society's crimes against humanity is a interesting contrast. People will follow even the cruelest of rules once everyone around them buys in. Gilead is a representation of how things are set-up in a so-called righteous society but the truth is that any system made by man will be imperfect no matter who comes up with it. We as a species seem to revert to our most basic needs and fears.
2. In our current atmosphere of women fighting for equal say, respect, and pay, I think it's a great time to remind the ultra religious women who vote against their own interests what could really happen if their husbands get their way. How do you align tradition values written in a book created during the Bronze Age with where we are now? That fact is you can't. I hope a well written show like this can show how even well meaning old ideas can be deadly.
1. Elisabeth Moss plays Offred and is a tour de force in this role. Moss was a favorite of mine on Mad Men and her performance is so good its hard to watch sometimes, which is a great thing. Mentally torturing Offred is the Commander's wife, Serena Joy (Yvonne Strahovski) whose deep religious beliefs are put to the test as this once independent successful woman realizes she took part in her own imprisonment in a new society she helped create. The commander, played by the wicked looking Joesph Fiennes, along with Samira Wiley, Ann Dowd, and O.T. Fagbenle, make up an extremely talented cast that I hope can sustain this great work for another season.