Let's play a game. Since I'm new to OTM, this is an opportunity for us to get to know one another better. You're going to be reading a whole lot of crazy shit from me in the coming months, we should at least have some small talk before getting intimate, no? Yes. We should.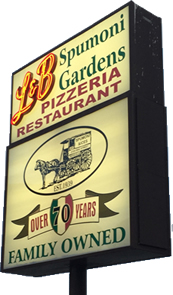 The game is 20 questions. I'll ask the questions. I'll answer the questions. You'll read and enjoy. Simple, right? Okay. Let's begin.
Who makes the best slice of pizza? – L&B Spumoni Gardens in Bensonhurst. I like my pizza from the source. The mob whacked the owner of this place last year. That's as close to the source as I need to be. The slices are divine though, and a large pie is $15.
Who's in your Top 5? – For some reason this is an important question in the Black community. Fights have started, men have been humbled and women have chosen their baby daddys as a result of the answer to this question. It is an important inquiry, it speaks to a deeper and more poignant question, and that question is who are you?  Here is my Top 5:  1) Tupac 2) Nas 3) Jay-Z 4) Biggie Smalls 5) Run. There. Now, you know who I am.
Who do you have in the upcoming fight? Soulja Boy or Chris Brown? – I like the idea of two celebrities lacing the gloves up to box one another. I like it from a consumer standpoint, but I like it even more from a business standpoint. These two, I think they can get 10,000 people to buy a ticket to watch the fight. There is money in this idea. That being said, I don't believe that there is anything that Soulja Boy can do better than Chris Brown. I used to have this kid in my neighborhood, kinda resembled Soulja Boy. He'd give me money whenever he chilled with me. I realized after some time that he was paying me to hang with him. I was cool with that. He wasn't really real. He was only around because he paid to be. And that's Soulja Boy. He isn't real. He only shouts Blood because he pays to be able to. Maybe Chris does too, but if he doesn't knock this fool out in the first round, then he isn't the man I think he is. Pause.
Best Mexican Food? – Lauriol Plaza in DC. I'll share with you a secret that one of their staff shared with me. They add salt to their sour cream. It wakes the flavor up and also slightly thickens the cream. Keep that on the low.
Play the Fuck, Marry, Kill game using Janelle Monae, Serena Williams, and Rhianna. – That's easy. I'd fuck Serena. World class athlete with a world class backside. I'd just need 2 ginseng root, 1 cup of Woodroot Tonic and a 20oz Red Bull pre-game. I'd marry Janelle Monae. Seeing her in Hidden Figures with her bare feet on the dashboard did something to me. I really think I love her. And I'd kill Rhianna. Only because I don't want her as bad as I want Serena, and I damn sure ain't marrying her. Though she's probably the hardest to kill. I'm positive she's shot a gun before, and probably has more goons on the team than I do. (If she has one goon, that's one more than I have.)
What did you want to be when you were a kid? – Who wrote this question? My therapist?? To be honest, I don't think I wanted to be anything when I was a kid. There were things that I wanted to do. Three things, in particular. I wanted to visit Hawaii. I wanted to write a book. And I wanted to run a full marathon. That's basically it. Ambitious child, eh? I published my first novel in 2009, and I visited the Hawaiian Islands last year. When I run the NYC marathon this November, I will have officially done all that I ever wanted to do. Oh, what freedom it is to be done with your life goals before you turn 42.
What is your favorite movie? – My favorite movie… That's difficult because I have two favorites. The first is Putney Swope (1969). It's a dark comedy written and directed by Robert Downey Sr. you know, Iron Man's pops. The second is The Harder They Come (1973) starring iconic ska and reggae musician Jimmy Cliff. I've seen both movies so many times that I know every line by heart. In fact, I often use dialogue from these movies in my real life conversations. If we've known each other for at least a year, I'm sure I've used dialogue from one of these movies in a conversation.
What is your favorite album? – This question isn't easy at all. How do you choose a favorite album? The word favorite denotes opinion based on taste, and my taste in music changes with my mood, much more often than my taste in movies or books. Right now though, my favorite album is It Was Written by Nas. I just think that from beginning to end this album is a well thought out composition. Everything fits, the track sequence, the production, the lyrics. I would definitely bring it up in a conversation about the best Hip Hop album ever. Ask me tomorrow though and I'll probably say something totally different.
Giants or Jets? – Jet Life
Knicks or Nets? – Knicks. But, I will go to Barclays to watch the Nets play because the stadium is in my neighborhood and that all-access ticket means all the food you can eat for the whole game.
Yankees or Mets? – Baseball isn't like Football or Basketball. You don't have to choose.
Best place to get a hero? – Farmer in the Deli, on Myrtle Avenue. They been the best since the late 80's. No place else does it even close to the way they do it. If you go, bring your appetite.
Favorite NYC Party Promoters – There are literally hundreds of promoters in NYC. Some janky, some on the level. In my line of work I've had the pleasure to work with many of them, so my experience kinda makes my opinion valid. It also makes my opinion kinda biased, but isn't every answer a person gives based on their personal biases? Of course. MTA Rocky and MTA Sha. Love these brothers. Every club they touch wins. Good brothers, awesome party promoters. These two work hard to ensure that every event they put their name on is quality. I heard they may be retiring soon, so check for them while you can.
Do you believe in aliens? – Only the illegal ones.
Favorite Brooklyn Tavern? – My favorite place to go for an Angry Orchard (I only drink the strong stuff) is Rustik Tavern, located at 471 DeKalb Avenue in Brooklyn. Why? The staff is excellent. The sirloin steak is the best outside of your traditional steakhouses. The owner is one of the coolest brothers in the city, and I can always count on my little sister being there, vodka gimlet and a salad in front of her, some unsuspecting guy sitting next to her not knowing that he's in the spider's web. Poor guy, one wrong comment and he's never making it out of here alive.
If you could offer wisdom to the youth, using one sentence only, what would you say? – I'd say don't spend so much time listening to the wisdom of others, instead find your own.
What are your thoughts on Trump? – Only a true New York hustler could come up on the most important job in the world without any qualifications at all. That up-top game is strong. Got white chicks that know he ain't shit voting for him because he said fucking with him is going to be huge. Huge. Yeah… America as we knew it is gone.
If you could be any animal, what animal would you'd be? – I'd be a Gray Wolf. Liberty to wolves means death to the lamb.
What is your favorite smell in the whole world? – The well maintained soles of a Black woman. Don't judge me.