Top 5 Panels To Look For At Comic Con New York 2015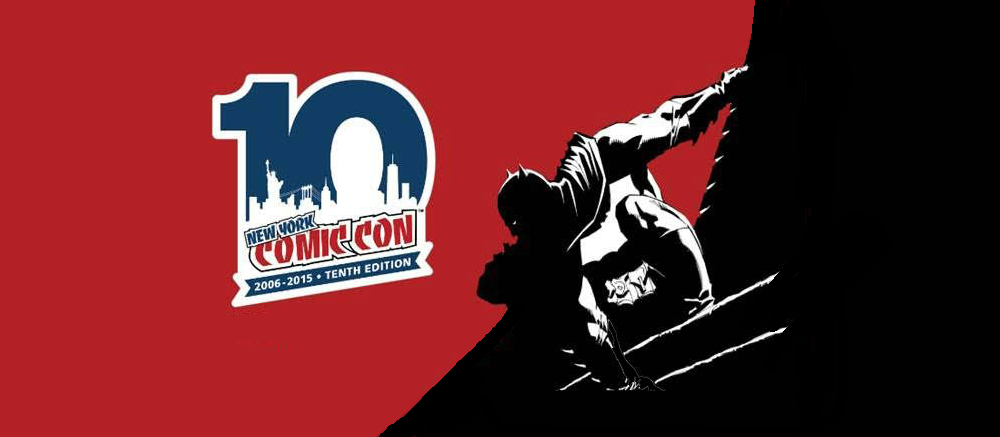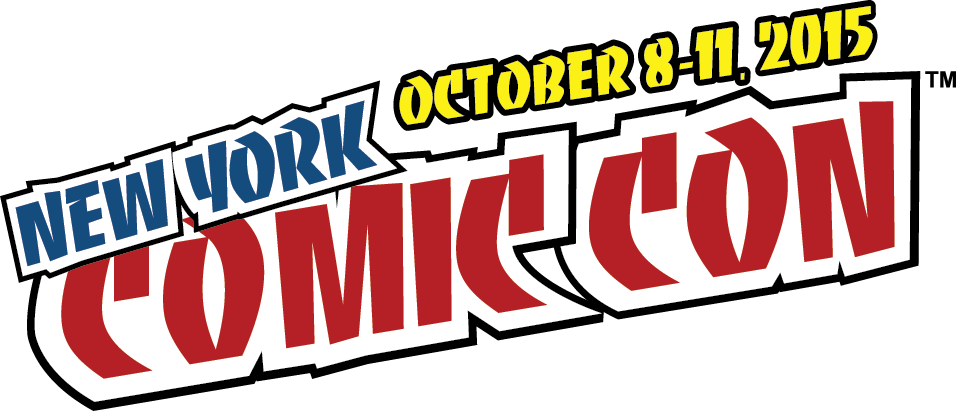 Comic con 2015 is finally here and there are a number of opportunities for Warner Bros. and D.C. Comics to announce some mind blowing surprises. We can expect new information on the Batman V Superman movie along with more exclusive pictures, and if we are lucky a couple of  new trailers.
We can all anticipate revealing news from the following officially announced events listed below. Stayed tuned as I gather the top stories, images and video from Comic Con 2015.
5. Title: DC Comics – Batman: The Bat-Universe
Day: Saturday Time: 1:30 PM – 2:30 PM
Location: Empire Stage 1-E
Speakers: Amy Chu Greg Capullo James Tynion IV Khary Randolph Peter Tomasi Scott Snyder Tim Seeley, Tom King
Official Description: A "who's who" of Bat-talent returns to Gotham – err – we mean, New York! Join the various Batverse creative teams – Greg Capullo, Amy Chu, Tom King, Khary Randolph, Tim Seeley, Scott Snyder, Peter Tomasi, James Tynion IV – as we explore the "new" Dark Knight's adventures in the streets of Gotham and beyond! If you're looking for breaking news and exclusive never-seen-before art, this is the panel to see!
4. Title: WBTV Preview Night Screenings
Day: Thursday Time: 7:15 PM – 9:30 PM
Location: Main Stage 1-D Presented by AT&T
Official Description: For the third year in a row, Warner Bros. Television offers advance viewing of pilot episodes of three of the most highly anticipated series of the 2015–16 television season — Supergirl and Containment — as well as a sneak peek of DC's Legends of Tomorrow.
Supergirl: In the vast DC Comics Universe of super heroes, the rich mythology of Superman and the planet Krypton is perhaps the most famous and instantly recognizable. Enter Supergirl! Born on the doomed planet Krypton, the preteen Kara escaped at the same time as the infant Kal-El, but didn't arrive on Earth until many years later. Now age 24, living in National City and working as an assistant for Catco Worldwide Media mogul Cat Grant, Kara has spent so many years trying to fit in that she forgot to ever stand out. All that changes when she decides to embrace her superhuman abilities and become the hero she was always destined to be. With the help of Daily Planet photographer James Olsen, her foster sister Alex, and the research of the super-secret, off-the-grid Department of Extra-Normal Operations (DEO) and its head, Hank Henshaw, Kara takes to the skies to protect her world.
Containment: When a mysterious and deadly epidemic breaks out in Atlanta, a vast urban quarantine is quickly enforced, forcing those trapped on the inside to fight for their lives while local and federal officials desperately search for a cure in Containment. Torn apart from their loved ones, the survivors confined within the cordon must fight against not only fatal infection, but also isolation, fear and the disintegration of society around them. But as they begin to gain each other's trust, hope remains and on either side of the cordon and unlikely heroes will rise.
DC's Legends of Tomorrow: When heroes alone are not enough… the world needs legends. Having seen the future, one he will desperately try to prevent it from happening. Time-traveling rogue Rip Hunter is tasked with assembling a disparate group of heroes and villains to confront an unstoppable threat – one in which not only is the planet at stake, but all of time itself. From the creators of The Flash and Arrow comes this super hero team-up unlike anything that's ever been seen on television before.
3. Title: Batman: Bad Blood – Exclusive First Look
Day: Friday Time: 8:00 PM – 9:00 PM
Location: Main Stage 1-D Presented by AT&T
Speakers: Gaius Charles James Tucker Jason O'Mara Jay Oliva Phil Bourassa
Official Description: Warner Bros. Home Entertainment returns for the annual unveiling of its next DC Universe Original Movie exclusively for New York Comic Con Fans. Be there for the first look at Batman: Bad Blood, including the first official film footage and an enthralling panel led by the voice of Batman, Jason O'Mara; the introduction of Batwing, voiced by Gaius Charles; along with producer James Tucker, director Jay Oliva, character designer Phil Bourassa and a few possible surprise guests … and special prizes. Batman: Bad Blood arrives on Bluray/DVD/Digital HD in early 2016.
2. Title: The Adventure Continues: A Justice League Reunion Event
Day: Friday Time: 2:00 PM – 3:00 PM
Location: Empire Stage 1-E
Speakers: Andrea Romano Carl Lumbly George Newbern Kevin Conroy Maria Canals-Barrera Phil LaMarr, Susan Eisenberg
Official Description: The league is back! For the first time in over a decade, the founding members of the acclaimed series Justice League will reunite at NYCC! Join Batman (Kevin Conroy), Wonder Woman (Susan Eisenberg), Superman, (George Newbern), Green Lantern (Phil LaMarr), Hawkgirl (Maria Canals-Barrera), Martian Manhunter (Carl Lumbly) and legendary Voice Director Andrea Romano as they reminisce about their fondest memories from the show, answer questions from the Fans, perform a live table read from an original JL script and more. The Watchtower is calling – we'll see you there!
1. Title: DC Comics – The Dark Knight 30th Anniversary
Day: Friday Time: 11:00 AM – 12:00 PM
Location: Main Stage 1-D Presented by AT&T
Speakers: Andy Kubert Brian Azzarello Jim Lee John Cunningham Klaus Janson
Official Description: Frank Miller's The Dark Knight Returns is one of the most important and recognized works in comic book history. In recognition of its 30th Anniversary, DC Entertainment returns to New York to celebrate the book that defined a generation. Joining in the festivities will be the amazing cast of top-notch talent, including Brian Azzarello, Klaus Janson, Andy Kubert, Jim Lee and maybe even a Surprise Guest or two. Be here for reveals, revelations and exclusive artwork! This is the once-in-a-lifetime Panel you CANNOT miss!
Rest Easy Eric Curran a.k.a M.C Krispy E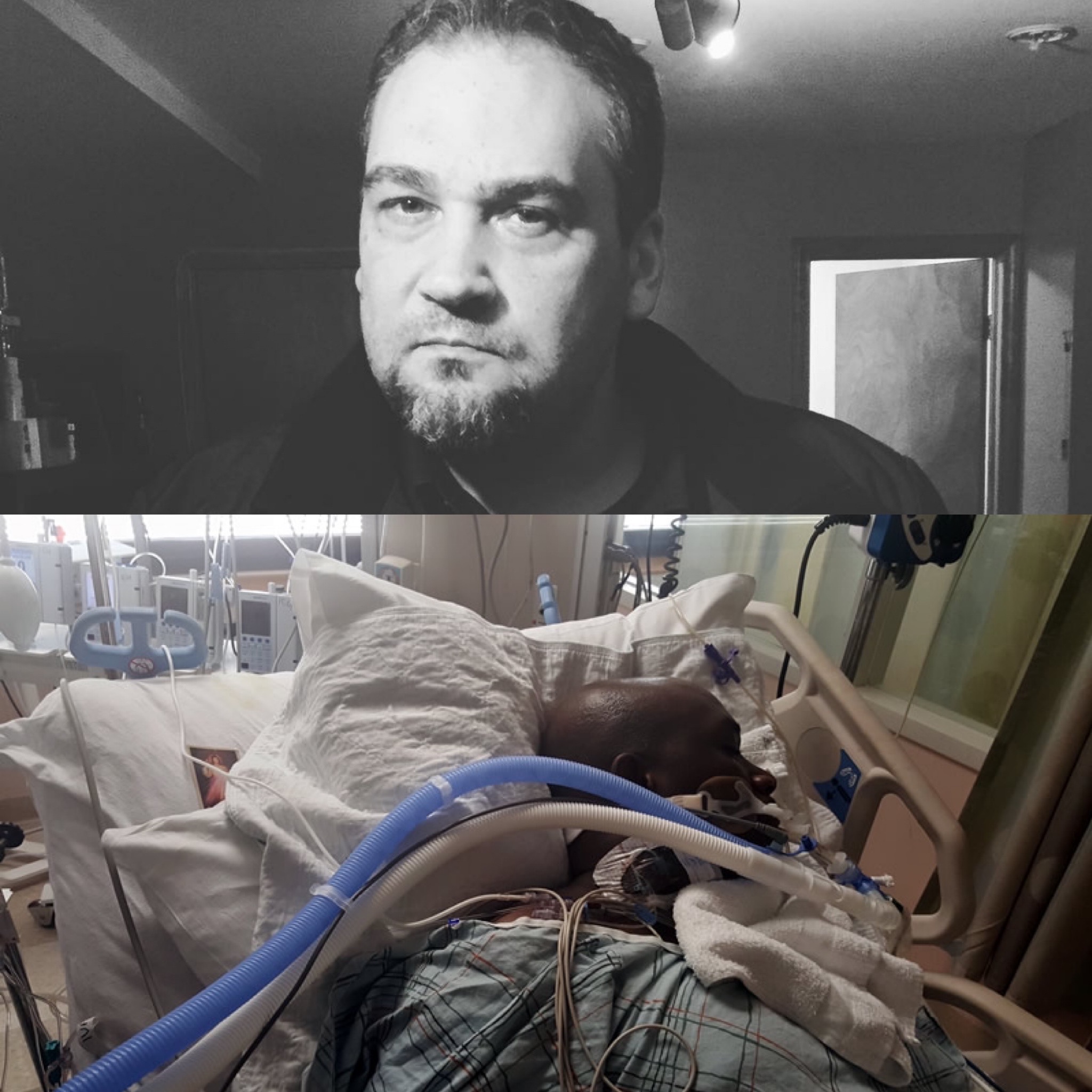 Almost every year for the past 6 years and on the same day, I've posted the same pic of me in the hospital  during my temporary and untimely demise  in 2015. A few weeks after I was back to "normal", I asked Eric "Why'd you take the pics?" And he said, "I knew you would want to write about it if you lived." Eric was right. Eric was often right and Eric always had my best interest at heart. I am going to miss my friend.
You ever meet someone and become friends immediately?! Well this was not the case with Eric. Before he was my manager at Morgan Stanley, I would often see this 6'4″, giant white guy walk up to the only black woman at work, say something then walk away without any hint of human emotion. Naturally I thought he was a jerk until I asked her "Yo, is that dude bothering you?" She laughed and proceeded to tell me he was a great person, which I ultimately got to experience first hand. Little did I know this Italian from Staten Island was more Brooklyn than most Brooklynites.
Eric was not with the shits!! If there were ever someone who lived their life in direct, honest and no uncertain terms, that would be Eric. He would ask me questions at work like "Why are the other consultants making more money than you?" I knew the answer to that question and so did he. Eric then proceeded to increase my salary by 15K. After arguing with all our managers that "You need to hire Alfred!", they eventually did 1 year prior to the 2015 incident. In the hospital, one of my friends asked me, "What if you didn't have health insurance when this happened?" I would be in debt for the rest of my life is the obvious answer. I still am in debt for the rest of my life but at least, it is to those who made sure I had a more enjoyable life and for that, I will gladly repay.
My mom loved to tell me the story of how she met Eric. After they told her I was going to be in the ICU for some time, she told the doctor "Well I'm not going anywhere." She then hears a voice from that back of the room that says "Well I'm not going anywhere either!" That was Eric and in true form, he was at that hospital every single day until I was discharged.
Eric passed away in December 2021 of stage 4 cancer. After feeling faint on his way to my bbq, he went to get checked out and was diagnosed. During the past 5 years, Eric lost his mom, twin brother and dad. I can't even begin to imagine what that must have felt like but I'm glad that pain he was feeling is no more.
It's been a bit difficult to deal with it to be quite honest and I've been writing this in my head for years but never had the bravery or grace to accept that my friend wouldn't be here soon. I also can't imagine what it must be like to lose your entire family nucleus unexpectedly. In true Eric fashion however, I would like this to not be about me but whomever has lost someone and has been coping. I've always intimated that my life would not be as enriched as it was were it not for the people in it. The problem with that is there is also no way to deny that it feels empty without those who helped craft your path. Rather than focus on the negative, I would rather focus on the examples of duty, family and emotional intelligence. All concepts reinforced by Eric that have led me to have successful relationships since I've put them into practice.
From being my manager to my business partner, writer, book editor, artistic director, and most importantly, my friend, I am going to miss you MC Krispy E a.k.a "Enrique Pollazo!" And although you told me Enrique means Henry in Spanish and not Eric, it was too late!
Sidebar. The day I was discharged, while everyone was deciding what was best for me, no one had remembered that I would need clothes in order to leave the hospital. Eric shows up (unasked) with all the clothes I had on the day I coded, laundered and ready to go. I don't know what I've done to deserve friends like this but i need to keep doing it! Sidebar complete.
Rest in Peace Eric. "Be Good."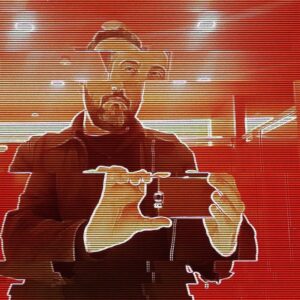 Writing Your First Book / Should I Self Publish?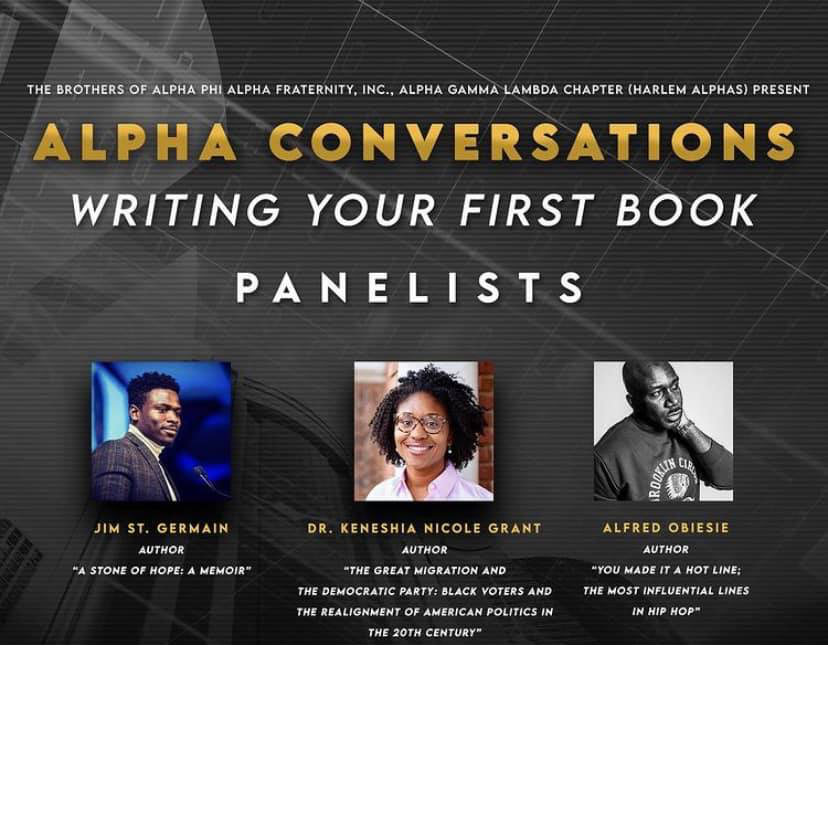 I had the distinct pleasure of  participating in a panel discussion on writing your first book, presented by the Harlem chapter of Alpha Phi Alpha Fraternity Inc.  Alongside Jim St. Germain, Author – A Stone of Hope: A Memoir and Dr. Keneshia Nicole Grant, Author – The Great Migration and the Democratic Party: Black Voters and the Realignment of American Politics in the 20th Century.  We opined on pain points, benefits and strategies regarding our inaugural voyages into authorship. Feel free to watch for your self and I hope this provides some insight to all those looking to make the same voyage. Enjoy!
What the NFT is a BEEPLE?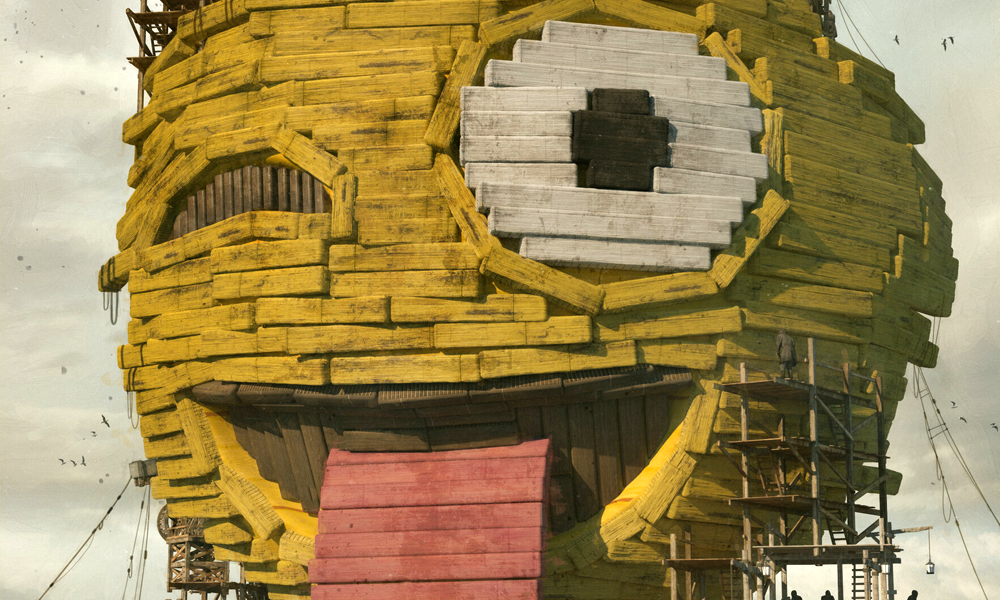 On March 11 this year, the digital artist Beeple sold a collage of digital images from his "Everydays" series for nearly 70 million dollars as an NFT, or non-fungible token. And if that sentence confuses you, you're not alone.
A non-fungible token is a unit of data on a digital ledger called a blockchain, where each NFT can represent a unique digital item, and thus they are not interchangeable. NFTs can represent digital files such as art, audio, video, and other forms of creative work. While the digital files themselves are infinitely reproducible, the NFTs representing them are tracked on their underlying blockchains and provide buyers with proof of ownership." – Wikipedia
Still confused? Let the artist himself explain it, and learn how he went from NFT newbie to making the third most expensive artwork by a living artist in three months. Not to suggest Beeple is an overnight success. The "Everydays" series alone involved creating a piece of art every day since May 1, 2007 – and he hasn't missed a day.
Check out some of Beeple's amazing and controversial work below.