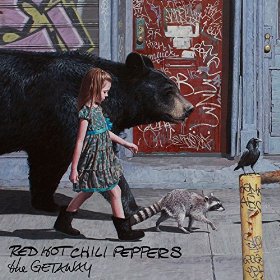 The Getaway
Red Hot Chili Peppers
Produced by Danger Mouse
2016
I miss John Frusciante as much (more) than the next guy. That being said, I'm still buying a new Chili Peppers record when it drops.
The Getaway is the band's 11th, and first sans Rick Rubin since 1991's Blood Sugar Sex Magik. Instead we've got wunderkind Danger Mouse (Brian Burton) at the helm, who had the Peppers scrap some finished tunes and start from scratch in the studio – building tracks up in layers instead of through jams. With best mixer in the biz Nigel Godrich on the knobs, the stars aligned for some different sounds.
So why am I surprised this sounds like a Red Hot Chill Peppers' record? I guess I shouldn't be. The component parts are there. Flea and Chad are still monsters of rhythm, tempered by the continued involvement of Brazilian percussionist Mauro Refosco (also of Atoms for Peace, Flea's side project with Thom Yorke). By now, guitarist Josh Klinghoffer has toured with RHCP five years and he sounds inventive and confident. Even with the inclusion of some special guests like (gasp!) Sir Elton John, and Anna Waronker from much underrated indie band That Dog!, this still has that very specific Chili Pepper vibe.
The record opens with "The Getaway," aping some of Frusciante's style and under-using Waronker, let's be honest. Musically, a bit Police-ish in spots and not unlike Broken Bells, Danger Mouse's band with James Mercer of The Shins. Lead single "Dark Necessities" builds on the California funk The Chili Peppers have been perfecting over 30 years, but here Danger Mouse brings a retro feel and some tasty piano to the proceedings. It's top notch Chilis.
"By now, guitarist Josh Klinghoffer has toured with RHCP for five years and he sounds inventive and confident."
The ghosts of popular music haunt
The Getaway
, like in the way "
We Turn Red
" (built around some monster drums by Chad) has a faint melodic resemblance to "
Rock On
." "Go Robot" has an infelicitous groove you can imagine Rod Stewart vamping all over, and one song sounds enough like "
Bennie and the Jets
" that Elton and Bernie Taupin got writing credits – and Elton was invited to play piano on it.
Josh is more comfortable letting his freak flag fly, especially in the futuristic noodling of "Go Robot," by channeling George Harrison on "Feasting on the Flowers," and doing his best Dean Ween on "Sick Love."
Hey, did you know that Josh was a touring member of Gnarls Barkley, Danger Mouse's band with Cee-Lo Green? Me either.
Things pick up in "Detroit," a kick-ass tune that name drops J-Dilla, and then the record takes off completely in the rusty aggression of "The Ticonderoga." Still, those of us paying attention know The Chili Peppers are increasingly more interested in being beautiful, and there's plenty of California sunshine through tracks like "Encore" and "The Longest Wave."
The record ends with the downright psychedelic "Dreams of a Samurai," with Flea bubbling and building over six sprawling Bowie-infused minutes. I guess these guys have changed. Kinda.
The Getaway

Dark Necessities

We Turn Red

The Longest Wave

Goodbye Angels

Sick Love

Go Robot  

Feasting on the Flowers  

Detroit  

This Ticonderoga  

Encore  

The Hunter

Dreams of a Samurai