Entourage
Release: June 3, 2015
Starring: Adrian Grenier, Kevin Dillon, Jerry Ferrara, Kevin Connolly, Jeremy Piven
Director: Doug Ellin
Official Synopsis: "Entourage, the much-anticipated big-screen version of the award-winning hit HBO series, reunites the show's original cast, led by Kevin Connolly, Adrian Grenier, Kevin Dillon, Jerry Ferrara and Jeremy Piven. Movie star Vincent Chase (Grenier), together with his boys, Eric (Connolly), Turtle (Ferrara) and Johnny (Dillon), are back… and back in business with super-agent-turned-studio-head Ari Gold (Piven). Some of their ambitions have changed, but the bond between them remains strong as they navigate the capricious and often cutthroat world of Hollywood." (C) WB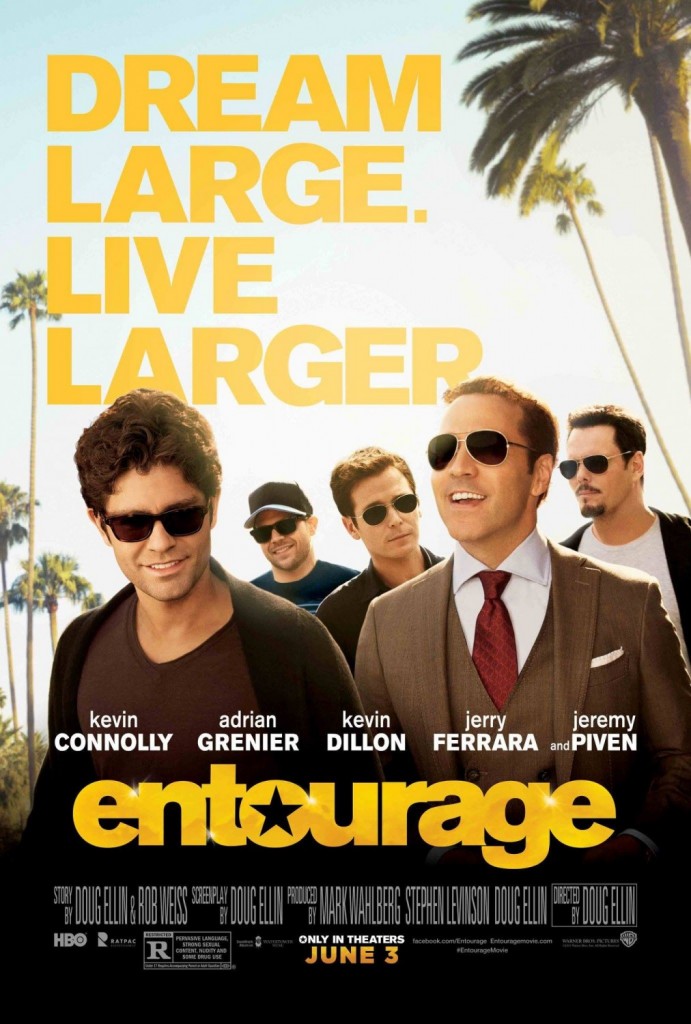 5. The HBO Original Series – Sex In The City For Men
I loved this show when it first premiered on HBO in 2004, it was must see TV for me every Sunday night. Vincent Chase (Adrian Grenier), his brother Johnny Drama (Kevin Dillon), and his boys Turtle (Jerry Ferrara) and E (Kevin Connolly) were all from Queens New York and felt like real people to me. I truly felt it gave me a personal view of what Hollywood might be like if me and my boys made it big. Everything I loved about the series seems to be back in what has been described as an extended version of the show with more titties and celeb cameos. The show was always about the behind the scenes friendships and rivals that could make or break a movie. Those elements are back in full R rated glory as Vince tries to star and direct his former super agent Ari's Gold's first movie release after he finally becomes studio boss. The story takes place right after the season finale which should please the shows die hard fans.
4. The Cast – The Boys Are Back
We have the best of the series cast returning with Emmanuelle Chriqui as Sloan; Rhys Coiro as Billy Walsh; Debi Mazar as Vince's publicist, Shauna; Rex Lee as Lloyd and Constance Zimmer as Dana Gordon. Of course super-agent Ari Gold (Jeremy Piven) returns, this time as the brand new movie studio head. Along for the ride is Emily Ratajkowski playing what else, Vinnie's new hot girlfriend, along with Ronda Rousey who is Turtles' new love interest which I'm sure will be very dangerous for him, hopefully in the legendary Entourage style.
3. The Cameos – Everybody
The behind the scene inside view of Hollywood is what the show is really about and the cameos gave you a little taste of what walking into a movie studio party might look and sound like. We have the celebrity cameos (about 42) ranging from T.I. to Warren Buffet. Everyone from Tom Brady and Jessica Alba to Pharrell show up in what I hope are classic eye-opening scenes the TV series was known for. I always loved seeing these people playing themselves in what are usually well staged small examples of the celebrities real personality. Who can ever forget the many  scene stealing, hilarious situations that wild men Gary Buesy and Bob Saget put the boys in?
2. The Director – Doug Ellin
Doug Ellin was always talented in setting up scenes that felt like a typical day in the life of a movie star. Growing up in NYC and walking through certain parts of Manhattan you get a glimpse sometimes of how it feels to walk into some random store or bar and be faced with a number of A list stars. Ellin was great at setting up these encounters in ways that made me feel I was right there with the boys from Queens whether they were at Sundance or Cannes. Everyone you can imagine seems to be in this movie, which I hope is good enough to spawn a few more if writer/director Doug Ellin can recapture the magic of the original show
1. The Location – Hollywood
Doug Ellin was very skilled in showing the hot spots where the rich and famous play and I can't wait to see the latest playgrounds. Exclusive locations always played the backdrops to the crew's drama and I can promise you we will get the inside view of all the latest toys of the filthy rich. Everything from the custom cars to the huge eye popping Hollywood estates should provide this movie with something the show never really needed, a typical Hollywood movie set.