With this year's Carnival season in Trinidad & Tobago coming to an end and many of us taking that pilgrimage home, a time of reflection will inevitably present itself. Whether it's in our first meetings, conference calls or commutes back to work, that moment of depression (aka Carnival hangover) will begin to hit. We'll start to reminisce and hum some of our favorite tunes that will bless our ears to cure that misery. Thankfully this season did not disappoint by giving us plenty of options to choose from.
Benjai, one of the more unique voices in Soca, delivered a memorable effort in Phenomenal that will surely resonate for some time to come.
His consistency coupled with the emergence and rise of other Soca performers continues to ascend the artistry significantly. The range of talent displayed by various artists has also contributed to the growth of the genre. Artist such as Lyrikal display this fact in infectious tunes like Cloud 9 and Loner, which validates the brightness of the future.
However, the most recognizable name in Soca, Machel Montano, made sure we continued to enjoy the present with a multitude of hits that had Carnival revelers partying Like Ah Boss and doing an Endless Wuk till the Party was Done (feat Angela Hunte).
He continued this relentless pace and shined on one of the more frequently heard riddims (Patrol Riddim) of the season with Pop Ah Bottle. Not to be out done, Farmer Nappy & Allison Hinds jumped on the track and kept us In Trouble while Patrice Roberts had us Looking For It. Another noticeable melody (Kan Kan Riddim – as previously heard on Phenomenal) featured the Soca Monarch King himself Olatunji with the popular hit Ola.  That riddim kept us rocking along thanks to Sekon Sta's take on The Best girl. The Jam Band Riddim also made its mark when highlighted by the performance of Erphaan Alves on Bumper Like Rain.
With all that said, the ladies made a very powerful statement this Carnival season by keeping our hands up high with the commanding voice of Fay-Ann Lyons on Raze. Destra let us know just how influential and life altering Carnival can be with Lucy, while Patrice Roberts embodied the spirit required to enjoy ourselves to the fullest with Ah Feeling Mehself.
This type of variety has continued to attract a wide range of fans across the globe as illustrated by the slew of EDM representatives found in this year's Carnival. Trendsetters, such as Major Lazer, have embraced this opportunity to create a bridge to the unaware. The synergy between soca and dance music isn't as strange as some may assume. Both forms of music emit an extraordinary amount of energy, which tends to be reciprocated. Just think a few years back of how many people were introduced to Soca by Major Lazer's remix of (the most notable lyricist) Bunji Garlin's Differentology? As Bunji continues to push the level of creativity forward and beyond, he made sure to greet us this Carnival at every turn with his glass held high in Cheers. 
At this point you're probably already looking into how to get away to relive those memories now…aren't you? Luckily Fadda Fox had your interest in mind with his catchy tune Ducking.
The challenge that lies ahead is to not listen to Farmer Nappy's My Home and not want to leave immediately and do it all over again!!!
Luckily some of the more prominent DJ's on the scene feel our pain and aren't too far to quench our thirst. DJ Private Ryan and DJ Spice are usually a radio station or download away to meet those needs. Just be cautious of when you choose to start your search though. VagaBond by Ricardo Drue may just come up and inspire you to do some things that may earn you a permanent vacation from work!!!
One last thing…Amber Rose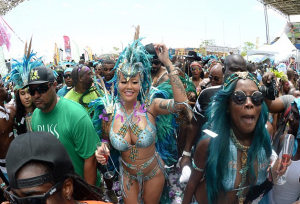 Do I need to explain more?