1.THE WRITER
Charlie Brooker has been mastering his brand of visual horror on British TV since 2011. His ability to imagine the nightmare possibilities when tech and society combine have led to some truly scary episodes that can be described as a technology based "Twilight Zone" which takes place in the very near future.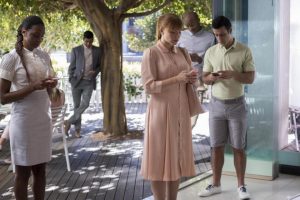 2.THE 3 SEASONS
Only 6 episodes were released on BBC's Channel 4 between 2011 and 2013 along with a John Ham lead Christmas special in 2014. Netflix decided to buy the series and double the amount of episodes they are going to give fans. The new deal is for 12 episodes which they are splitting into two seasons of six beginning Oct. 21.
3.THE DIRECTORS
They 've hired a variety of talented directors that bring Brooker's writing to life in a constantly interesting way. Brooker is a master of presenting detailed worlds with great characters dealing with deadly outcomes when tech enhances the dark side of human nature.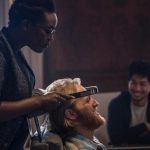 4.THE STAR POWER
Becoming a cult hit in America has allowed Netflix to recruit some great US talent to be involved this season. Stars like Bryce Dallas Howard, Alice Eve, Mackenzie Davis, and Gugu Mbatha-Raw give excellent performances in fascinating examinations of the abuse of tech in relation to everything from social media to the pursuit of the perfect video game.
5.THE SHOW'S FORMAT
Each show being its own solo story allows for a variety of genres, delivering everything from a tense action thriller, a classic detective story or a truly touching romance. The world building is half the fun while waiting for the mind bending twists is the other. Any show that can keep me guessing without cheap tricks is quality TV and that is what make all three seasons of Black Mirror must see TV.