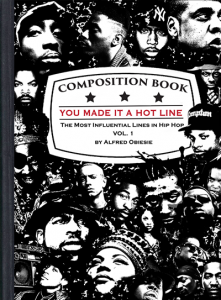 OTM Media Group has announced You Made It A Hot Line: The Most Influential Lines in Hip Hop by Alfred Obiesie. This book highlights the social significance of each line and its impact on our culture through savvy commentary and dope illustrations.
Those familiar with One Track Mine may know Alfred (Alf) better as Crazed Afrykan, our friendly neighborhood hip hop aficionado, whose wry wit and penchant for biting social commentary is legendary around these parts. As a hip hop producer (Nas, Damien Marley, DV Alias Khryst, King Prince) and super-fan for over 30 years, he's intimate with the motivations, rhymes and reasons for one of the most revered genres in modern music.
Last year Alf suffered "sudden cardiac death," spent two weeks in a medically induced coma, and not only lived to tell the tale, but wrote the hysterical and insightful You Made it a Hot Line in the months that followed. And you thought you were busy.
With over 30 radio stations blogs, podcasts and hip hop publications praising the book (Vibe, Sirius XM, This is 50.com, Jack Thriller, Beat Minerz Radio, 90.3 FM, 88.7FM, etc…) You Made It A Hot Line is rapidly making a significant imprint on hip hop culture. The book was recently requested by the Brooklyn Public Library and has since been added to their catalog in multiple branches borough-wide.
You Made it a Hot Line is available in eBook ($9.99) and hardcover ($19.99)  in our shop, Amazon, Politics & Prose (D.C), Black & Nobel (Philly), and Greenlight Bookstores (Brooklyn, NY). Read an excerpt from the book HERE. Enjoy! #hotline21 
EVENTS
 PARTNERS

PRESS

FANS
---